The art of Mike Field, in a cool Holualoa gallery and store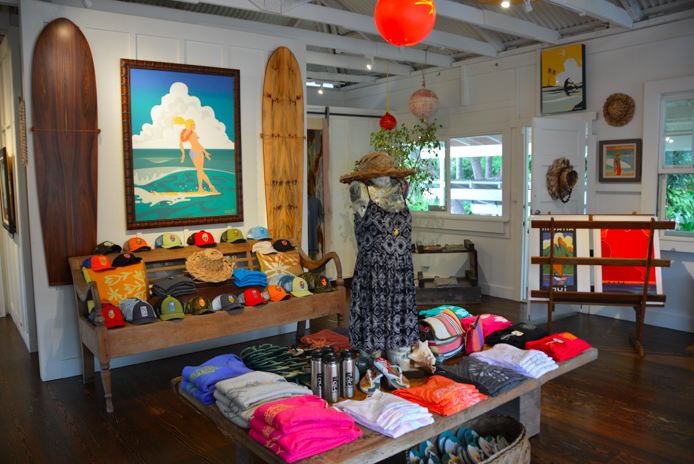 A relative newcomer in the venerable art town of Holualoa, on the slopes of Hualalai behind Kailua-Kona, is the M. Field cottage a block south of the town's main Mamalahoa Highway.
Relative, because the gallery has occupied its space—the tiny, renovated 1920s-era Kona Bottling Works—for nearly two years (the adjacent Holualoa Gallery, has occupied its space for more than two decades).
I visited during a recent First Friday event, when the entire downtown area stays open, musicians play from shops' front stoops and locals enjoy wine under twinkling lights. The gallery was packed: A family sat on the Adirondack chairs lining the cottage lanai beneath the iwa (Hawaiian frigate bird) logo waiting their turn to peruse the offerings.
The artist's clean-lined pop art prints reminiscent of '50s and '60s-era Hawaii line the high walls of the bright cottage. Like other similar artists whose modern art renderings of Hawaii have broad appeal (Heather Brown comes to mind), artist Mike (M. for short) Field's designs also come screened on hats, bathing suits, decorative surfboards and more—indeed, these items make up the bulk of the gallery. There's just something about clean-lined designs—iwa flying over bright green seas, surfboards in the sand, hula dancers on beaches at sunset—that makes you want to wear them.
Whether it's tropical foliage or a rendering of Duke Kahanamoku, "he starts with sketches," says wife Terry. "Then uses a computer to make the lines cleaner." The use of color is dreamy but accurate: swaths of pastel—baby blue skies, soft seafoam sails, melon skies—mingle with bold oranges and greens.
Scattered throughout the store are remnants from a collaboration with the surf apparel giant Roxy/Quiksilver—distinctive M. Field designs on board shorts, lau hala hats and women's bathing suits. Though fruitful, the 2-year relationship was cut short says Terry; Quiksilver filed bankruptcy in 2015 and the M. Field emblazoned products were a casualty. If the evening's crowds were any indication, though, the change was unnoticed by the artists' loyal local following.
The gallery also sells practical items—reef safe sunscreen and SPY brand polarized sunglasses—perhaps because Mike Fields has spent a life on and in the water. Born in Guam and raised in Hawaii, Fields is an accomplished canoe paddler, surfer and sailor. This perspective is also evident in his designs, many of which feature watermen or views of the ocean from on the ocean (instead of from the shore).
Sunset prints, not dissimilar to the electric displays happening beyond the gallery walls during the First Friday event, jar me back from my old Hawaii daydream and I move to the side to let others enjoy the space.
---
Holualoa First Friday events happen the first Friday of each month and run from 5:30 til 8:30 with food trucks, live music and more.
76-5936 Mamalahoa Hwy., Holualoa • (808)315-8114 • 10 a.m. til 5 p.m. Tues. through Sat. (closed Sun. and Mon.) • mfield.com