The Best Banana Bread on Maui
Here's how our readers ranked the sweet, filling treat that can be found all over Maui.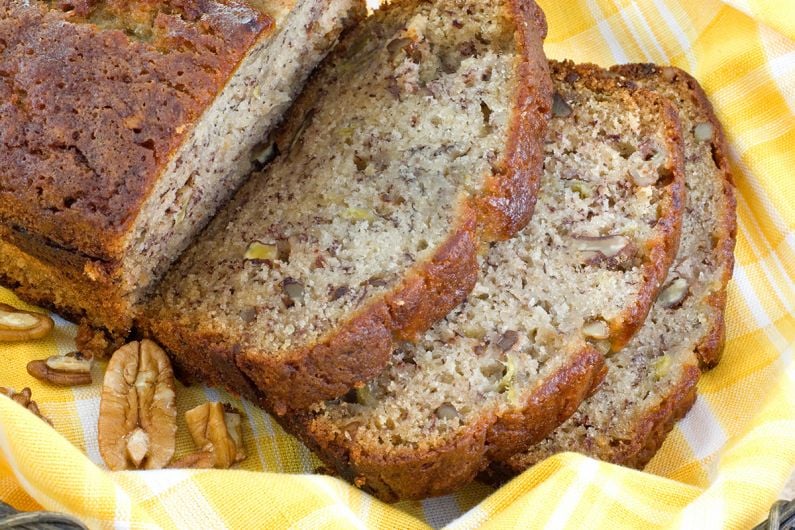 On Maui, banana bread is serious business. The sweet, filling, locally made treat found all over the island is usually made with the apple bananas that grow abundantly thanks to Maui's tropical weather and generous rainfall, but you'll also find some vendors that use other fruits and fillings, such as mango and pineapple, or chocolate chips, coconut or macadamia nuts. For many of the island's banana bread vendors, recipes are closely guarded secrets, and opinions on whose bread is "best" can be impassioned. Here's the ranking on which Maui banana bread loaves came out on top this year, according to our readers.
1. Aunty Sandy's, Keanae Landing
The longtime reigning queen of Maui's banana bread purveyors, Aunty Sandy's, which also serves hot dogs and kalua pig out of a little stand at picturesque Keanae Landing, has been a family-run business for over 30 years. Butter is one of the key ingredients in this rich, moist loaf, probably the most renowned on Maui.
Closes at 2:30 p.m. daily, 210 Keanae Road, Haiku, Maui,  (808) 248-7448.
2. Julia's Best Banana Bread
This well-known West Maui shop, a family-owned bakery inside a bright green treehouse, is a must-stop that Maui visitors say is worth the drive. The large, moist, fluffy loaves that resemble cake more than bread are full of flavor and melt in your mouth. Top it off with Julia's lilikoi butter and it's a match made in heaven.
9 a.m. to 5 p.m., 7465 Kahekili Highway (mile marker 13), Kahakuloa and a second location near Nakalele Blowhole, juliasbananabread.com.
3. Halfway to Hana, Road to Hana
Just past the turnoff to Keanae Landing is the Halfway to Hana stand, which boasts one of the few ATMs on the Road to Hana, a parking lot, soda machines and an eating area. This stop has been open since 1982 and is known for making banana bread fresh daily with locally grown bananas. You'll often find the loaves still warm, with the texture a little crispy on the outside, soft and moist on the inside. Change it up by ordering a banana bread sundae with vanilla macadamia nut ice cream.
13710 Hana Highway (mile marker 17), Haiku, Maui, (808) 248-7037, halfwaytohanamaui.com.