The best city or town in Hawaii
In our 2017 HAWAIʻI Magazine Readers' Choice Awards, travelers rank their favorite communities in the Islands.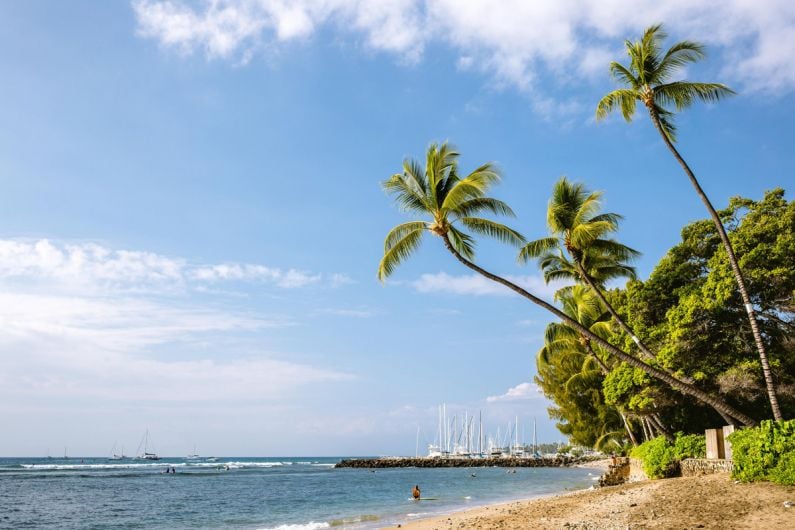 The diversity of Hawaii's landscapes are memorably matched by the array of tropical cities and towns found within them. In our annual Best of the Best Issue, readers voted on the communities—some low-key, others eclectic—that most wonderfully complemented their stays.
1. Lahaina, Maui
Travelers have a lot of love for Lahaina, ranking this historic whaling village in HAWAIʻI Magazine's Readers' Choice Awards in the top five cities and towns for another consecutive year. In 2017's Best of the Best Issue, this popular neighborhood walks away as the No. 1 City or Town in Hawaii thanks to being a hotbed for beaches, snorkeling, shopping and whale watching.
Located in West Maui, before the Kaanapali and Kapalua's resort areas, Lahaina's Front Street—a compact, oceanfront two-way street lined with restaurants, art galleries and boutiques—awaits to greet the crowds of visitors passing through. Its the closest thing you'll find on Maui to a downtown (and we proudly use that term loosely); a busy town on Maui where no one is in any real rush. Some of its biggest draws include its signature Friday night art walks, the variety of water-based tour companies docked at Lahaina Harbor, and an annual Halloween block party that's become the largest in the state.
Amid the modernity, Lahaina Town in particular, is home to valuable Hawaiian and plantation-immigration history, which you can learn about in self-guided tours through the area with resources provided by the Lahaina Vistor Center.
2. Honolulu, Oahu
It's the economic engine of the Islands. Honolulu, the urban epicenter and capital city of Hawaii, is a vast and impressive cross-section of entertainment, nightlife, restaurants (hope you like to eat—there's a lot of that here!), parks and history.
A favorite for active urban dwellers this year, the city showcases an innovative food scene in Chinatown, botanical gardens hidden in plain sight like Foster Botanical Garden, the largest open-air shopping mall in the world with the ever-expanding Ala Moana Shopping Center, its first international arts biennial and more mai tais than you can count. Travelers appreciate this city-meets-ocean proximity—the kind of destination where you can explore Kakaako's flourishing arts scene, souvenir shop from local vendors at South Shore Market and then go for a swim at Ala Moana Beach Park, all within an hour of each other.
3. Waikiki, Oahu
Waikiki is a far cry from solitude, but isolation isn't what attracts the throngs of far-flung globetrotters to this area. It's the nonstop energy of its people, shops and and the easy-to-access beaches fronting all of Kalakaua Boulevard that the city feeds off of. Unlike the majority of Honolulu's sprawl, Waikiki is entirely walkable, a major plus for those who prefer to get to know place entirely by foot.
As crowded as it may be, there's a surprising amount of room for discovery here; the newly opened International Market Place tries to win over shoppers with its designer stores, the Honolulu Zoo reintroduces its lovely Twilight Tours, shiny new hotels are frequently being refreshed (or opening up under new branding) and Kuhio Avenue has undergone a noticeable facelift with new businesses cropping up from both ends of its street. Then, on the fringes of Waikiki, travelers can make entire mornings or afternoons on Monsarrat Avenue, an enclave of brunches and shave ice on the slopes of Diamond Head.
4. Kailua-Kona, Hawaii Island
Beneath the prowess of Hualalai Volcano, it's Hawaii Island's main western city and home to historic Kailua Village, Hulihee Palace and Kailua Bay. Kailua-Kona manages to maintain a small town vibe with regards to its bed-and-breakfast accommodations, showcase of local shops, hidden artists villages and comfort food dining (the region boasts some of the best poke in the Islands)—an atmosphere of which keeps this city top of mind with voters.
It also inspires one to remain outdoors as often as possible. Whether it's breakfast on an open-air lanai (with Kona coffee, of course), picking out the seasonal fare at a farmer's market, world class golf courses surrounded by a volcanic landscape, or a manta ray night dive in Keauhou Bay, all leave with postcard perfect memories of visiting here.
5. Hilo, Hawaii Island
Even if you only have half a day to spend here, Hilo is worth it. Though it maybe the third largest city in the Islands there's an undeniable quaintness to its well-worn streets still very much rooted in its generations-run establishments and casual sightseeing. Favorites around the area include Akaka Falls State Park, Downtown Hilo's longstanding businesses and museums, Liliuokalani Park and Gardens, Shipman House, Richardson Beach, Coconut Island and serene Hilo Bay.