The Best Hiking Trails for Beginners in Hawai'i
Get out into nature on these easier but no less stunning Oahu, Maui, Kauai and Big Island trails from our 2019 Readers' Choice Awards.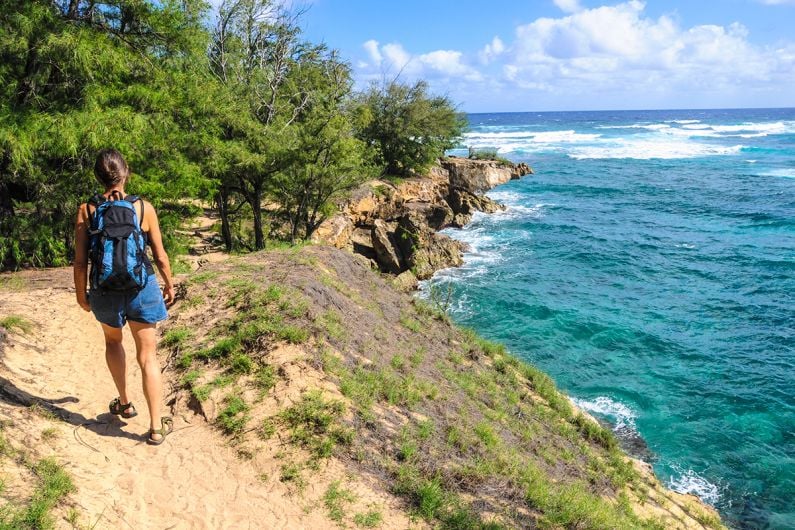 Want to see the beauty of Hawaii, but not quite ready to risk life and limb to do it? Or maybe you're a more experienced hiker but just pressed for time. These trails across the Islands, voted on by our readers in HAWAII Magazine's 2019 Readers' Choice Awards, have both the payoff of stunning landscapes and a user-friendliness that makes them suitable for all ages and many fitness levels. Plus, they'll let you concentrate more on getting lots of amazing photos and less on where you're putting your feet.
1. Diamond Head Summit Trail, Oahu (Leahi Crater)
The most popular hike on Oahu, this 1.6-mile round-trip trail can be easy or moderate, depending on how you pace yourself. It's recommended to start early in the day; if you get a late start, be sure to bring enough water, as the midday sun can get hot. Most of the uphill path to the World War II-era lookout bunkers at the summit is paved; however, there are a few sections where concrete becomes dirt and footing is less stable, so watch your step. The path, first built in 1908, winds about 500 feet up the inside of the extinct crater and ends at the summit (you have a choice of making one last push up a challenging flight of enclosed concrete stairs or taking a more roundabout outside path to the top). On a clear day, you can see Oahu's entire south shore, from Koko Head Crater and Waikiki to the Waianae Mountains.
Length: About 2 hours
Parking/Admission: $5 per car in the adjacent lot, $1 per person if walking in
Hours: Opens at 6 a.m. The latest that people can enter to hike the trail is 4:30 pm. Gates are locked at 6 p.m. daily.
2. Iao Needle State Monument, Maui
A short and easy paved 0.4-mile loop trail located near Wailuku, Maui, the Iao Needle Trail is great for photos, and doable by kids, seniors and all skill levels. A great sightseeing jaunt before hitting the airport, this is a very well-maintained trail with some stairs up to a lookout at the end that offers a spectacular view of Iao Needle, the river, mountain and lush, green surrounding jungle.
Length: About 20 minutes
Parking: $5 at the adjoining lot, or free street parking
Hours: 7 a.m. to 6 p.m.
3. Mahaulepu Heritage Trail, Kauai
This mostly flat series of interconnecting parallel trails along Kauai's southern coast (about 4 miles round trip) gives hikers spectacular views of coastal cliffs, the ocean, tide pools, dunes and green mountains. If you're lucky, you can spot wildlife like sea turtles and monk seals, and during the winter it's a prime lookout for whales. Hikers have the option of heading from Shipwreck Beach (Keoneloa Bay) to the remote, stunning Mahaulepu Beach (3.7 miles round trip), or continuing on all the way up to Kawelikoa Bay (5.9 miles round trip). Don't miss Makauwahi Cave Reserve, an astonishing prehistoric cave that's open to the public, located just south of Gillin's Beach and Kawelikoa Bay.
Length: You can make it as short or as long as you like
Parking: Free at Shipwreck Beach near the trailhead
Hours: Not restricted
SEE ALSO: Watch: Discover the Mahaulepu Coastal Trail on Kauai's south shore
4. Pololu Valley, Hawaii Island
While straightforward, this 0.9-mile loop trail down to a beautiful black sand beach with views of the Hamakua Coast is steep in places and can be dangerous when muddy. From a scenic overlook right off the highway, follow the rocky path down the side of the valley's north wall, through sand dunes and ironwood trees to Pololu Beach, where you'll find a shoreline with black sand and smooth, round lava rocks.
Length: 45 minutes to an hour
Parking: Small free lot, located off Akoni Pule Highway
Hours: Not restricted
SEE ALSO: Beyond the Lookout: Exploring the Big Island's Pololu Valley