The best island in Hawaii is…
Here's this year's ranking of the best Hawaiian Islands to visit, according to our 2017 Readers' Choice Awards.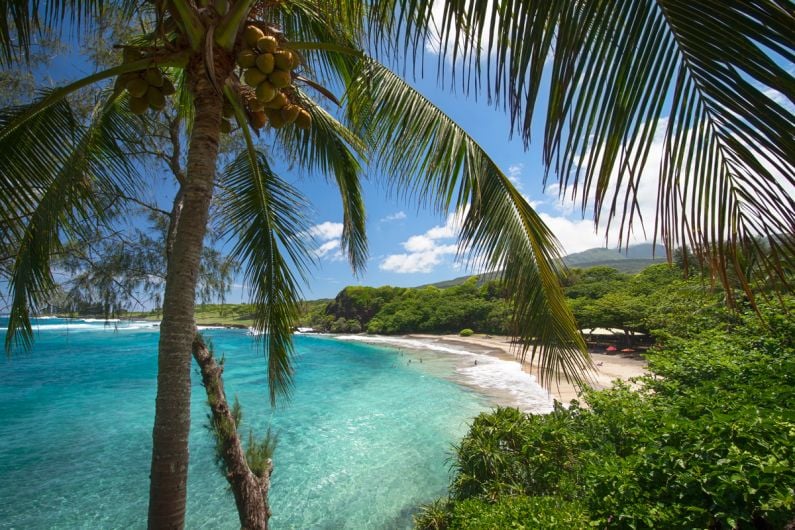 This year's Best of the Best for 2017 are in! From our fifth annual HAWAIʻI Magazine Readers' Choice Awards, travelers across the spectrum—first-timers to the Islands, repeat visitors and local island-hoppers—sounded off in one of the most debated categories: What's the best Hawaiian Island?
1. Maui
It is love at first sight for the majority who step foot on Maui. From witnessing the sun rise at Haleakala Summit to driving the adrenaline-pumping Road to Hana, the Valley Isle has pretty much everything a vacation calls for. "The best mix of quiet, natural scenery and crazy fun activities," one reader elaborated when casting a vote for Maui. "You can do it all on Maui!"
This sentiment is echoed across the thousands of votes for favorite beaches, hikes, natural sights, hotels, restaurants and land and sea activities that abound here. It's clearly what makes the island rise to the top of our list year after year; this is the fifth consecutive year Maui has been crowned Best Island by readers.
2. Oahu
It's the most visited of all the Main Hawaiian Islands and people keep coming back for more of it. Based on our readers' votes and comments, we've determined its Oahu's town and country vibe that keeps travelers equally reenergized and rejuvenated.
It's all about choices here, where you can hit up one of Honolulu's tropical beaches, then escape to a lush botanical garden on the Windward Side, if you so decide, and in a single day. Also, Honolulu is Hawaii's epicenter of cool, attracting a class of travelers who seek out cutting-edge restaurants and bars by way of Chinatown, an emerging arts scene in Kakaako and a growing crop of boutique hotel options that would please any aesthete.
3. Kauai
What can be said about Kauai that hasn't already been said before? It's visually unrivaled—"The Napali Coastline has the most amazing and dramatic views. Nature's best work!" a reader recounts in a vote for beloved Kauai—with more shades of green than you can possibly imagine.
Hanalei is a haven for local eats spanning all price points, but there's also a nascent foodie scene in charming Kapaa, where word of mouth is driving travelers to check out all the new restaurants and cafes that have opened in the past year or two. Travelers have no qualms with traversing Kauai's 562-square miles, the fourth largest of the Hawaiian Islands, to strike that sweet balance between surfing, snorkeling and diving at the best beaches on the north shore, then retiring at their favorite suites around Poipu on the south shore.
4. Hawaii Island
It's been the most exciting year for Hawaii Island in recent memory and votes for the Big Island reflect that. The epic lava flow pouring into the Pacific off the island's southern cliffs have sparked travelers' imaginations in Hawaii Island at an unprecedented rate. Because of this, the Big Island is seeing a major spike in Google searches, visits to Hawaii Volcanoes National Park, and avid interest in its raw and volcanic landscape. Kilauea, whether it's Halemaumau Crater, Puu Oo, or the lava ocean entry, is considered a must-experience sight, but that's just scratching the surface for the youngest Hawaiian island in the chain; it's near impossible to explore the entirety of it in a single trip.
The island's generous array of landscapes include lush and wild habitats carved into its northern coastline, such as Waimanu Valley, which captivate visitors upon arrival. The most single-used word uttered by readers to describe Hawaii Island's beauty: "Marvelous."
5. Molokai
With this year's growing interest in slow tourism, an unhurried brand and approach to travel, Molokai may be set to have a moment in the sun. It is on our list this year, anyhow, inching past Lanai to claim a spot in the Top 5.
Molokai has unspoiled stretches of beaches, a winding road trip toward Halawa Valley (think the curviness of Kalanianaole Highway on Oahu's east side sans every single car—a major plus), and a quaint main street in Kaunakakai Town where all the community action happens. The island boasts Hotel Molokai as its most prominent hotel accommodation, though it appears a vocal set of visitors prefer to make arrangements for long stays at oceanfront vacation homes where they can lounge on the lanai, cook up fresh fish they bought moments ago from a fishermen's cooler in Kaunakakai and enjoy a sunset all to themselves.