The Best Luau in Hawaii: HAWAII Magazine Readers' Choice Awards 2016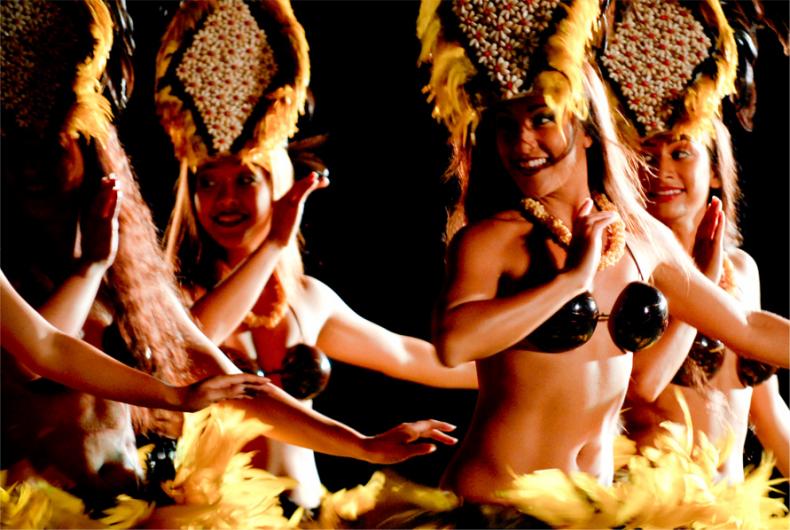 Showtime! The best luau has it all — ono food, lively music, energetic performances and displays of Hawaii's native culture and across Polynesia. It's where friends and strangers unite to become one ohana (family) as is customary in Hawaii today. No visit is complete to the Islands without attending one, but truth be told, not all luau are created equal.
The following five left the most memorable impressions on voters in this year's HAWAIʻI Magazine 2016 Readers' Choice Issue — considered the best of the best across the Hawaiian Islands.
The Best Luau
1. Old Lahaina Luau
Lahaina, Maui — This luau on Maui consistently takes top honors in this category and is at nearly 100 percent capacity each year. First developed in 1986, it was created to provide a more culturally sensitive presentation in Hawaii's tourist-entertainment economy and today considered a leader in the industry. In one of its latest developments, the menu features an uala (Hawaiian sweet potato beer) from Maui Brewing Co. exclusive to the luau and was considered by one of our editors as the most authentic luau show he's been to recently.
2. Paradise Cove
Ko Olina, Oahu — A 20 year mainstay of the island known as The Gathering Place, this luau on the opposite side of Oahu takes you miles away from Waikiki. It offers various luau packages which include daytime activities like indigenous games and a hukilau ceremony, where guests not just watch as fishing nets are pulled in from the beach but also participate.
3. Alii Luau
North Shore, Oahu — Put on at the Polynesian Cultural Center, where you explore replicas of different Polynesian villages and learn of its diaspora and cultural practices, this Oahu show offers three dinner packages with delicious food to select from. It's one of the largest and most visited luau across Hawaii, and as the name alii suggests, its fit for chiefs.
4. Germaine's Luau
Kapolei, Oahu — On the west shore of Oahu, near the Barber's Point lighthouse, is this backyard-style Hawaiian luau. It takes place on a beachfront property, a former residence of a renowed hospitality family, and the tradition continues with Germaine's dinner-and-a-show experience. Guests are welcome with Hawaiian shell lei, an imu ceremony and guests even get up on stage to learn dances together.
5. Smith's Family Garden Luau
Kapaa, Kauai — For over 50 years, this has been considered the go-to luau on Kauai. Four generations of the Smith Family orchestrate this establishment located in the Wailua River Valley of Kauai, where they promise to "make sure you don't go hungry." Hawaiian hula, Tahitian drum dances and Samoan fire knife dancing provide the pulse of its entertainment.
---
The HAWAIʻI Magazine 2016 Readers' Choice Issue on newsstands now featuring 530 Best of the Best winners in 98 categories from hotels and resorts to retail and activities.
More Best of the Best 2016: