The best shave ice in Hawaii
These local shops and stands left a sweet taste in the mouths of those who voted in our 2017 Readers' Choice Awards.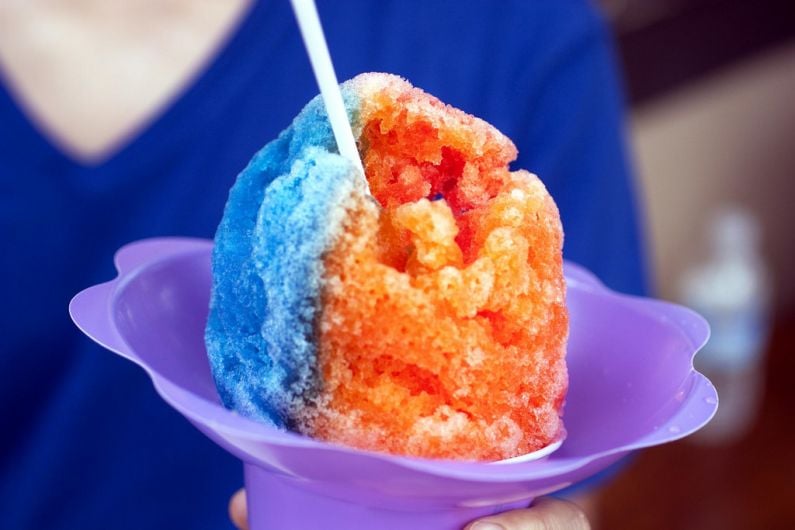 Are you even in Hawaii if you're not eating shave ice? (Answer: No, you are not.) With the Islands' warm weather, there's rarely an hour when a shave ice cone, cup or bowl isn't appropriate. Though they're everywhere here and may appear a dime-a-dozen, remember that not all are hand-packed equal.
For locals, shave ice (again, "shave" not "shaved") is an ever-present affair, from small kid time to adulthood. Visitors will plan their days around when to seek it out and devour the stuff. Simply put, Hawaii's shave ice leaves an impression on everyone.
In our 2017 Readers' Choice Awards, here's how you ranked your favorite places to enjoy some Hawaiian snow.
Oahu
1. Matsumoto Shave Ice
When someone says "shave ice," most people hear "Matsumoto's." It's perhaps the most popular, well-known shave ice shop in all of Hawaii.
The family-owned business in historic Haleiwa Town has been churning out shave ice fare for more than half a century now (in just four years, it will be celebrating it's 70th anniversary). Matsumoto isn't trying to reinvent the wheel here when it comes to shave ice; they are the wheel. With more syrups than you can count, there's something for everyone here to help beachgoers beat the heat, from classic rainbow combination flavors (vanilla, strawberry, banana) to the more local style li hing mui and papaya flavors that appeal to local tastes.
When cruising through the North Shore, it's not hard to pin down this well known hotspot—just find the long line of swimwear-clad people weaving in and out of its fairly recently redesigned storefront.
66-087 Kamehameha Hwy #605, Haleiwa, matsumotoshaveice.com.
2. Island Snow (Two locations: 130 Kailua Road in the Kailua Beach Center and 600 Kailua Road in the Kailua Shopping Center, islandsnowhawaii.com.)
3. Waiola Shave Ice (2135 Waiola St., Honolulu, waiolashaveice.com.)
4. Shimazu Shave Ice (330 N. School St., Honolulu, (808) 371-8899.)
5. Uncle Clay's House of Pure Aloha (Aina Haina Shopping Center, 820 W. Hind Dr. #116, Honolulu, uncleclays.com.)
Kauai
1. JoJo's Shave Ice
Let's hear it for, JoJo's! Originally opened in 1992 in Waimea (how charming is that hand-painted sign, right?), its since expanded to a secondary location in Hanalei to please all sides of the island with its delectable flavors and homemade "secret" cream toppings. In Waimea, there are more than 60-plus flavors to ponder over; Hanalei's shop has a strong grip on more than 30.
And, if there's someone in your party who isn't so hot on shave ice (for whatever ungoldly reason), JoJo's has them covered. They also can whip up milkshakes.
Two locations: 9734 Kaumualii Hwy., Waimea, and 5-5190 Kuhio Hwy., Hanalei, jojosshaveice.com.
2. The Fresh Shave (3540 Koloa Rd., Kalaheo, thefreshshave.com.)
3. Wailua Shave Ice (4-1306 Kuhio Hwy., Kapaa, wailuashaveice.com.)
4. Ono Ono Shave Ice (1292 Kuhio Hwy #4, Kapaa, onoonoshaveice.co.)
5. Wishing Well Shave Ice (5-5080 Kuhio Hwy, Hanalei, wishingwellshaveice.com.)
Maui
1. Ululani's Hawaiian Shave Ice
With six shave ice shops and stands, Ululani's Hawaiian Shave Ice is hard to miss on the island. Its menu is a Maui-inspired selection of flavors and combination like No Ka Oi (coconut, mango, lilikoi), Kaanapali (grape, lime, cherry), and Lahaina (pineapple, coconut, banana) to name a few. The epic Haleakala, though, may just be its most gourmet and refreshing—coconut and leche topped with sweetened condensed cream. Ululani's also uses Maui-made Roselani's ice cream to sweeten up its offerings.
For locations, visit ululanishawaiianshaveice.com.
2. Local Boys Shave Ice (Two locations: 624 Front St., Lahaina; 1941 S. Kihei Rd., Kihei, localboysshaveice.com.)
Hawaii Island
1. Original Big Island Shave Ice Co.
Island flavors abound here with a shave ice truck that takes pride in serving all-natural syrups and toppings. Though relatively new (the shave ice truck only fired up its engines in 2014), Original Big Island Shave Ice Co. has quite the legacy on Hawaii Island, dating back to 1957 when its current owner's mother started shaving up the treat on West Hawaii. Clearly mama's recipes have left quite the impression on a new generation of shave ice lovers who voted it No. 1 in this year's rankings.
Yes, it has your traditional rainbow creations, but its more creamy toppings like Melona and green tea, along with flavors like pickled mango and scoops of ube ice cream have enthusiasts coming back to try to all.
61-3616 Kawaihae Rd., Kawaihae, obisic.com.
2. Scandinavian Shave Ice (Wong Damien, 75-5699 Alii Dr, Kailua-Kona, scandinavianshaveice.com.)
3. Wilson's By The Bay (141 Mamo St., Hilo, (808) 969-9191.)