The best stores for made-in-Hawaii shopping
Inside these cute Oahu shops, you'll find carefully curated made-in-Hawaii collections.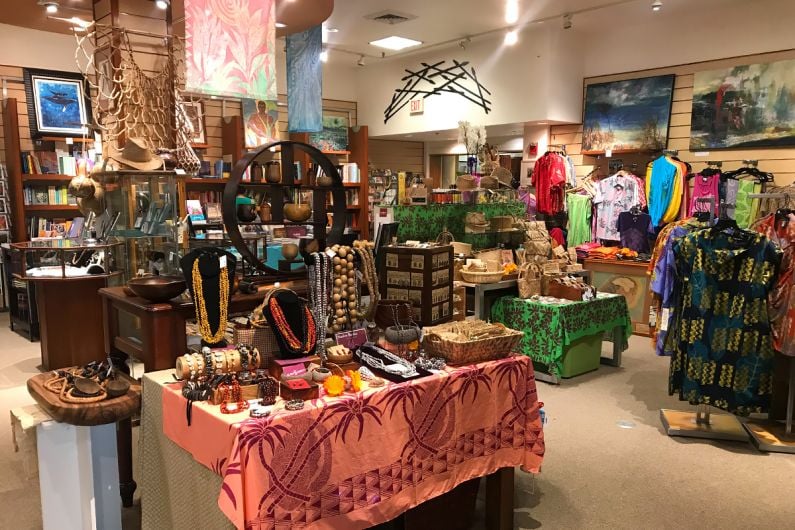 In our March/April "Best of the Best" issue, our editors picked the top stores on Oahu where you can find the best made-in-Hawaii clothes, knickknacks, music, crafts, jewelry and home décor.
1. Na Mea Hawaii
With items ranging from Hawaii-published used and new books, CDs and DVDs, to clothes and crafted wood, there is something for everyone. Na Mea also hosts classes every weekday, which includes lauhala weaving and Hawaiian language classes. 1200 Ala Moana Blvd., Honolulu, (808) 596-8885, nameahawaii.com.
2. Mori by Art + Flea
Art + Flea was established back in 2010 as Hawaii's first urban market, showcasing specialty made-in-Hawaii goods from local vendors, artists and designers, once a month. Its popularity turned the market into two permanent locations on Oahu: The main shop is located in the new South Shore Market and the second location is at the Hawaii State Art Museum. Mori sells curated fashion apparel, home goods, accessories and art from over 85 different Hawaii vendors, with more new vendors contributing every day. 1170 Auahi St., Honolulu, (808) 593-8958, morihawaii.com.
3. Owens & Co.
Located smack-dab in the heart of the historic arts district in Chinatown, Owens & Co. first opened its doors back in 2011. The shop sells a carefully curated collection of handmade and hard-to-find merchandise from independent designers. There's clothing, jewelry and an abundance of unique knickknacks you won't find anywhere else. From tote bags to Turkish towels, stickers and more, Owens & Co. displays cute pops of color everywhere you look and, as a bonus, an adorable section of merchandise is dedicated to children and babies. 1152 Nuuanu Ave., Honolulu, (808) 531-4300, owensandcompany.com.
4. Red Bamboo
If you're looking for one of a kind home decor pieces, then Red Bamboo is the place you've been looking for. With custom-designed, Bali-style furniture made from teak to mahogany, Red Bamboo carries a wide selection of accent pieces to help you bring a little piece of Hawaii into your home, such as coral- or pineapple-printed pillows and quilts, or recycled glass dishes and platters. It's the perfect opportunity to turn any room of your home into your own island getaway. 602 Kailua Rd., Kailua, (808) 263-3174.
5. SoHa Living
SoHa Living has a little something for whatever color scheme you're trying to achieve, whether it's with wooden bowls, leaf-shaped plates or a seashell picture frame. The store currently has a collection titled "Make it Teal," which features a number of items in the colors of teal, gold and white, such as a sea urchin trinket box, a mint-green-and-white seahorse printed pillows, green mosaic rose bowls, and a turquoise ceramic mermaid vase. You will find wooden wall hangings, diffusers, stationary and accessories, too, all made with aloha right here in Hawaii. Various locations, sohaliving.com.