The Big Island's 5 National Parks
Hawaii's largest island is the only one in the state with five national parks—four official parks and one National Historic Trail.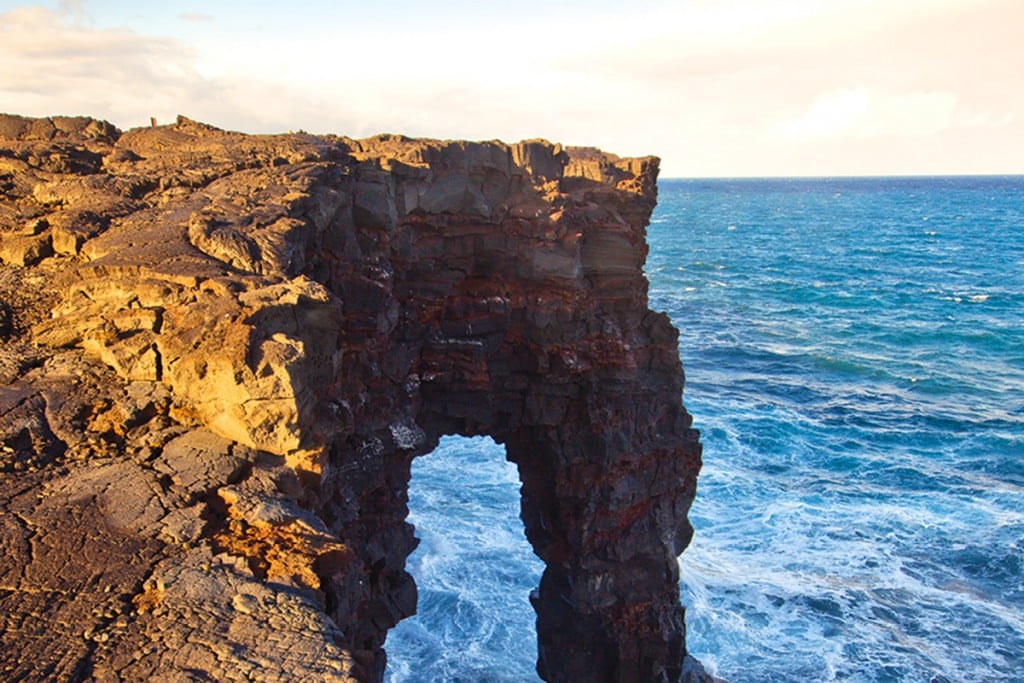 Two active volcanoes. A temple built on the orders of Kamehameha the Great. A seaside place of refuge from death and danger. A coastal preserve of Hawaiian culture and endangered wildlife. An ancient foot highway spanning 175 miles of coastline.
Welcome to the National Park Service sites of the Big Island—a collection of five distinct and infinitely fascinating nature and cultural parks, places of historic interest and one historical trail. And all of it on one island!
Hawaii's Big Island has more National Park Service-managed lands than any of its neighboring islands, with each park claiming its own mix of natural and cultural treasures. Whether you're able to pencil in several days or even just a few hours for a visit, each is more than worth some time for exploration on your next Big Island vacation.
Hawaii Volcanoes National Park
Established: 1916
Among the first things everyone visiting this mammoth, 505-square-mile national park has to come to grips with is accepting that there is no way they'll see everything that makes it truly unique in all the world in a single day. Or even a couple of days.
Its deserved star attractions are the landmasses that give the park its name: 13,677-foot Mauna Loa, the world's most massive volcano, and 4,091-foot Kilauea, the world's most active volcano. Kilauea has been continuously erupting since 1983, on occasion sending molten lava into coastal residential communities and the ocean from its remote southeastern Puu Oo vent. More recently, Kilauea has produced a steady plume of steam and ash—and a lava-generated evening glow—from an ever-widening crack in its summit crater, Halemaumau.
Folks with time to fully explore Hawaii Volcanoes National Park discover a realm of divergent environments, which include rugged coastline lava fields, lush rainforests, ash-covered deserts and even alpine tundra. Plan efficiently for a day on the park's many trails and you could find yourself hiking through a lava tube, over the floor of a once-active volcanic crater, in a forest of native flora and fauna, or alongside sea arches crafted when molten magma met cold ocean waves. Trust us, you'll still have lots to explore the next day.
Visitors first began flocking to see the volcanic wonders of Kilauea in the 1840s. The rim of the volcano's summit caldera was home to several hotel and lodging enterprises, prior to the area's national-park designation in 1916. Two iterations of the Volcano House hotel remain standing—an 1877-constructed building now home to an art center, and a 1941 crater rim structure now closed for renovations.
The first and largest of the Big Island's national parks, Hawaii Volcanoes National Park remains its most visited, welcoming more than 2.5 million visitors annually.
Website: nps.gov/havo
Puuhonua o Honaunau National Historical Park
Established: 1955
Puuhonua o Honaunau, translated into English means "place of refuge at Honaunau." And for the three centuries preceding the 1819 abolishment of the kapu system of Hawaiian sacred laws, that's exactly what this tranquil oceanfront site on the south Kona Coast provided for all comers.
Upon reaching the Puuhonua, fugitives who had violated kapu, and anyone else fleeing death or danger, were offered immediate sanctuary. Some arrived by land. Most swam across Honaunau Bay to reach the safety of its walls—the final resting place of alii (royalty) deified as gods of protection. After being absolved by priests at the Puuhonua over several days, all were free to leave, newly protected by the mana (spiritual power) of the gods.
Following the end of the kapu system, puuhonua throughout the Islands were abandoned or destroyed. But the historic importance of Puuhonua o Honaunau in modern times isn't solely that it was one of the largest such complexes of its time, or that it remains standing. The 420-acre site is also rich with important archaeological finds: a palm grove and fishponds once a playground of royalty, remnants of coastal villages, canoe landings and platforms for heiau (places of worship).
The park's ongoing efforts to preserve aspects of Old World day-to-day Hawaiian life is celebrated each June at Puuhonua o Honaunau's annual cultural festival, featuring hula performances, food tastings, archaeological hikes, kapa (tree bark) cloth- and lei-making classes and Hawaiian games and activities.
Website: nps.gov/puho
Kaloko-Honokohau National Historical Park
Established: 1978
More than half of this 1,100-acre sanctuary of native wildlife and early Hawaiian culture is open ocean—home to countless species of reef fish and marine life, and a favorite feeding and recreational area for honu (green sea turtles). Kaloko-Honokohau's land-based acreage, however, is just as important, restoring and preserving the coastal sections of two ancient ahupuaa (sea-to-mountain land divisions) once populated by hundreds of Hawaiians who fished and farmed here with an eye toward self-sufficiency.
A hike along the park's mile-long coastal trail—part of the Ala Kahakai National Historic Trail—reveals centuries-old fishponds, protected by massive lava rock loko kuapa (seawalls) constructed entirely by hand without mortar. Their brackish waters once used for trapping and raising ocean fish, the fishponds are now also protective wetlands for native birds, including the aeo (Hawaiian stilt) and alae keokeo (Hawaiian coot). The 1.7-acre Aiopio Fishtrap, on the park's south end, was once used to capture marine life for more immediate consumption, ingeniously drawing in fish from a seaward opening at high tide and trapping them at low tide.
Website: nps.gov/kaho
Puukohola Heiau National Historic Site
Established: 1972
Gazing uphill from the shoreline of Kawaihae Bay at Puukohola Heiau's ominous immensity, the story of the structure's purpose and construction seems that much more epic.
Told by prophecy that he would rule the Hawaiian Islands if he built a large heiau atop Puukohola (or "Hill of the Whale") honoring the war god Ku, Kamehameha the Great ordered construction of the temple in 1790. More than 1,000 laborers, forming a 25-mile-long human chain over the Kohala mountain range, transported water-worn lava rocks hand to hand from Pololu Valley to Puukohola. Amazingly, they finished in a year, constructing the 224-by-100 foot temple's 16- to 20-foot-high walls without mortar. The killing of a rival Big Island chief at the site would prove Kamehameha's first victory toward uniting the Islands under his rule.
Entry into the walls of Puukohola Heiau is not allowed, but the park's scenic trails wind past two other heiau (one of these, now submerged offshore, dedicated to the shark gods), the oceanfront royal courtyard Pelekane, and the site of the homestead of John Young, a stranded British sailor who became a trusted military adviser to Kamehameha.
Website:nps.gov/puhe
Ala Kahakai National Historic Trail
Established: 2000
The Ala Kahakai is one of the best and last remaining examples of an ala loa—well-traversed foot trails that connected the coastal sections of ahupuaa and, much like modern highways, were important to the movement of early Hawaiians.
Stretching more than 175 miles, the Ala Kahakai follows a coastline path from Upolu Point on the Big Island's northernmost tip, south along the Kona Coast and around Ka Lae (South Point) before ending at the easternmost boundary of Hawaii Volcanoes National Park. Along the way, the trail passes through more than 200 ahupuaa and alongside hundreds of sites important to Hawaiian history and culture, including temples, housing settlements, fishponds and petroglyph fields.
Sadly, you can't hike the entirety of the Ala Kahakai. Because the trail passes through federal, state and privately owned lands, the National Park Service is working with multiple entities to develop management and maintenance plans with an ultimate goal of offering public access to the full length of the trail.
You still might want to lace up your hiking shoes, however. Portions of the Ala Kahakai are accessible to hikers, including segments in all four of the National Park Service's other Big Island sites.
A bonus for the hardiest and most unwaveringly patient among us? When all of the Ala Kahakai's segments are open to the public—a project expected to take decades to complete—the trail will actually connect Hawaii Volcanoes National Park, Puuhonua o Honaunau, Kaloko-Honokohau and Puukohola Heiau.
Website: nps.gov/alka