The Big Island's Hawaii Tropical Botanical Garden Is a Living Plant Museum
Nestled along the rugged Hamakua Coast is a fantasy forest of native and international flora with an ocean view.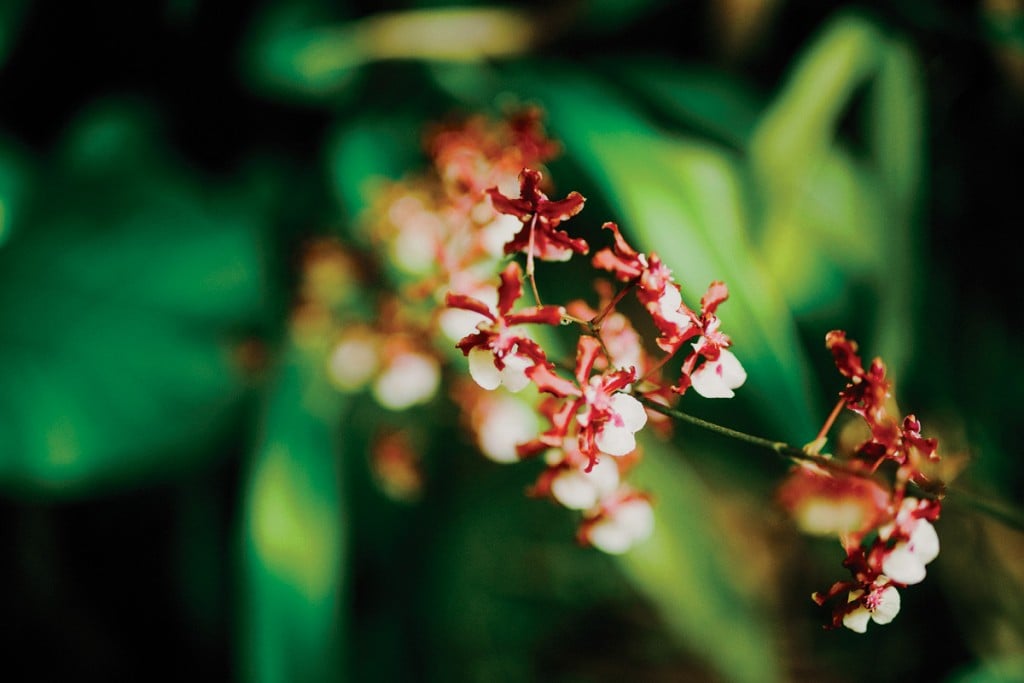 It feels like I'm descending into another world. One step onto the steep 500-foot-long boardwalk at the entrance of Hawaii Tropical Botanical Garden and I am transported back in time.
Leaving the modern world behind, I follow the walkway to the bottom of the valley. There's a canopy of trees above me, and I'm enveloped by the chill air and fresh scent of the rainforest.
Only 8 1/2 miles outside of Hilo, I made the spontaneous decision to drive the Hamakua Coastline and stop here before a flight. A nonprofit organization, the botanical garden was founded by Dan and Pauline Lutkenhouse with the mission of being a living seed bank for over 2,000 tropical and subtropical species—many of them endangered—from around the world, including heliconia, gingers, palms and orchids. A lover of plants, Dan bought a 17-acre parcel of land sight unseen 40 years ago while on vacation in the Islands with his wife. It wasn't until a little later that he would machete his way through the jungle, and find out what he had bought.
"He found pretty much a garbage dump," says his son, Dan Lutkenhouse Jr., the executive director. He remembers going with his father on that first trip. "There were cars that were turned over and refrigerators. Obviously it had a lot of tropical plants too, but a lot of them were invasive species."
For about 15 years, Dan Sr. worked every day to cut the overgrown vegetation and clean out the trash. He started laying down the plans for what would become a sort of Shangri-La right on the edge of Onomea Bay. In 1984, the garden opened to the public and now steadily attracts more than 150,000 visitors every year.
The sound of water catches my attention and I take the meandering staircase down to the stream. I love how the pathways move naturally with the land, rather than cutting into it. Passing through an area called the "palm jungle trail," I pause to tilt my head back and stare at the beautiful Alexandra palm trees soaring into the sky. It's just one of 200 species of palm trees living in this tightly packed garden, and I'm caught up in the moment.
"It's what people really envision in their minds when they come to Hawaii," Dan Jr. says. "The lush palm tree and heliconia encrusted valley on the ocean, I think it really represents two worlds: this fantasy that people have of what Hawaii should look like, and it represents an opportunity to really understand and appreciate how many diverse species of plants we have, because there are so many."
When I reach the bottom of the stairs, I find an attractive waterfall flanked by ferns and trees. It's multitiered and cascades down rocks into a small pool, feeding the stream that ultimately empties into the ocean nearby.
When Dan Sr. bought the land, he had no idea there was a waterfall on the property. He and his son discovered it after getting stung by bees and running through the dense overgrown foliage to get away. They were running in the direction of what they thought was the ocean. "We came over a hill and, lo and behold, Onomea Stream and one of the pools was there, so he and I just literally jumped into it together and went underwater," recalls Dan Jr. with a laugh. "I think if you can see a father and son being stung and running blindly through a jungle, jumping into something and then looking at the falls, it was like this magical moment."
Dan Jr. took over operations with the passing of his father in 2007 and Pauline in 2018. Also very fond of plants and the outdoors, Dan Jr. plans to continue his parents' legacy and also expand on it by creating a curriculum to educate visitors on self-sustainability and biodiversity in a complementary way.
"I truly believe that we have a vehicle here that can do what I passionately believe in and that's to educate people," Dan Jr. says. With its land holdings now at around 100 acres along the coastline, he wants to expand the footprint of the garden and flesh out his ideas over the course of the next 40 years. "We're thinking of having an area about invasive species," he says. "We're thinking about an exhibit of medicinal plants … and why they're so important, and having an exhibit in respect to the rainforest and what happens when you actually deforest an area."
Reaching the rocky point, where the ocean vista trail loops back around to where I started, the sweeping view of Onomea Bay is magnificent. Once called Kahalii, the land used to be an old Hawaiian fishing village, and terraces and stone walls used for growing taro and sugarcane from that era can still be seen along the paths. Twin Rocks is just one natural landmark seen at the head of the bay, and a sign explains the Hawaiian legend associated with it. They're two lovers, it reads, who volunteered to be guardians of the bay. The Hawaii Tropical Botanical Garden's intention is to leave the rugged, natural beauty of the coastline undeveloped, making it, in a way, also a guardian of this land, and I'm thankful there are places, such as this, that will continue to exist into perpetuity.
Hawaii Tropical Botanical Garden
27-717 Old Mamalahoa Highway, Papaikou, Big Island
htbg.com
Christine Hitt is a freelance writer from Oahu, now living in California. When she's not trying to figure out how to keep her own plants alive, you can find her on trails appreciating the flora outside.