The Brothers Cazimero return with "Destiny"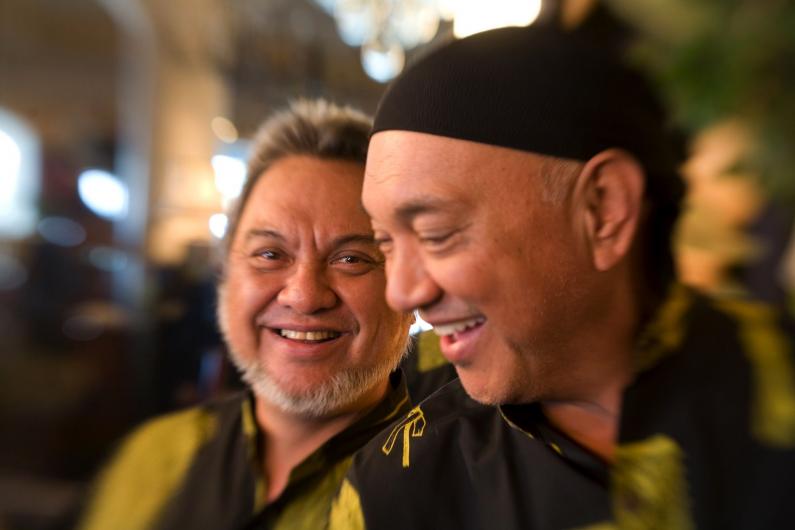 Some might actually call it destiny.
"It" being the anticipation that accompanied the recent release of the Brothers Cazimero's first album of new recordings in four years, Destiny.
If you own a copy of Robert and Roland Cazimero's last disc, 2004's Some Call It Aloha … Don't Tell, you might know why.
That album—which more than a few music critics called a return to form for the venerable Hawaiian music duo—not only gave the Caz their first-ever Grammy nomination, but was also among the first-ever group of CDs nominated for a Best Hawaiian Music Album Grammy.
So it was hardly a surprise when Destiny bowed at the top of most Hawaii music sales chart, and at no. 3 on music industry trade magazine Billboard's World Music Chart last month.
The disc remains a bestseller, while the Caz are just home from a road trip promoting it.
Robert and Roland played their 15th consecutive sold out show at Whittier, California's Ruth B. Shannon Performing Arts Center. At the annual concert stop, the boys heard that 15-year-old Californian Kaimana Kono was slated to play pre-show music outside the center—but was rained out. Of course, they invited the young ukulele player and falsetto vocalist on stage.
Rumor has it, the teenager stole the show.
If you enjoyed Some Call It Aloha, you'll probably find the generally upbeat mood of Destiny just as entertaining.
And if you're on Oahu tonight, catch the Caz at their usual Wednesday evening gig, 7 p.m. at Chai's Island Bistro. Click here for more information from us on Brothers Cazimero.