The Clarence T.C. Ching Foundation
From modest beginnings to business success, an immigrant entrepreneur made sure he never forgot where he came from.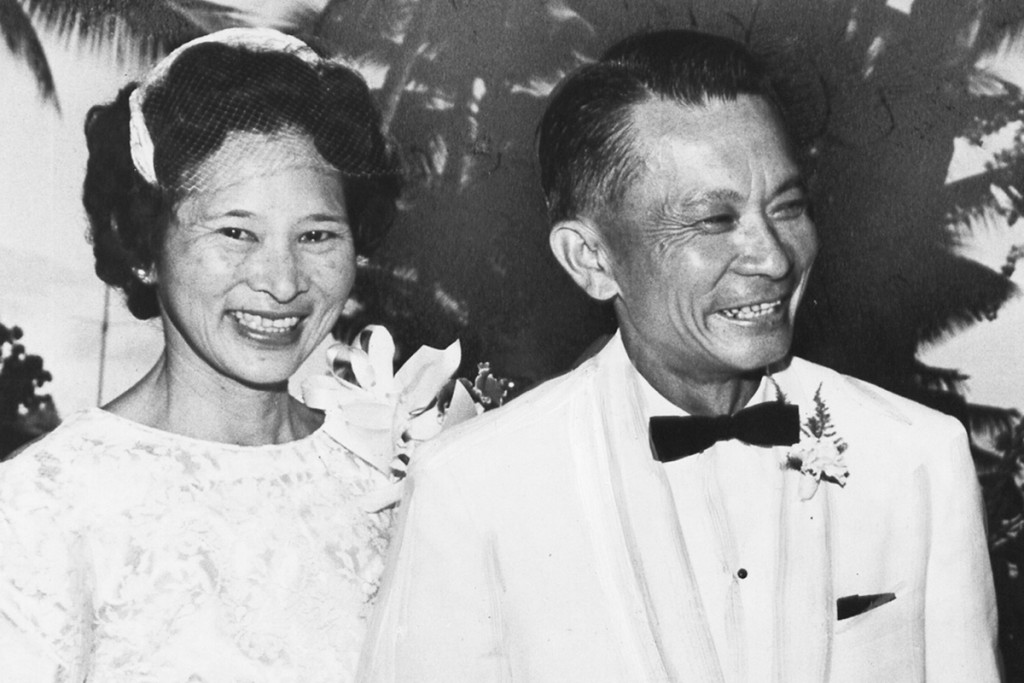 Caring for our communities requires everyone to pitch in and give back. It's what we do. And it takes all of us. 
In these profiles, we zoom in on neighbors making a difference every day. We meet a family that's been giving back for generations because it's in their DNA and a man who created a legacy for generations to come. We see rock bottom and celebrate second chances, and we discover the dedication that propels people to preserve and protect our precious aina.
* * *
Raymond Tam, nephew of Clarence T.C. Ching and one of five trustees of the Clarence T.C. Ching Foundation, recalls wondering, as a boy, what made Uncle Clarence tick. "We lived in Wahiawa, and calls to town were long-distance and expensive," he says, recalling how his mother wouldn't let him call that girl who'd caught his eye. "But then Uncle Clarence would call my mother, and they'd talk for 30 minutes or longer," he said. "Big bucks!" When he'd ask his mother about the calls, she'd tell him Uncle Clarence was thinking of taking on a new project, a new development, and he wanted her advice. "My mother completed eighth grade and had no experience in real estate," Tam says. "But then it dawned on me. He wasn't asking for advice. He was asking for her blessing."
Clarence and his sister, Mae, were two of 11 children born to Chinese immigrant parents making their way in the rice fields on Kauai, near Anahola, in the early 1900s. As the oldest daughter, Mae stepped in as the caretaker and surrogate mother to her siblings — necessary because their mother's tiny bound feet (customary at the time for upper class Chinese women) made keeping up with 11 children impossible.
A frail and sickly boy, Clarence might have been counted out, but his father knew better. "If he survives, he will become an important, prosperous and outstanding man," Ching Koon Hook said to his family about their frail boy. "He will help the rest of our family."
Pooling the family's meager resources, his parents enrolled Clarence in Saint Louis School on Oahu, where he discovered an affinity for education, a love for athletics — especially boxing — and a natural ability to lead his peers as class president.  When he graduated in 1932 he set out to make good on his father's faith in him, opening a shop in Honolulu's Mapunapuna area and taking on modest real estate deals across the island.
While many successful ventures have been celebrated over cocktails, it could be said that Ching's success started that way. Thanks to his business savvy, a liquor license ensured that his Mapunapuna store offered alcoholic beverages among the cans of meat and other necessities. When food rationing during World War II made those necessities even more scarce, Ching made sure his best customers could count on him — including Sam Damon. The two men struck up a friendship. When Damon Tract, a piece of land being eyed for the tiny airport's expansion to accommodate jet travel and yet still home to many low-income tenants, became a real estate opportunity, Damon helped ensure his friend, Ching, got the deal.
With that first major acquisition and development, Clarence Ching found his calling. As other developers focused on glitzy hotels and Waikiki, Ching looked to modest and low-income areas, developing Moanalua and Salt Lake. He then turned to banking, founding Hawaii National Bank, perhaps in an effort to even the odds for immigrant developers who'd been less welcome at the traditional banks around town. And with every new venture, he called his sister, Mae. "Clarence is smart. He knows what he's doing," she'd tell her son, Ray, after every call.
In his 40s and enjoying a lucrative career, Ching turned his attention to his family. "He called each of his siblings, and then each of his wife's nine siblings, and told them he'd been successful and wanted to share it with them," Ray says. "Nineteen people! Who does that?" Ray recalls his mother hanging up the phone and saying, "I don't know why, but Uncle Clarence is deeding property to all of us."
When the property now known as Kukui Gardens came up for acquisition in 1967, Clarence Ching saw possibilities that others didn't. The deal, which provided low-income housing for some 800 families, was a complicated one, with no opportunity for a meaningful return on investment for decades. What some might have seen as a fool's errand, Ching saw as his legacy, his chance to make significant and long-lasting change. He established the Clarence T.C. Ching Foundation with a $10,000 cash donation and won the bid to purchase the property on behalf of the foundation.
Ching's development of Kukui Gardens brought over 800 family apartments to urban Honolulu — and won national design awards and the respect and admiration of business and political leaders across the state. Despite numerous suggestions that the development bear his name, he agreed only to a small plaque nailed to a kukui tree thanking him for his work.
Cathy Ching, Clarence's granddaughter and also a foundation trustee, recalls growing up not knowing much about what he did. "I remember him always being around at family gatherings, but quiet, busy," she recalls. "I knew he'd developed Salt Lake, but not much else." Cathy was an adult before she understood the scope of his success and his contributions to Hawaii. "I'm glad," she says. "It was a good thing for my family. Knowing about wealth can be problematic." She reminds her own children of that now. "You live a privileged life," she tells them. "Now you have a responsibility to give back."
Clarence Ching more than delivered on his father's bold prediction, first providing for his family and then giving back to the community. Ching died in 1985, having seen the foundation he started with $10,000 cash and big dreams support nonprofits that tend to kupuna, education, the arts and underprivileged communities across the state.
In 2006, the foundation sold Kukui Gardens for $132 million, exponentially expanding the foundation's resources and reach.  Almost two dozen buildings and facilities now bear Clarence Ching's name, from the new PBS Hawaii facility off Nimitz Highway to the UH Athletic Complex, and from the Ching Gymnasium at Mary Knoll to the Learning and Technology Center at his alma mater, Saint Louis School. With grants ranging from a few thousand dollars to a million-plus, the foundation sees its goal as a simple one: continue the legacy created by Clarence Ching to support and give back to the community that gave him so much.
Ray and Cathy laugh when they say that their uncle and grandfather would not like seeing his name so prominently displayed around the community, but they think he'd understand. "It's important for new generations to have role models," Ray says, "to see what's possible, what they can do, too."
As for that small plaque from Kukui Gardens, it's long removed from that tree and is now on the lanai at Cathy's house. "I'm waiting for the right kukui tree," Cathy says. Her grandfather would surely approve.