The Company That Brought Chic Hawaii Neckties Now Offers Something For the Ladies
Honolulu-based Pineapple Palaka has expanded its line to include silk scarves and kimono for women.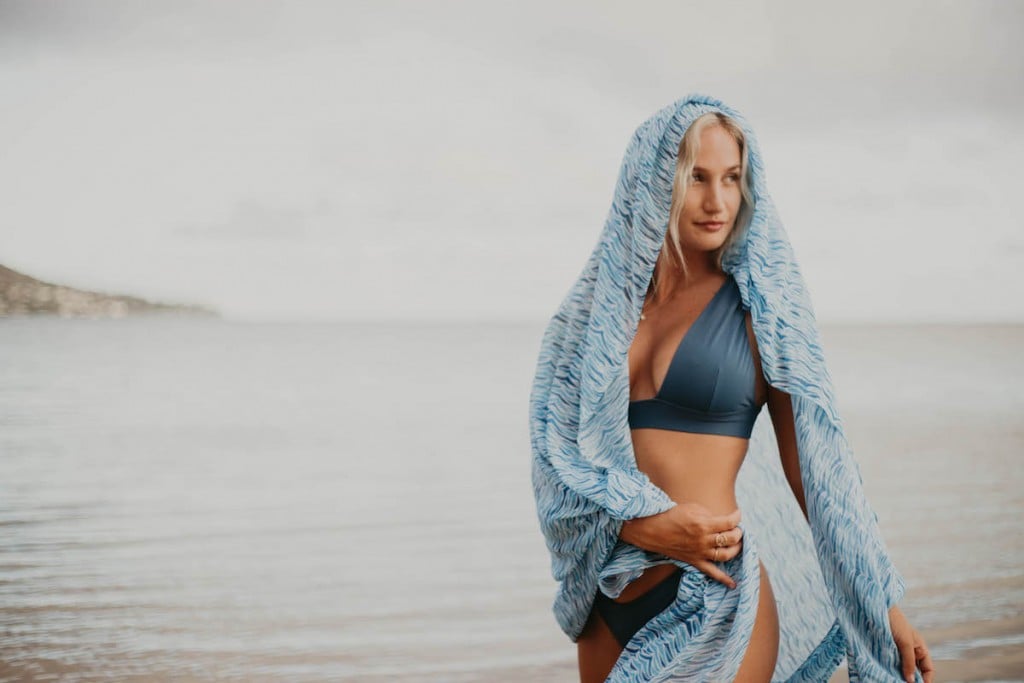 In 2014, Pineapple Palaka launched its high-end neckties that blend modern Hawaiian prints with its signature backing of vintage palaka, an old-school checkered pattern rooted in Hawaii's plantation era. What owners Jonathan Fong and Rick Abelmann soon discovered was the same Hawaiian-style prints on the sleek silk ties—bird of paradise, monstera, ohia—were becoming a coveted item for the female clientele who did the bulk of the ordering. "They'd call and email us," says Fong, "and tell us, 'Hey, we'd love to see this print on something for the ladies.'"
On April 30 the company debuted its line of silk scarves and kimonos. Priced between $75 and $95, these oblong and square scarves are available in a soft, silk blend for women who want something lighter and a thicker polyester blend for cooler climates. A quick look on its site shows that the subtle prints of Hawaiian maia (banana leaf), monstera  and ulu (breadfruit) are the most popular—and currently sold out.
As for the kimono, the appeal is its versatility: "The picture we had in mind was that it can be easily worn from the beach to the pool to a night out on the town," says Fong.
To look effortlessly trendy, just pair one of these breezy kimonos ($130) over fitted jeans and a plain tee with some accessories.
Pineapple Palaka has also been busy with environmental conservation. The company has partnered with the Ohia Legacy Initiative, a conservation group that grows ohia trees from seed and hosts plant giveaways to fight rapid ohia death, a fungus that attacks and kills these native trees. Ten percent of the proceeds from the sale of Pineapple Palaka's three—soon to be six—ohia-designed ties will be donated to this cause.
In addition, Pineapple Palaka's latest menswear line now includes high-quality custom-tailored suits. Its innovative business approach includes dispatching someone to your workplace—or even the beach—to take a 20-point measurement to ensure that you have a "hand-made-to-measure" fine-woven suit regularly valued at $800 to $1,000 at half the cost, depending on the style of the suit. You'll even get two free neckties.
Pineapple Palaka, (808) 554-0104, pineapplepalaka.com