The Complete 2019 Merrie Monarch Festival Winners List
See which hula halau came out on top.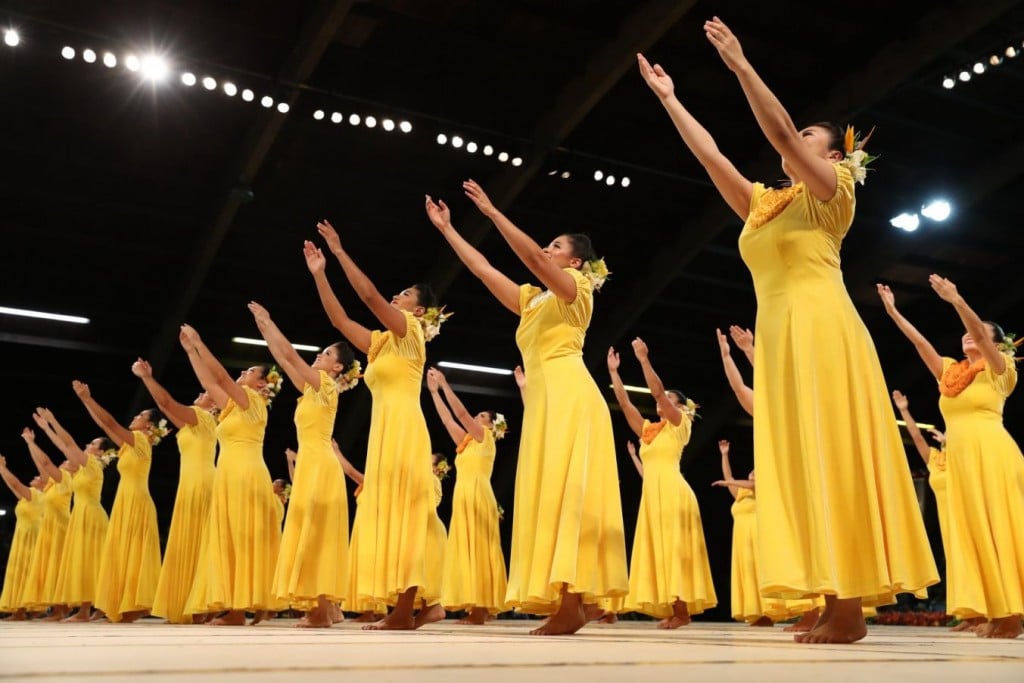 After three full days of competition, the 2019 Merrie Monarch Festival is officially over. Twenty-four hula halau (hula schools) competed in auana (modern) and kahiko (traditional) styles of hula, and schools were split into wahine (women) and kane (men) divisions. A panel of judges reviewed each performance and assigned points to each halau using the Merrie Monarch judging sheet before announcing who won in their division at the awards ceremony on Saturday night.
Here's the complete winners list.
Wahine Kahiko
5. 574 points – Ka La Onohi Mai O Haehae
4. 583 points – Halau Kekuaokalaaualailiahi
3. 594 points – Halau Mohala Ilima
2. 597 points – Halau Na Mamo O Puuanahulu
1. 602 points – Hula Halau O Kamuela
Kane Kahiko
4. 570 points – Kawaiulaokala
3. 573 points – Halau Na Mamo O Puuanahulu
2. 590 points – Kawailiula
1. 592 points – Kaleo O Laka I Ka Hikina O Ka La
Wahine Auana
5. 581 points – Halau Ka Lei Mokihana O Leinaala
4. 583 points – Halau I Ka Wekiu
3. 587 points – Halau Hiiakainamakalehua
2. 588 points – Hula Halau O Kamuela
1. 598 points – Halau Kekuaokalaaualailiahi
Kane Auana
4. 570 points – Kawailiula
3. 571 points – Kawaiulaokala
2. 574 points – Halau Na Mamo O Puuanahulu
1. 598 points – Halau Hula O Kahikilaulani
Wahine Overall
3. 1172 points – Halau Kekuaokalaaualailiahi
2. 1174 points – Halau Na Mamo O Puuanahulu
1. 1190 points – Hula Halau O Kamuela
Kane Overall
3. 1157 points – Halau Hula O Kahikilaulani
2. 1160 points – Kawailiula
1. 1163 points – Kaleo O Laka I Ka Hikina O Ka La
Overall
3. 1172 points – Halau Kekuaokalaaualailiahi
2. 1174 points – Halau Na Mamo O Puuanahulu
1. 1190 points – Hula Halau O Kamuela