The country's best reviewed seafood restaurant on Yelp is in Hawaii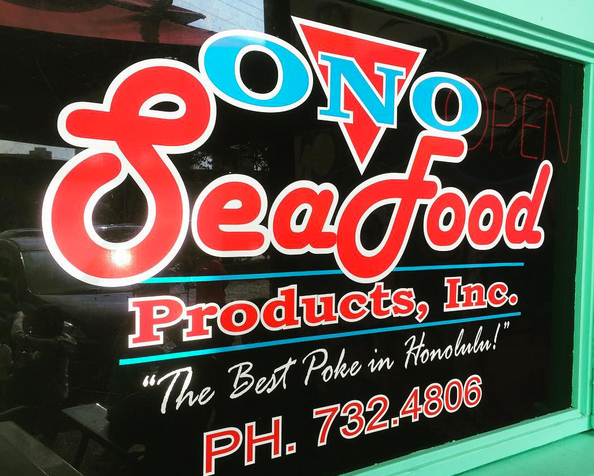 The people of Yelp have spoken.
While we wait to see if this Oahu eatery continues to hold it down on the seafood front for 2016, Yelp users were left in awe by Ono Seafood his past year.
The restaurant, located on Kapahulu just outside of Waikiki, has been delighting the community with what's regarded as not just the best poke in the state, but the entire United States, according to Yelp's official blog findings.
Here are a few bites from Ono Seafood's Yelp page which has a four-and-a-half star rating and more than 1,400 reviews ([bold is our emphasis, all sic]:
"We got inside and yes Poke land lay before us. So many choices and they all looked so delicious. We settled on Shoyu, Hawaiian and Wasabi. They were all so delicious and had their own distinct flavor. Surprisingly the Wasabi was just prefect and the Wasabi did not overpower the Poke but added to the flavor of the Ahi. I have to say my favorite was the Shoyu but trust me is was a tough decision on which one I liked best." — Ed V. of Las Vegas, NV
"The spicy ahi (#7) poke bowl is delicious and FRESH! The hubby got the shoyu ahi (#1) and it was pretty good too, but I think the spicy ahi was slightly better! I also love that you can chose Brown rice!" — Caroline C. of Cherry Hill, NJ
"Ono seafood though, man oh man, i could cry thinking about their Spicy mayo poke. Good God, this thing was delicious." – Michelle L. of Monterey Park, CA
"the poke bowls come with Jasmine rice, which adds a nice twist on the whole poke experience! Not to mention that the Jasmine rice complements the fish perfectly. That alone definitely separates it from the crowd. I got the spicy ahi today, and my boyfriend got the Hawaiian Poke. The spicy ahi was fabulous! It was perfectly savory, with that slight kick that spicy ahi should have. The Hawaiian Poke was great too, it's sprinkled with chili pepper oil and kukui nut oil. The flavors as you take a bite really remind you that you're in Hawaii!" – Kelsi C. of Honolulu, HI
In their annual Yelp's Top 100 Please to Eat in the U.S. list, Yelp's ranking algorithm accounts and weighs it for recent reviews only, so like Ono Seafood's menu, you're only getting the freshest critique from its fervent foodies.
Looking through all 100, four Hawaii restaurants placed in the top 50, eight in the full list altogether. Those Hawaii restaurants in order of ranking:
5. Ono Seafood – Honolulu, Oahu
6. Shark Pit Maui – Lahaina, Maui
11. Dat Cajun Guy – Haleiwa, Oahu
27. Lahaina Luna Cafe – Lahaina, Maui
51. Da Poke Shack – Kailua-Kona, HI
53. Marukame Udon – Honolulu, Oahu
71. Your Kitchen – Honolulu, Oahu
91. Tanioka's Seafoods & Catering – Waipahu, HI