The Dragon's Gift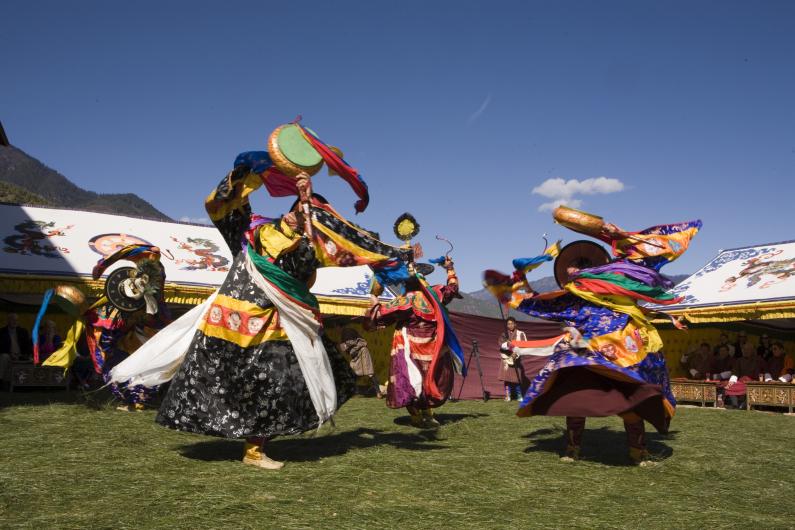 It's the opening week of the Honolulu Academy of Arts' three-month "The Dragon's Gift: The Sacred Arts of Bhutan" exhibit.
What else is in it for you—besides a glimpse of Bhutanese art works dating from the 8th to 20th centuries—if you visit through Friday?
Monks dancing.
They are Buddhist monks, from Bhutan, one of the most isolated and hidden countries on the planet. They'll be performing the Cham—the colorful, meditative Buddhist dance of Bhutan—in the Academy's central court at 11 a.m. and 2 p.m. through Friday.
The monks wear brightly-colored robes, ornate headdresses and masks, and are accompanied by drum-filled traditional beats.
In Bhutan, the Cham is performed during Tsechu, annual religious festivals held throughout the country that draw remote villages together for communal celebration and socializing.
The monks will also perform at ARTafterDARK—the Academy's monthly after-work mixer for young adults—on Friday at 6 p.m. In honor of the exhibit, this month's AafterD theme is "Dragon Thunder."
The bonus of checking out the Academy's Bhutan exhibit at AafterD? For $10, you get admission to the event, the Academy, the Dragon's Gift exhibit (it'll cost you $20 extra during daylight hours), food and cocktails for sale from E&O Trading Co. inspired by Bhutanese cuisine, AND monks dancing.
More information on the Honolulu Academy of Arts "Dragon's Gift" exhibit here, ARTafterDARK here, and a terrific article from The New York Times on how the exhibit got to the Academy here.
"The Dragon's Gift" exhibit will be at the Academy through May 23.