The Duke Kahanamoku exhibit opens at the Bishop Museum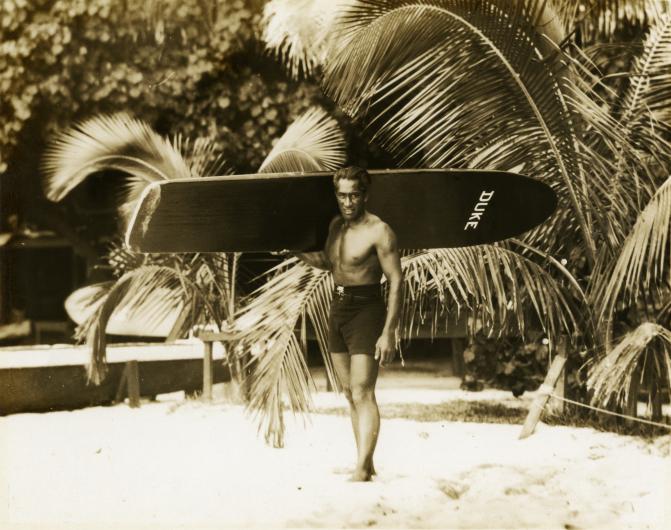 The Duke Paoa Kahanamoku exhibit is an interactive glimpse into the life of arguably the most famous kanaka maoli (Native Hawaiian) of all time. Running from August 9 through November 30 at the Bishop Museum, this collection includes some of Kahanamoku's prized possessions, memorabilia and photos to celebrate his numerous achievements and 125th birthday.
Born August 24, 1890 in Honolulu, Kahanamoku quickly rose to fame by the age of 22. He became a five-time Olympic medalist in swimming and water polo, and he is widely-regarded as the father of modern surfing for taking the Hawaiian sport of kings to Australia and around the world. In addition to his achievements in the water, he held the positions of Honolulu sheriff and Ambassador of Aloha, says Bishop Museum Historian, DeSoto Brown.

"I want people to get a sense of how many different facets there were to Duke's life," says Brown of the Duke Paoa Kahanamoku exhibit. "I want people to not only see all the things he accomplished in the sporting world—his prowess as a surfer and as an Olympic swimming athlete and champion—but Duke had a lot of other things in his life."
Here are four features of the Duke Paoa Kahanamoku exhibit that you should look forward to seeing.
1. The Hardware
Duke Kahanamoku competed in three different Olympic summer games (1912 in Stockholm, 1920 in Antwerp, 1924 in Paris), winning gold medals in a 100-meter freestyle and a freestyle 4-x-200 meter freestyle relay. The exhibit has an impressive case filled with some of his medals and trophies. Look out for the 1912 Olympic gold medal for 100-meter freestyle. It was Kahanamoku's first Olympic gold medal—and Hawaii's!
2. No Selfie Sticks Needed
Perhaps one of the more modern installations of the exhibit is a chance to take a selfie with The Duke. There is a digital camera set up above a screen with several different images of The Duke you can choose to take a pic with for social media. Above this digital installation reads, "Aloha…it is my creed.– D.P.Kahanamoku." This portion of the exhibit shows how Duke was a true ambassador of aloha and one of Hawaii's first movie stars.
"He was somebody who was comfortable greeting and interacting with royalty, celebrities, sports stars and movie stars," says Brown. "Speaking of movies, he appeared in a number of movies that people won't remember or know about."
Duke Paoa Kahanamoku appeared in 14 films between 1925-55, and most notably played the character, Ua Nuku, in the 9148 feature, "Wake of the Red Witch," which starred John Wayne and Gail Russell. Another notable film The Duke appeared in was the 1955, comedy-drama, "Mister Roberts," where he played a "native chief" alongside Henry Fonda and James Cagney.
3. Traveling Man
Duke Kahanamoku will always be one of Hawaii's favorite sons, but he was also a citizen of the world, traveling the globe extensively as an Olympian and celebrity. He brought surfing to Australia in 1915 and the Aussies recently celebrated the 100-year anniversary of The Duke's visit to Australia this past January.
"He was an exceptionally well-travelled man and he was very well-rounded in his international experience and seeing many other places in the world," says Brown. "In addition to being Hawaiian and remaining true to his Hawaiian culture, because he was 100 percent Hawaiian, he remained Hawaiian in his outlook and in his activities."
One of the most talked about trips that Kahanamoku made occurred in Waikiki when he rode an approximately one-mile-long wave from Castle's surf break all the way to Canoe's surf break on a 16-foot-long surfboard. You can simulate that legendary surf session on the exhibit's surf simulator—step on top of a movable board and ride the wave shown on a TV monitor in front of you.
4. Duke Kahanamoku, the brand
The Duke was not only an athlete, he was a savvy entrepreneur, which included licensing his name for different endeavors.
"He was a business man and a successful business man. He was not just a beach boy or just a happy Hawaiian guy. He functioned in the business world as well," says Brown.
The first Duke Kahanamoku aloha shirt is on display in the exhibit, and right next to it is a contract that he signed to license his name for businesses.