The HAWAII Magazine Guide to Maui Ziplines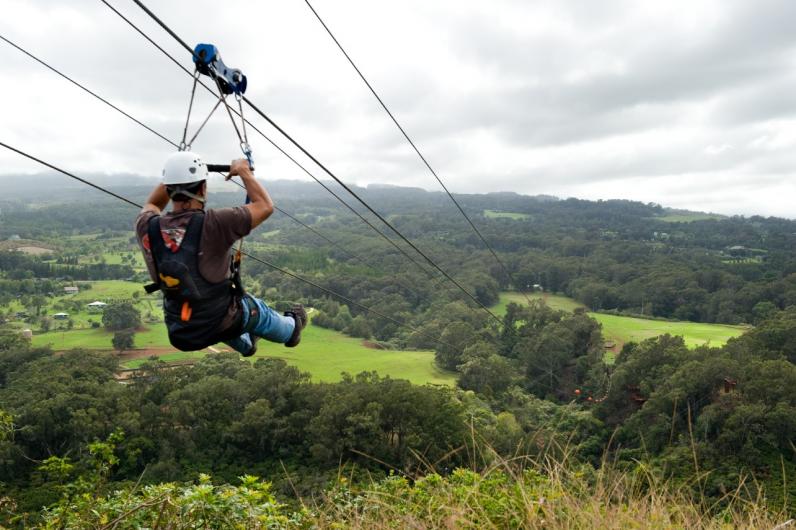 After four days, my count stood at 34 ziplines—every zipline on the island of Maui. I'd taken a ride on all of 'em.
It was a challenge I'd been anxious to take on. Two years ago, I'd first strapped myself into a harness, clipped to a pulley and zoomed down on a steel cable through the forests and valleys along the West Maui Mountains above Kapalua. Over the next couple of years, I watched the number of zipline tours on Maui increase. The list now includes lines on the slopes of Mount Haleakala and on valley ridgelines overlooking central Maui. Clearly, it was time to head back. This time, for a zipline abbondanza.
The verdict? There's a great course on the Valley Isle for just about every kind of zipliner—from first-timers to aficionados, from leisure riders to speed, length and height junkies.
Here's HAWAII Magazine's first-hand guide to the Maui ziplines:
Piiholo Ranch Zipline
No. of lines: 5
Length of lines: 480 feet to 2,800 feet
Maximum height: 600 feet
Course ideal for: People who don't like long walks between lines.
Claim to fame: Stunning upcountry Maui and Haleakala views. Tied for second-longest zipline in Hawaii.
Sailing over the lush and breezy forest canopy of Upcountry Maui with Piiholo, I found the toughest part about its collection of lines deciding which way to look. The scenery on both sides of me was often spectacular.
Located on an 800-acre Makawao ranch, Piiholo's ziplines were all about views. On one side, Haleakala's cloud-free summit. On the other, distant north shore Maui surf. Folks aiming to move quickly from line to line with little hiking will appreciate the treehouse-like course's hub design, and the short walk from the parking lot to the first line—across a ravine on a 317-foot suspension bridge, no less.
As with guides on all of the Maui zipline tours we took, Piiholo's staff took every opportunity to talk about the history of the land, about nearby towns and the endemic and invasive flora and fauna we encountered on the course.
Best zipline: Line No. 5. Its 2,800 feet take a full minute to leisurely traverse. You'll see zipliners rush by on lines beneath you and, on a clear day, get stunning views of the entirety of Upcountry Haleakala.
Call (808) 572-1717, www.piiholozipline.com

Skyline Eco-Adventures: Haleakala
No. of lines: 5
Length of lines: 120 feet to 750 feet
Maximum height: 150 feet
Course ideal for: First-time zipliners and people on tight schedules—it takes about 90 minutes to zip through the entire course.
Claim to fame: First zipline course in the U.S., built in 2002.
You'd think adrenaline junkies regularly zipping longer and higher lines elsewhere on Maui might pooh-pooh a zipline course strung beneath the canopy of a eucalyptus forest. Most of Skyline's lines are about 30 to 40 feet off the ground. But the instructors on other tours praised Skyline Haleakala, first for introducing ziplining to the Islands and, second, for exactly the same reasons I enjoyed the course.
Skyline uses rock-climbing harnesses, which are less heavy and bulky than the "seated, forward-facing" harnesses used on other tours I'd been on. I was slightly less comfortable, but I really enjoyed the feeling of being unencumbered, as if I was swinging tree to tree. Instead of hitting a braking apparatus at the end, Skyline zipliners brake by running up ramps to come to a stop—easier and more fun than it sounds. I even immediately warmed to ziplining in the thick of a forest rather than above it, with all the close-up sights, sounds and smells the experience entailed.
Best zipline: Line No. 5. A course anomaly that requires zipliners to take a running leap of faith off a ramp perched on a 150-feet cliff to ride a 750-feet line barely above the treeline at speeds of up to 50 mph.
Call (808) 878-8400, www.zipline.com
Skyline Eco-Adventures: Kaanapali
No. of lines: 8
Length of lines: 350 feet to 1,100 feet
Maximum height: 150 feet
Course ideal for: Adventurous zipliners who haven't done a course using rock-climbing harnesses.
Claim to fame: Best zipline views of West Maui Mountain leeward valleys. On the last tour of the day, stunning sunset views of Molokai and Lanai.
"A more aggressive style of ziplining." That's what a Skyline instructor explained would be the difference between the company's Haleakala course and the longer, higher-elevated lines of its Kaanapali course.
You still use a rock-climbing harness, but the experience at these speeds is different. Instructors taught us how to "steer" our harnesses to avoid spinning too much, and how to brake at higher speeds. Right away, I liked the additional skill it took to control the zip here.
Skyline Kaanapali's course criss-crosses a gulch in the West Maui Mountains, which on my late-afternoon tour offered picture-perfect views of setting-sun rays on Pailolo Channel spilling through clouds passing by Molokai and Lanai.
A portion of Skyline's Kaanapali and Haleakala fees pay for the company's native plantlife reforestation hikes.
Best zipline: Line No. 6, on which zipliners are advised to get a running start off the ramp to gain the momentum needed to make it to the other side of the gulch. No worries if you don't make it. Instructors are pros at rescues on this line.
Call (808) 878-8400, www.zipline.com
Kapalua Adventures
No. of lines: 8
Length of lines: 500 feet to 2,300 feet
Maximum height: 300 feet
Course ideal for: People who want to combine a guided nature hike with ziplining. The upper course requires some forest hiking to get from line to line.
Claim to fame: Highest elevation West Maui ziplines. The longest suspension bridge in Hawaii—366 feet long, and 225 feet above a ravine floor—which you walk across en route to the first line.
You can break down your day of ziplining here into two shorter tours—four lines on an upper course, or four lines on a lower course. But if you've got the time, take on all of Kapalua Adventures' ziplines.
Except for a training line, each features breathtaking views of the Kaanapali Gold Coast, Molokai, Lanai and the blue waters of the Pailolo Channel, from high atop the West Maui Mountains. All but two lines run across, above or, sometimes, right through the verdant forests and gulches bordering the Puu Kukui Watershed Preserve.
There's a price paid in time to achieve that kind of elevation—mainly a 20-minute drive up the mountainside in a Mercedes biodiesel, and a wait for the entire group to take a "zipperlifter" to the highest elevation lines on the course. But, trust me, that's much better than hiking the large acreage separating this impressive set of lines.
Best zipline: Line No. 8. Even at 2,000 feet, it's not the longest line on the course. But over 40 seconds, you'll travel at speeds up to 50 mph down a valley, following the course of a stream 300 feet below.
Call (877) 665-4386, www.kapalua.com/adventures

Flyin' Hawaiian Zipline
No. of lines: 8
Length of lines: 250 feet to 3,200 feet
Maximum height: 500 feet
Course ideal for: Zipline addicts looking for the longest lines on the island.
Claim to fame: The longest zipline in Hawaii and third-longest in the world. Spanning two-thirds of a mile—including three ridgelines and two valleys—the final line here takes more than a minute to zip at speeds of up to 60 mph.
You have to admire the chutzpah of a tour that takes zipliners directly from a training line just a few feet off the ground to the second-longest zipline in Hawaii, 2,800 feet across a valley. Oh, and on a rare day, that line is so high, it might also require zipping through passing cloud cover.
Flyin' Hawaiian's course doesn't disappoint after that first impression. It begins and ends in two different towns, taking zipliners over a north-to-south chain of nine West Maui Mountain valleys. On one side of your ride down the lines (none shorter than 500 feet), you get views of the West Maui Mountains from 1,500 feet to a few hundred feet above sea level. On the other side, you have unparalleled views of central Maui's rich agricultural plain and the entirety of Haleakala.
Bonus: Admission fees go almost entirely toward keeping the course's privately-owned land wild and unspoiled, and restoring native plant life. Each zipline group carries an endangered native Hawaiian hibiscus mao hau hele seedling to plant on one of the remote ridgelines.
Best zipline: Line No. 8. See "Claim to fame" above.
Call (808) 463-5786, www.flyinhawaiianzipline.com

———————

Click here to watch videos and check out more photos from HAWAII Magazine's Maui zipline tour!