The Hawaii Superferry. I ride it.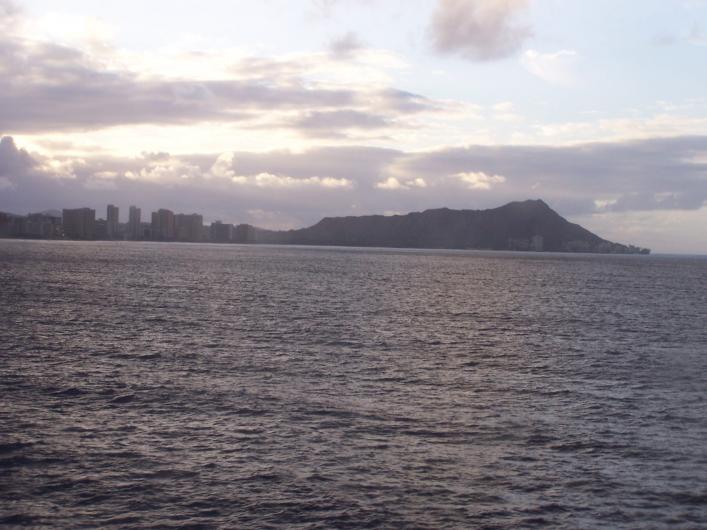 I took a trip on the Hawaii Superferry recently to do some work on Maui.
I could, of course, have hopped an increasingly-expensive 20-minute interisland flight. But I had been curious about the much-talked-about Superferry.
Though I was born and raised in Hawaii, the thought of cruising from island to island seemed weird and unnatural. As I boarded the ferry before sunrise, many questions ran through my mind: Would there be rough waters ahead? Would I be seasick? What the heck would I do for the three hours it took to get from Honolulu to Kahului?
As it turns out, I did little beyond sitting back and taking in the view of Oahu, Molokai, Lanai and Maui from the ocean. Not a bad thing at all.
The sun began to peek through the clouds as the Alakai left Honolulu Harbor. In the distance I could see morning break across Diamond Head and Waikiki.
From the first-class lounge at front of the boat, I could feel the motion of the water—a complaint registered by more than a few Superferry travelers. My stomach and the ocean churned with equal dismay.
So I got up and walked around—something you could never do at leisure on an airplane. That helped. A bit. I took to the outer decks, soaking in the ocean's salty spray and snapping pictures whenever I could.
How were the views, you ask? Let's just say that I saw panoramas you couldn't see from an interisland flight.
I'll give you more of the down low on my Hawaii Superferry travels in the upcoming September/October 2008 issue of HAWAII, on newsstands and online next month. Until then, check out a slideshow of my photos below (click on the slideshow to enlarge the photos).
Traveled on the Hawaii Superferry yet? Share your experience with other readers and leave a comment below.