The incredible rescue and rehabilitation of Kilo, a Hawaiian monk seal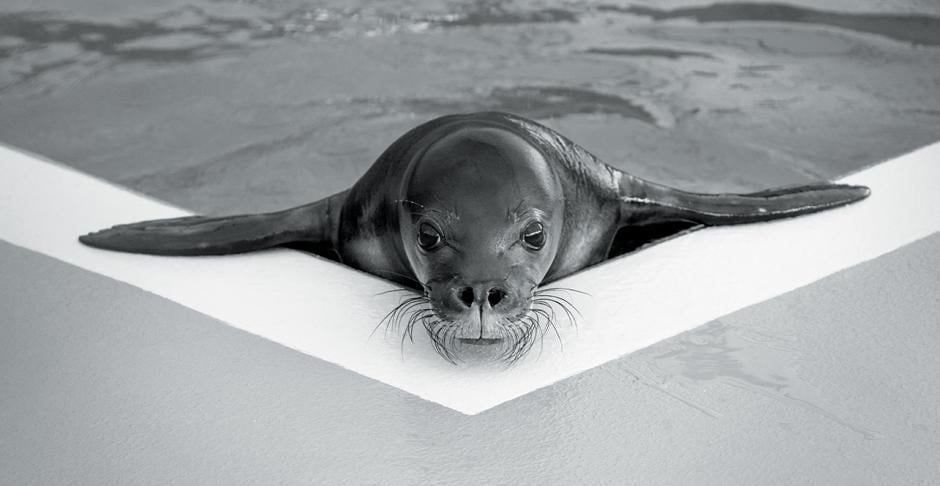 It was a grey and drizzling day last September when scientists on the island of Niihau discovered an emaciated female Hawaiian monk seal pup still sporting its black lanugo coat.
She was, they thought at first glance, a newborn. But instead of trying to suckle her mother for milk, the hungry seal, named Kilo, approached another youngster, eager to find sustenance from her. There was none.
The Marine Mammal Center of Sausalito, California, opened Ke Kai Ola on Hawaii Island in 2014 for just this reason—to rehabilitate monk seals like Kilo and return them to the wild.
When Dr. Michelle Barbieri, veterinarian with the National Oceanic and Atmospheric Administration's (NOAA) Hawaiian Monk Seal Research Program, first examined Kilo, she discovered a healed umbilicus and teeth erupting through the pup's gums. That put Kilo's age older than the black newborn fuzz would normally indicate—more like 3 to 4 weeks old. "She was so skinny," Barbieri said. "But she was also so fierce. She'd survived long enough for certain developmental things to be happening, but she was not
well-nourished enough for everything to be happening at the same time."
While it's unclear what happened to Kilo's mother, there was a rotting monk seal carcass on the beach; but, in general, it's young monk seals like Kilo that struggle to survive on their own to adulthood after being weaned at about six weeks of age. Scientists have found if a seal makes it to 2 years old, it has a good chance for a long life, contributing to the species' survival. By that time, the seal has figured out how to forage, and it's grown to a size where it can compete with other apex predators for food.
At the same time Kilo was found, another five underweight female pups and one yearling were picked up around the uninhabited islands northwest of Niihau, where an estimated 85 percent of the endangered marine mammal's population live. This remote area—known as Papahanaumokuakea Marine National Monument, a protected conservation area—stretches some 1,300 miles beyond Honolulu.
Adding seven new patients to its roster, Ke Kai Ola has now treated 16 patients in less than two years. That's 1 percent of the entire species, and it's part of an aggressive intervention plan that seems to be paying off for the endangered animal.
After nearly 70 percent of the monk seal population died off during a 50-year period beginning in the 1950s, its decline has slowed—from an annual drop of 8 percent in the 1980s to 2.8 percent in the past decade. Dr. Charles Littnan, lead scientist with the Hawaiian Monk Seal Research Program, reports that 30 percent of the 1,200 monk seals alive today are a result of his team's efforts to remove hooks from seals caught on fishing lines, free seals entangled in marine debris, move young seals to areas of higher survival and, now with the help of Ke Kai Ola, rehabilitate individual seals abandoned or weaned at a weight that decades of data indicate will result in the animal's eventual demise.
But Kilo was not just underweight. She was emaciated. "We tube-fed her five times a day," Deb Wickham, operations manager at the facility, also known as the "monk seal hospital," said. Kilo arrived weighing 17 kilograms, or 37 pounds. "Six days later, she'd lost two kilos, and that's when I really got worried. It was another four days before she gained it back."
Wickham has worked with elephant seals, harbor seals, and California sea lions at The Marine Mammal Center for 24 years. She knows pinnipeds. "But it took a while to get this seal moving forward."
Eventually Kilo did move forward, her black coat replaced by a grey and creamy combination, and it was time to get her to eat whole fish.
The facility is designed to limit human interaction so seals retain their wild ways. Thus, a video-camera system allows Wickham and her volunteers to monitor her patients from another room. To simulate foraging in a natural environment, fish are hidden in a box weighted down with rocks on the bottom of the pool that seals have to flip over to find their meal.
Kilo wasn't one of Wickham's easiest patients. When she was first given live fish, she'd chase it, catch it, chew it up and toss the bits around her pool, but she wouldn't eat it. Eventually, to Wickham's and Barbieri's relief, Kilo caught on and, by the time she left Ke Kai Ola seven months later, she weighed a healthy 157 pounds.
The plan was to release Kilo at her natal site, the beach on Niihau where she was born. But, seven months after Kilo was rescued, when the Hawaiian Monk Seal Research Program arrived to find six-foot seas and 25-knot winds, the result was something like the agitation cycle on your washing machine, and it was deemed unsafe to launch small-boat operations from the NOAA research ship Hi'ialakai for transporting Kilo to shore. Forecasts for subsequent days indicated conditions would deteriorate more. Because there were six other monk seals on board the ship and a team of monk seal researchers to be dropped off at islands throughout Papahānaumokuākea for their summer field season, the ship motored on.
Five days later, the Hi'ialakai arrived at Laysan, a northwestern Hawaiian island, about 900 miles northwest of Honolulu. There were sunny skies, warm breezes and, most important, calm seas. A shore pen was erected for Kilo, a place for her to acclimatize to her new life for a few days before being given freedom to explore the wide expanse of the Pacific Ocean.
"Once we put her in the pen, she bolted out onto the soft white sand, then rolled on her back, her favorite body orientation, and proceeded to completely cover herself with sand," Barbieri said.
Now, Kilo faces the same challenges as any seal in the wild. Barbieri expects her to lose a little weight at first but stabilize in the weeks and months ahead as she gets to know her new surroundings. Fortunately, Laysan's juvenile survival rates are some of the highest in the entire archipelago.
"It's hugely satisfying to release Kilo in her natural surroundings, where her instincts can fully lead the way from now on," Barbieri said, leaving Kilo on the island with field researchers who observed Kilo for several days. "I walked away hearing her barking behind me, her typical Kilo attitude, like a bookend to the vocal attitude she had when I first met her."
When the gate to the shore pen was opened four days later, Kilo galumphed straight for the water, chasing small fish in the shallows, and rolling in the onshore break. Within a few minutes, she'd found another cruising seal, and the two headed north around the island and out of the researchers' view.
---
This article, "Rescuing Kilo," was originally published in the July/August 2016 issue of HAWAII Magazine.