The Last Undeveloped Lot in Waikīkī is Now a Public Park
Centennial Park Waikīkī opened on Feb. 1, a project spearheaded by the Rotary Club of Honolulu.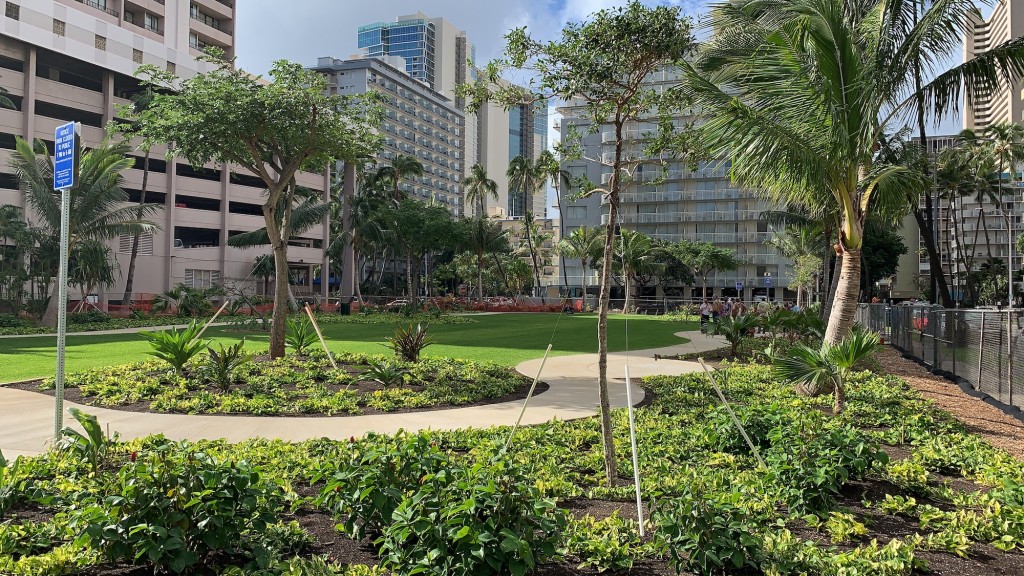 You may have walked past this small, gravel lot in Waikīkī, tucked away between Kūhiō Avenue and Ala Wai Boulevard and surrounded by condos. It was mostly used as a staging area for construction vehicles.
I've often wondered about this three-quarter-acre parcel. Who owned it? What was there before? And why isn't there a hotel or parking lot or something on this very coveted piece of real estate in Waikīkī?
Turns out, the City & County of Honolulu owns the land. And on Feb. 1—after about 4,000 hours of volunteer work and more than $1.53 million in donations—that open lot is now a beautifully landscaped park
Called Centennial Park Waikīkī, this new public park (425 Royal Hawaiian Ave.) is the 304th city-run park. Instead of gravel and backhoes, it's filled with monkeypod and palm trees, pōhinhina (Vitex rotundifolia), ti, ginger and spider lilies.
The idea to transform this lot into a public space started with former nearby resident Bill Sweatt. After his passing, his vision was carried out by the Rotary Club of Honolulu, which pursued the philanthropic effort in honor of its 100th anniversary. (It's one of the oldest Rotary clubs in the U.S.)
"For me there is no park too big or too small that doesn't have a significant impact on the surrounding community," said Honolulu Mayor Rick Blangiardi in a media release. "We are blessed to have the year-round ability to enjoy our parks here in Hawai'i, and I hope everyone gets a chance to experience this lovely new park."
The park is open daily from 6 a.m. to 7 p.m. The Rotary Club plans to improve the park's fencing, install seating and add lighting.