The Manago Hotel: Some of Kona's cheapest rooms and best pork chops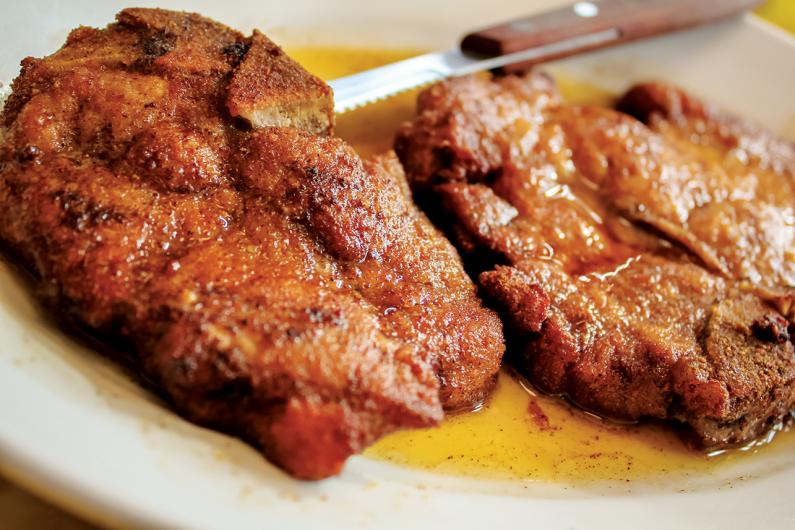 An unassuming roadside strip on Mamalahoa Highway in Captain Cook hides the bulk of the Manago Hotel, its only indication an aging electric sign. The area landmark is home to what may be the state's oldest continuously running restaurant, and has been serving up its legendary pork chops—plain or smothered in a rich, brown gravy—for decades. The hotel also boasts one of the most affordable, if basic, places in the area to hang your hat for the night.
According to signage in the entrance, and a slew of news articles from the 1970s and '80s, Kinzo Manago, a Japanese immigrant living in Honolulu and his "picture bride," Osame, moved to Hawaii Island in 1913 where they worked as a coffee laborer and a cook. In 1917, they founded their restaurant with a $100 loan.
Noticing a demand from traveling salesmen and locals passing between Hilo and Kailua, they placed cots in the back of the restaurant. By 1923, the inn had grown to 12 rooms, each renting for $1 per night, with meals going for 50 cents each. The hotel was completely rebuilt in 1929 to add 20 rooms and expand the restaurant; it expanded again in 1970 to its current 64 rooms.
Today, the hotel is still run by the original owners' grandson, Dwight Manago and his wife Cheryl, who took over management in 1983. And, the Manago still boasts a homey atmosphere little changed from the 1970s renovation. A TV room filled with an assortment of aging chairs and the owners' doll collection is charming, if a bit dusty.
They also continue to provide affordable meals and lodging for weary travelers … though travelers come from much further afield these days. "We have a big group from Poland coming tomorrow," said Cheryl, "They've been coming here for years. We get people from Japan, from other parts of Europe, from the Mainland. From everywhere!"
The basic hotel rooms—arranged in a row on three tiers of deck space 1,350 feet up the slopes of Mauna Loa—all overlook the hotel's large garden plots and, beyond that, sweeping ocean views. Though the rooms are outfitted with wooden, tropical-style furniture (except for the Japanese room with an ofuro (soaking bath), tatami floor mats and a futon), they are about as basic as a college dorm room. None have phones or televisions and some even have shared bathrooms. Yet, the prices are hard to beat—from $61-$75 per night depending on occupancy and floor—and so are the pork chops.
In the Captain Cook area, the pork chops are so famous that any mention of the Manago will beg the question, "Did you try the pork chops?" There are whispers of a cast iron pan as old as the restaurant, seasoned with years of cooking. For $11.50 you'll get two huge fried pieces, tender and smothered in gravy, rice and family-style helpings of four Hawaii-style salads. It's not fancy, much like the hotel, but it's a tried and true recipe that will make you feel at home.