The Maui Ocean Center Isn't Your Everyday Aquarium
This Maui attraction is a great place for kids and parents to learn about Hawaiʻi's underwater ʻohana.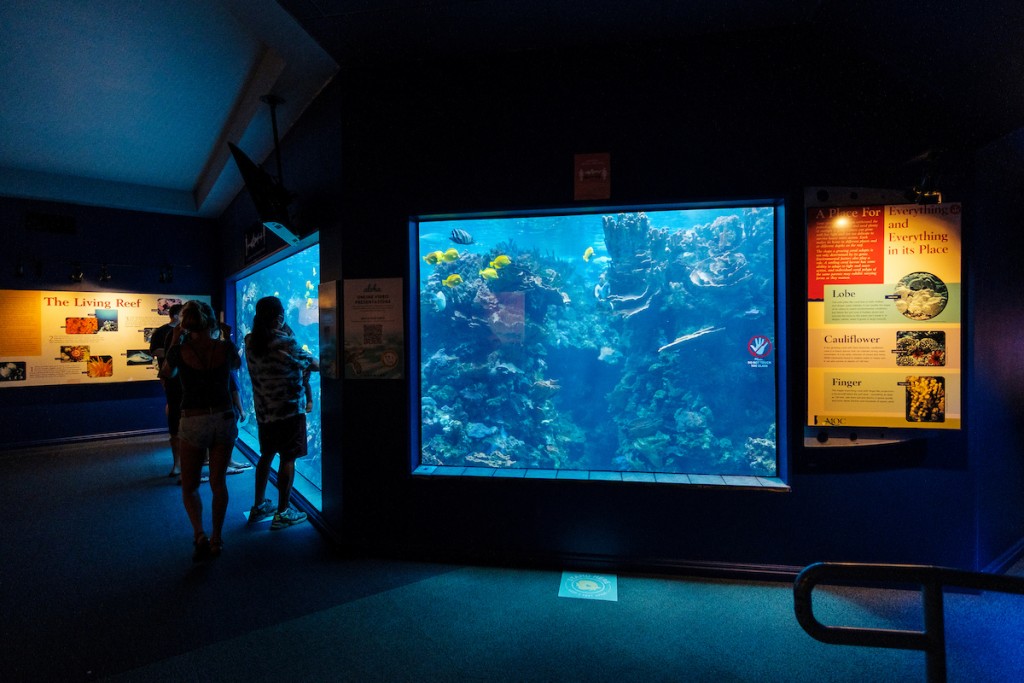 Standing at the shallow reef section of the Maui Ocean Center, I'm about to go deep below the surface and come face to face with the underwater denizens there—and I won't even have to get my hair wet. Neither will any of the other people surrounding me on this bright, sunny Maui day. This small, 3-acre aquarium on Maui's southern coastline near Mā'alaea Harbor is thriving, with couples, friends, families, keiki (kids) all looking to get a closer look at some of the Islands' endemic fish and coral. But what they don't know—not yet, anyway—is that the Maui Ocean Center is much more than just an aquarium.
Opened in 1998, Maui Ocean Center is a part of Coral World, an international collection of eco-conscious aquariums that began in the 1970s with the help of philanthropist and entrepreneur Morris Kahn and renowned reef biologist David Fridman. Maui Ocean Center has earned critical acclaim, being named one of the "Top 10 Aquariums in the World" by Tripadvisor's Travelers' Choice Awards and has become a favorite among locals and visitors. And while the main attraction at the sustainable, eco-friendly aquarium is definitely the collection of tropical fish, otherworldly sea life and vibrant corals, Maui Ocean Center's main mission is to educate kids and adults about the importance of protecting our oceans.
"People would struggle to think what Maui Ocean Center was, and some of us thought of that as a negative. But for me, it's a positive," says Maui Ocean Center general manager Tapani Vuori. "It gives us the freedom and the opportunity to really become a community resource where people take pride in what we're doing." Originally from Finland, Vuori wears his enthusiasm on his Maui Ocean Center polo sleeve. For him, Hawai'i's ecosystem is serious business.
Having been with the aquarium since 2002, Vuori began making improvements before he even signed on. "They offered the GM position to me, and I said 'Thank you, I'm honored, I'm humbled, but I have one condition. We have to start a nonprofit organization.'" And so they did with the founding of the Maui Ocean Center Marine Institute, which rescues, rehabs and releases honu (green sea turtles); the nonprofit also operates one of only four land-based coral nurseries in the U.S.
Vuori and I begin our trek down through the shallow reef section of the aquarium. While Maui Ocean Center does not have a set course, the shallows is a good place to start. From there, you can go deeper and deeper into the sea as you make your way through each exhibit. The amount of sea life on the way is breathtaking. Thriving displays of colorful tangs, angelfish, Hawaiian cleaner wrasse, common longnose butterflyfish and Hawaiian squirrelfish swim freely in and around pristine coral specimens. "We only keep animals for one to two years, and up to 85% of them we release back into the ocean from where we gathered them," says Vuori, who understands some of the negativity surrounding aquariums. "The marine life does not belong to us, so we don't own it, we don't buy it and we don't sell it."
As we continue farther into the depths, larger tanks hold larger residents, from a variety of sharks to elegant manta rays. Maui Ocean Center uses an open-flow system, which gathers water from off the coast of Maui to use in the aquarium, and a seawater chiller in the building keeps the water at an optimum temperature.
And the coral in the tanks are thriving, thanks to high pressure sand filters and even a gravity filter, which puts incoming water through a "denitrification process."
"It's so much more than just an aquarium," says Vuori, as we enter the Kaho'olawe exhibit. The space is dedicated to educating the public about why Kaho'olawe is such a sacred and storied place for many Native Hawaiians and how the U.S. military used it for target practice in the 1990s. And it showcases the Native Hawaiian movement to reclaim and restore the island. While it may seem like an odd feature to have in an aquarium—there aren't even any fish in the exhibit!—work at the Maui Ocean Center is focused on educating the public, especially the next generation, about Hawaiian culture and ocean sustainability. "We need to add value to our local community every day, or why are we here?" says Vuori. "We are in a position to inspire people about the ocean, and we're all in this together."
Back on the surface, kids cluster around the Turtle Lagoon to say "hi" to the honu. A family of six asks a friendly park employee where they can find the Humpbacks of Hawai'i Exhibit, which uses cutting-edge 3D imagery and an immersive surround-sound system to allow guests to "dive" deep underwater to see humpback whales in their natural habitat. I spot a brother and sister learning how to weave lau hala (leaf) hats from a Native Hawaiian employee. It's easy to tell from the general vibe that Maui Ocean Center has seamlessly blended education with enjoyment. And Vuori hopes that when other aquariums see the success Maui Ocean Center has had, they'll follow suit. "We need to live by example, and hold ourselves to a higher standard."
Maui Ocean Center is open daily from 9 a.m. to 5 p.m. Reservations are required due to limited capacity. Buy tickets at mauioceancenter.com. For more information, call (808) 270-7000 or email aloha@mauioceancenter.com.
This story was published in our September/October 2021 digital issue. Read it here.