The most photographed Hawaii hula dancer ever? Watch her here.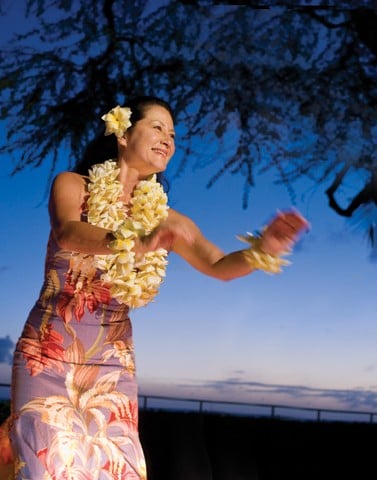 For our upcoming May/June 2010 issue of HAWAII Magazine, editor John Heckathorn met up with longtime Waikiki hula dancer Kanoe Miller.
Miller may very well be the most photographed Hawaii hula dancer in history.
Six nights a week for the last 33 years, Miller has been making treasured Hawaii memories for the thousands of Waikiki visitors who have watched her dance at the Halekulani Hotel's House Without a Key oceanfront gathering place. Miller's ritual selection of flower lei before each performance, unwavering appreciation of her audience and the venue's incomparable Waikiki beachside setting make each night a postcard perfect experience for all who drop by.
Writes Heckathorn:
On her way from her Windward Oahu home to Waikiki, Kanoe Miller stops off in Honolulu's Chinatown to shop for lei. She knows all the lei shops and the lei shops know her—she buys a lot of flowers. … She changes her costumes four times each night, and with each costume, she changes her lei—"just like a woman would change her necklace and earrings," she says.
Since 1977—just a few years after she was crowned Miss Hawaii—Miller has danced hula at House Without a Key, outdoors under a century-old kiawe tree, with the sun setting into the Pacific Ocean as a backdrop. The hotel never publicizes her performances, but the place is always packed. Many people bring cameras. She may be the most photographed hula dancer in history.
"It's sort of like a party on your own lanai," she says. "We never plan anything, just go with what we feel." That means she's had to learn a vast repertoire of hulas. "If there's a full moon, the boys will just launch into a song about the moon and I just dance to it."
She loves her work.
John had a terrific time accompanying Miller for an afternoon of lei shopping and, at the end of the day, one of her wonderful evening performances. Be sure to read the rest of his "Portraits in Paradise" column feature on Miller in HAWAII Magazine's May/June 2010 issue. You'll find the issue in bookstores and on newsstands nationwide in the weeks ahead, or in your mailbox if you're a subscriber.
Not a HAWAII Magazine subscriber yet? Click here for a low annual subscription rate on our print edition, or click here to subscribe to our digital edition.
If you're in Waikiki, you can catch Kanoe Miller performing hula every night except Sundays, from 5:30 to 8:30 p.m. at the Halekulani's House Without a Key. For more information and map directions, click here.
Click the frame below to watch video of Kanoe performing hula, from her DVD Kanoe Miller's Romantic Waikiki Hula.