The Power of Plumeria Blossoms at this Oʻahu Lei Stand
The plumeria isn't native to Hawai'i—but it's still iconic and prominent at the Kaimukī Lei Stand.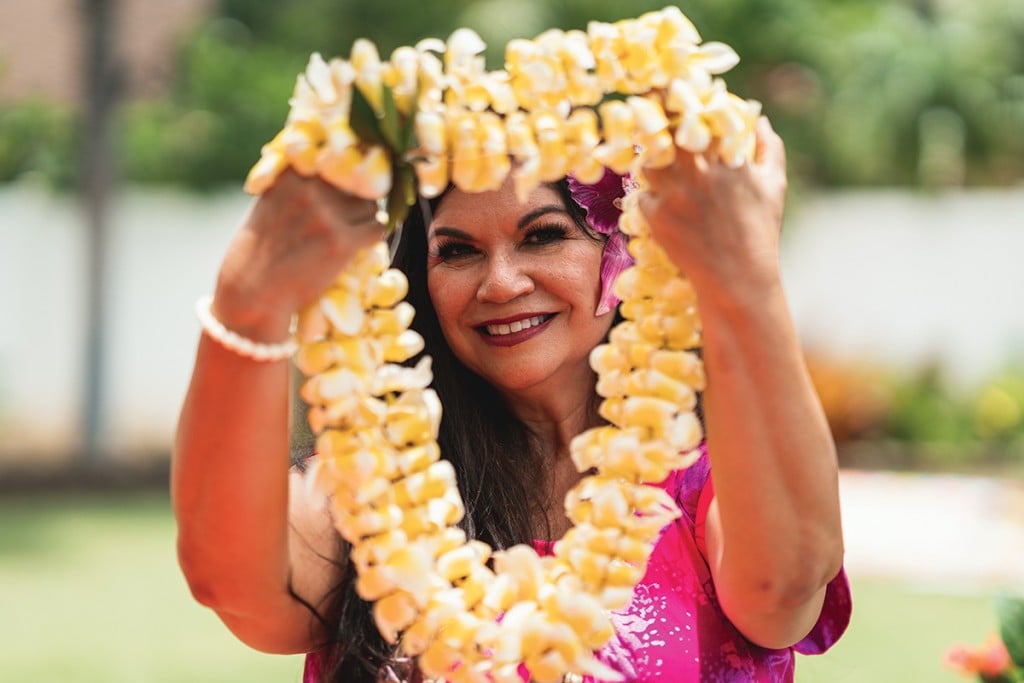 Growing up in Kaimukī on O'ahu, Keoni Williams remembers learning how to string plumeria lei with his grandmother, who used to work in a flower shop in Hilo. "That's one of my earliest memories of making lei," Williams says. "It kinda stuck with me through the years."
So when the pandemic hit in 2020, Williams and his husband, Makamae, both furloughed from their hospitality jobs, decided to turn their passion into a business. They started the Kaimukī Lei Stand from their home, making lei po'o (flower crown) with plumeria, ti leaf and pakalana grown in backyards and farms around the Islands. The business blossomed, and the couple started offering lei workshops—and renting vintage alohawear to attendees, too—and set up an old-fashioned lei cart outside coffee shops and at pop-ups all over O'ahu.
What makes Kaimukī Lei Stand so unique are the flowers. They're all locally grown, unlike the popular Dendrobium orchid, most of which hail from Thailand.
While more residents might prefer the fragrant pakalana, or pīkake, the plumeria, which is in season right now, is still the most iconic flower.
And interestingly enough, despite its nostalgic connection to Hawai'i, the fragrant flower is not native to the Islands.
Plumeria trees are endemic to Mexico, Central America and the Caribbean and are mostly grown as ornamentals in warm regions. Common names include frangipani, temple tree and melia in 'ōlelo Hawai'i (Hawaiian language).
The plant was brought to the Islands by Dr. William Hillebrand, a German biologist, in 1860—and it thrived in Hawai'i's warm climate and volcanic soil.
The first plumeria cultivar in Hawai'i was a yellow flower then called Plumeria acuminata. Due to its many long-lasting fragrant flowers and relatively low maintenance requirements, it became popular for planting in cemeteries—garnering the name, "Graveyard Yellow," which is still used today. (It's also referred to as "Common Yellow.") And it's still one of the most common plumeria varieties in Hawai'i.
Today, there are thousands of varieties of plumeria, some with dark red centers, some with a blend of pink and white, some with wide petals, some with corkscrew petals. Even leaf sizes and shapes differ. You can find plumeria trees in backyards, at schools and in gardens like Koko Crater Botanical Garden on O'ahu.
Even locals who grew up with trees in their yards, who don't even smell the fragrant flowers anymore, still feel a sense of nostalgia for the plumeria.
"I love that classic yellow plumeria," Williams says. "Just the scent brings back so many memories."
This story was originally published in our 2022 Summer issue. Buy a copy here.