The Profound Significance Behind 'Eddie Would Go'
The real life story and inspiration behind the iconic surf motto.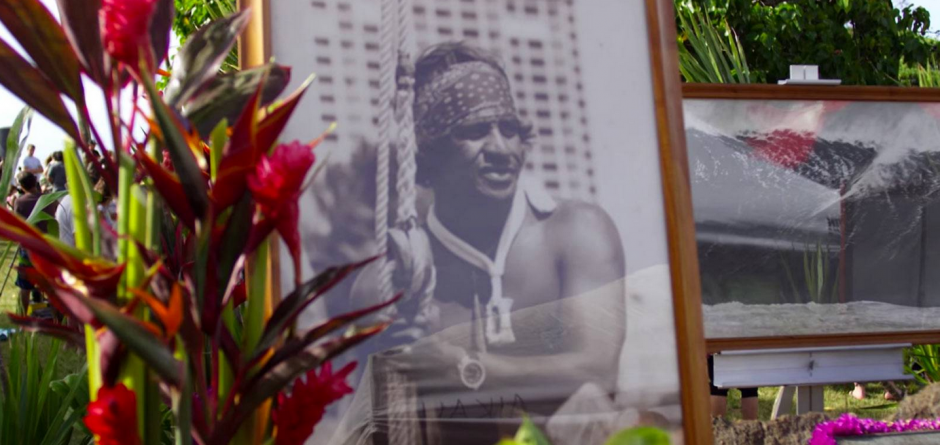 With all the buzz and hype circulating around The Eddie Big Wave Invitational, which currently is in its waiting period, we wanted to explain a few things about the Eddie and why it generates so much excitement.
The surf contest commonly called the Eddie is super special, and with all the coverage surrounding Hawaii's promising massive winter surf this year, you probably know all about how waves need to hit a minimum of 20 feet (40 feet faces) with absolutely perfect conditions, how that's only happened eight times in the past 32 years, and that the holding period ends at the end of February.
So while we wait for that with our fingers crossed, let's take a moment to remember what the Eddie is actually about.
This month you've probably heard the phrase "Eddie Would Go" more than ever. For locals, the phrase is a motto you grew up on. It's on bumper stickers. It's on t-shirts you get every Christmas. It's a hashtag that blows up on social media every year.
But for travelers to the Islands, or those outside the surf community unfamiliar with Eddie Aikau's heroism here in Hawaii, it has deep significance.
The Native Hawaiian made more than 500 successful rescues as the first lifeguard of the North Shore, where the prestigious contest takes place. Then in 1978, Aikau was aboard the famed double-hulled voyaging canoe the Hokulea when it capsized during a storm 12 miles south of Molokai.
True to his instinct and nature, Aikau immediately grabbed his surfboard and paddled out to sea to seek land and assistance for those onboard. Eventually the crew was rescued by the Coast Guard, but Eddie was never seen again. The resulting search for Aikau became the largest air-sea search in Hawaii's history. He was 31 years old.
Out of this tragic loss, the Eddie Aikau Big Wave Invitational was born to celebrate his spirit and commemorate his legacy as a lifeguard, a surfer, a human. In 1985, at the very first Eddie contest, (surf enthusiasts don't tend to count the technically-first one held at Sunset Beach in 1984 where the waves were about six to eight feet), Waimea proved to be especially demanding. Writer Stuart Coleman recounts it in his well-documented book "Eddie Would Go: The Story of Eddie Aikau, Hawaiian Hero and Pioneer of Big Wave Surfing." Organizers, unsure if the 25-foot waves uncompromising and windblown would be too dangerous, debated the option of calling the event off. That's when surfer Mark Foo, intent on charging them, turned to organizers and said, "Eddie would go."
Following those three iconic words, they held the contest. Foo, who passed away in 1994, actually ended up tying that year with Eddie's younger brother, Clyde Aikau. Clyde eventually won that contest after a tiebreaker.
Knowing the story, "Eddie would go" is about more than just paddling into waves so big most people wouldn't. It's a phrase, when reflecting on Aikau's selflessness, that permeates life in those moments when you're called to take a risk to do what you feel in your soul is right.
Even if you're hundreds of miles away from the nearest body of water, the next time you find yourself looking into the uncertainty of a difficult decision, and especially if it leans toward the greater good, think of Eddie.