The Royal Hawaiian Band Will Be Making Its Grand Return to ʻIolani Palace
It will be their first performance in over two years.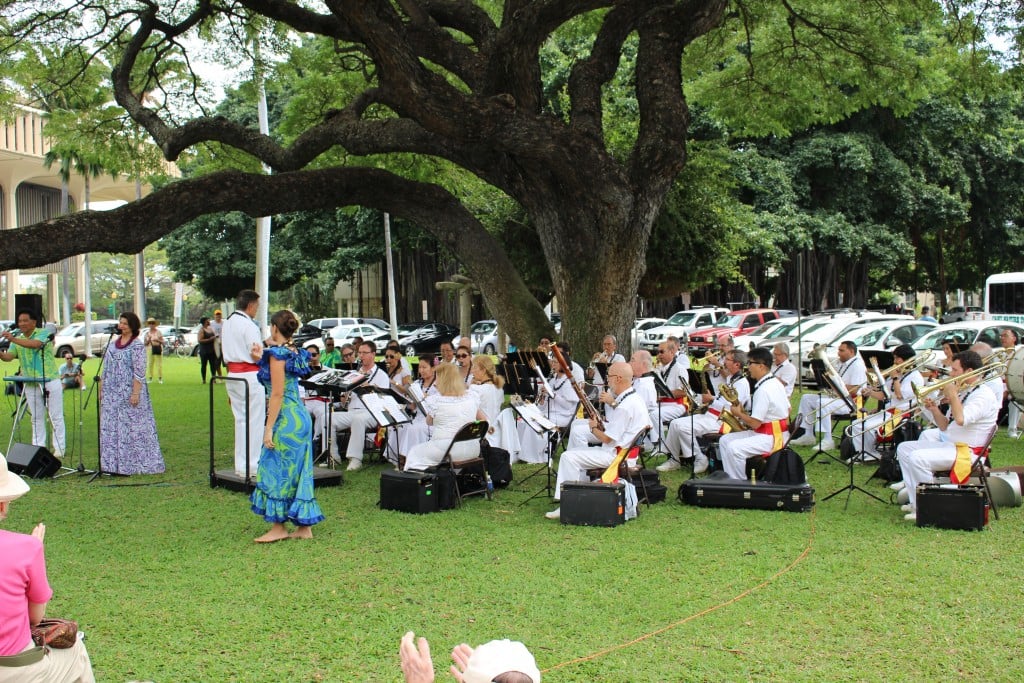 Since the beginning of the pandemic, over two years ago, the Royal Hawaiian Band has not been able to perform for the public due to the size of the band and COVID-19 regulations. However, on March 4—that's today!—the band will make its grand reappearance at ʻIolani Palace for its popular lunchtime concert series starting at 1 p.m. And they are inviting locals and visitors to enjoy their performance, free of charge. You heard that right, free.
The Royal Hawaiian Band, once known as the "King's Band," was created by King Kamehameha III in 1836 and is the only full-time municipal band in the U.S. Sharing Hawaiian melodies and songs with audiences locally and throughout the nation—performing at parades, in concert halls and even international venues—the band's performances will once again resume its Friday schedule, starting today and finishing up in December. From there, they prepare for another year of music and performances.
The following concerts have been scheduled on the following Fridays, but are subject to change:
March 4, 11
April 1, 8, 22, 29
May 6, 13, 20, 27
June 3, 10, 17, 24
July 1, 8, 15
August 5, 12, 19, 26
September 2, 9, 16, 23, 30
October 7, 14, 21, 28
November 4, 18, 25
December 2, 9, 16
"The band breathes life into the music composed during the time of Hawaiʻi's monarchy, especially songs written by Na Lani Eha (the Royal Four), referring to King Kālakaua, Queen Liliʻuokalani, Princess Likelike and Prince Leleiohoku," says a spokesperson from the band in a press release. "Although Hawaiian music is at the heart and soul of the Royal Hawaiian Band, the group also performs many pieces from the U.S. and beyond. Today's concerts include marches, orchestral transcriptions, standard band repertoire, pop music arrangements, Broadway musicals, movie soundtracks and more."
In yet another move towards normalcy, having bands like the Royal Hawaiian Band performing in a public venue is a reassuring step in the right direction. And we can't wait to hear sweet Hawaiian music once more at ʻIolani Palace.
For more information on the concerts and all other Iolani Palace events, visit iolanipalace.org/events/