The Shave Iceman Cometh: The Story (and Family) Behind the Matsumoto Shave Ice Empire
Find out more about this North Shore icon on Oʻahu.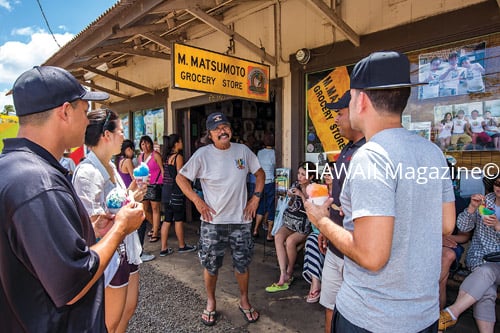 Stanley Matsumoto is a one-flavor kind of shave-ice guy.
"Typical old style," he says, with a light chuckle, proclaiming strawberry his favorite. Favorite, that is, unless it's really hot outside in Haleiwa, or he just finished mowing his lawn. Then the flavor's definitely orange.
Matsumoto—everyone calls him Stan, and I will, too—is the owner of Matsumoto Shave Ice store, quite possibly the most well-known shave ice stand in the world. If you've been to Haleiwa, gateway town to Oahu's world-famous North Shore surf spots, you've seen Matsumoto Shave Ice. Even if you've never stepped through its doors. That beige, rustic storefront with the teeming all-day crowd of visitors and residents nearly spilling out into Kamehameha Highway, Haleiwa's main drag? Uh-huh. That's Matsumoto Shave Ice.
The genial, 63-year-old Stan was born the same year his parents, Helen and Mamoru, opened what was then Matsumoto Grocery Store in 1951. And, in some ways, Matsumoto Shave Ice is like the nearly 1,200 servings of Hawaii's favorite flaked-ice-and-flavored-syrup cool treat it sells every day: simple, yet flavorful, enticing you to return to the store (and that line outside) again and again. But success wasn't always so effortless for the shave-ice juggernaut, says Stan, tucking his longish hair beneath a signature trucker hat.
"When my parents started the business it was actually more of a grocery store. Back then, in the '50s, the town was kind of quiet."
Still, the Matsumotos dedicated themselves to the family business. Stan and his older brother and sister would help out in the store every day. Mamoru would load his panel truck with canned goods and peddle them in the neighborhood. They'd stay open late in hopes of attracting moviegoers heading home from the three movie theaters Haleiwa once claimed.
One fateful day in 1956, says Stan, a family friend suggested the Matsumotos sell shave ice, "since business was kinda slow."
Mamoru and Helen purchased a hand-crank shave-ice machine from Japan and had a motor installed. In their home behind the store, the Matsumotos learned to make their own homemade syrups and prepare azuki beans—Japanese red beans boiled with sugar and pressed into a sweet paste. (Added to the bottom of shave ice for an extra sweet kick, azuki beans were one of the first favorite Hawaii shave-ice extras on a list that now includes vanilla ice cream, sweet condensed milk, mochi balls and li hing powder, among others.) The family priced its first shave ice cones at 5 cents for a small cone and 10 cents for a large. There were 10 syrup flavors to choose from, including pineapple, coconut, strawberry, lime, root beer and vanilla.
Shave ice was a favorite cool treat of immigrant laborers toiling in Hawaii sugar and pineapple fields long before the Matsumotos began doling out their cool cones. Japanese laborers had brought the traditional dessert—known as kakigori and likely dating back to Japan's Heian Period (794-1185 A.D.)—with them to Hawaii. In the fields, plantation workers would use their machetes to shave fine flakes of ice from large ice blocks, then pour fruit juice on the flakes.
Haleiwa residents immediately loved the Matsumotos' shave ice, but, according to Stan, shave-ice sales at the store really took off with the 1960s arrival of California surfers, many of whom bought one-way tickets to Oahu to surf the monster winter waves of Waimea Bay, Pipeline and other North Shore surf breaks.
"Relatives from the Mainland would visit and Hawaii people would take them here," says Stan, of another early customer base. "They would go back to the Mainland and mention the store and the shave ice. It was continuous word of mouth."
As the 1960s and 1970s version of today's social-media grapevine slowly but steadily fed the legend of the Matsumoto family shave ice, customer queues began building regularly outside the store from its mid-morning opening to its sunset closing. The queues are now a Matsumoto's fixture, as are international visitors, especially from Japan, who discovered the store in the 1980s and 1990s. The groceries that filled the aisles when Mamoru and Helen Matsumoto ran the store? Mostly phased out, as shave ice rapidly became the family business.
In recent years, Matsumoto Shave Ice has been featured on U.S. cable networks (Food Network, Cooking Channel, Travel Channel, among them), Japanese TV programs and dozens of local, national and international print publications. But you'd be hard-pressed to find even a hint of fame-borne jadedness or laurel-resting when talking story with Stan and wife Noriko.
Noriko handles artist collaborations for the store's bustling logo T-shirt business and is busy overseeing the store's remodeling. Matsumoto Shave Ice will expand to double its current size in the year ahead as it gains 12 new neighbors, part of a master plan by landowner Kamehameha Schools to further commercialize the property the store has long occupied. She also collaborates on Matsumoto's syrup flavors, which now number more than 40, including the original 10 and flavors such as lilikoi (passion fruit), papaya, pickled mango, green tea and sour li hing mui.
As for Stan, "My favorite part [of the job] is seeing different people from all over the world, hearing all different languages," he says, smiling. "When we first started it was just local people with pidgin English."
Stan officially became the second generation of Matsumotos to run the business in 1976. Unlike his siblings, Stan says, school wasn't for him. After a year in college in Hawaii and basic training with the National Guard, he knew the family business was where he needed to be.
"If I went back to school maybe I would do something and Matsumoto Shave Ice wouldn't be here," says Stan.
Generations of residents and visitors can be grateful Stan never learned to enjoy studying. He didn't lack for business savvy though, offering logo T-shirts for sale that same year, when a Hawaii artist named Scooter offered to create a Matsumoto Shave Ice design.
"The design was meant for the family only," says Stan. "But customers saw the design and said, 'Hey, we wanna buy, too!'"
The store now boasts more than three dozen T-shirt designs, crafted over the years by illustrators and artists from Hawaii and around the world. Collectively, the shirts are almost as popular with customers as the shave ice. Stan even has his own design, called the "Aloha Stanley" (pictured above), featuring a caricature of his face complete with signature hat, tendrils of longish hair and handlebar mustache. Scooter's original T-shirt design remains one of the store's most popular.
On many days, Stan can still be found sitting on a bench outside Matsumoto's entrance observing the modern bustle of the once quiet sugar-plantation town he grew up in, sometimes talking story with customers.
Just good natured, quintessential Stan.