The Story Behind One Man, Two Legends and a 150-Foot Wall
Have you seen this jaw-dropping mural of Carissa Moore and Duke Kahanamoku on O'ahu's South King Street, painted by local artist Kamea Hadar?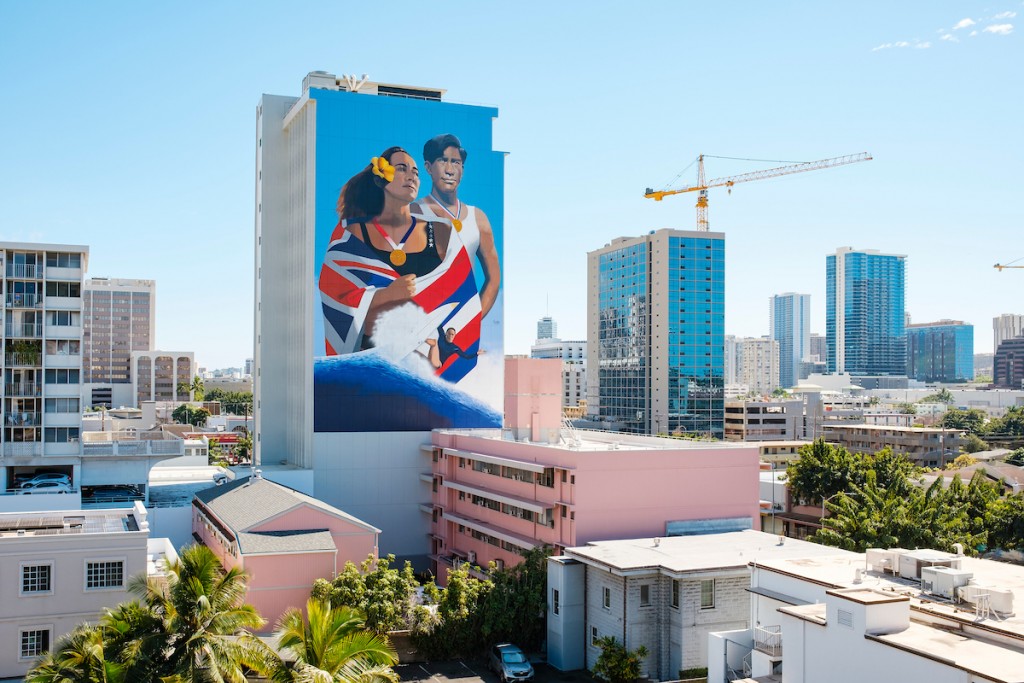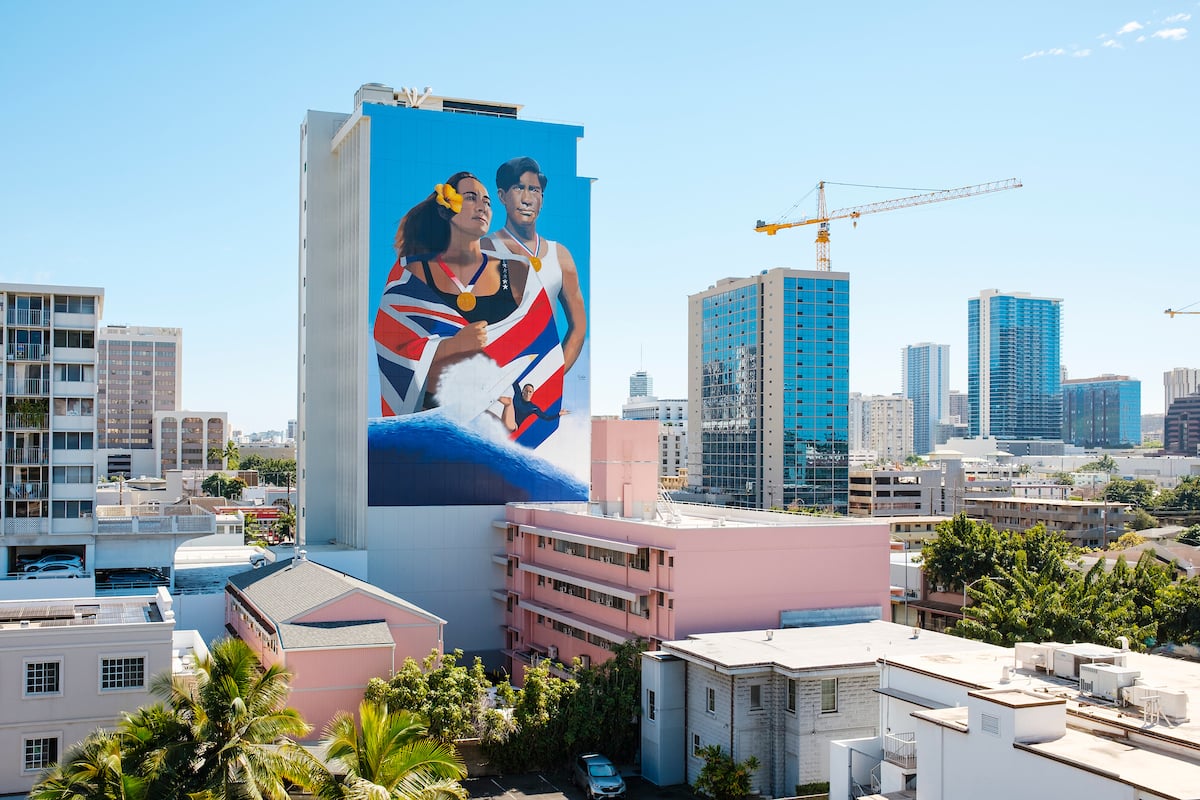 Driving down South King Street, on the island of Oʻahu, is a daily commute for many residents. Shops, restaurants and bars of every kind call this strip of road home, and now, so do two of Hawaiʻi's Olympians. Standing ten stories tall, Carissa Moore—who recently was the first-ever surfer from Hawaiʻi to win a gold medal in surfing at the 2020 Tokyo Summer Olympics—and the man who needs to no introduction, Duke Kahanamoku, have been perfectly painted on the wall of a building on the corner of Pensacola and South King street. And it's thanks to the very capable hands of local Hawaiʻi artist Kamea Hadar and his talented crew.
"It's like planning a renovation for your house," says Hadar, who was born in Jereasulim before moving to Hawaiʻi at four-and-a-half years old with his local mother and Israeli father. "You have to line up the crew—because physically you don't want to be by yourself, and safety-wise you want to have at least one other guy there helping you. You need to plan for supplies, we used a lot of Nova Color, which is a specialty mural paint from the mainland, so you have to order it in advance. You have to talk to the owner of the building, and the company that manages the building which isn't always the same. Then we need access to the lift from the neighboring building."
It takes a lot of work—obviously—to paint a 150-foot mural, however, Hadar is one of the best mural artists in the nation. After helping to start Pow! Wow! Hawaiʻi in 2011 with his friend Jasper Wong, Hadar began to learn more and more about painting murals as the event grew in size. Already coming from a solid background in the arts—"all kids scribble and draw, and I just didn't stop," says Hadar, who enrolled in art classes and private tutoring since an early age before furthering his artistic education by studying painting internationally—Hadar found the scale, and hard blue-collar work of mural painting, alluring.
"The scale is challenging and fun and it really has an effect on the viewer," says Hadar. "People who may not care too much about art can walk by a canvas piece and not really notice or care. But when they walk by a mural, they can still appreciate the size of it and the amount of work and skill that went into creating the art on such a grand scale."
With murals like the Carissa Moore and Duke Kahanamoku piece, Hadar also had to make sure everything was perfectly lined up and ready to go before the paint touched the wall. "It's drafted, and sketched and measured to a T. When you do murals on that scale, it's like doing construction," says Hadar, who has painted dozens of largescale murals around the state and internationally. "You have blueprints, you make sure it works beforehand, and then you execute. Unless you want to be up there for a year spending ten times the amount of time and effort and money, you should have a really solid plan going in. It's just too big to be messing around."
In addition to making sure everything is scheduled and according to plan, Hadar also makes sure to get approval beforehand of those he will be portraying in the mural before proceeding with the piece. "Regardless of legality I like to be respectful because I want people to celebrate my murals and not feel taken advantage of," says Hadar. Speaking with Carissa Moore ahead of time, and showing her what the final mural should look like, he obtained her seal of approval, and the folks representing the Duke's likeness also signed on to the work. "Regardless of whether or not people put pressure on me, I put it on myself because it's an honor to depict the two of them, so it becomes my responsibility to do them justice."
And justice was done. For Honolulu residents, the mural is a highlight, something to look forward to, on a rather uneventful commute. And mural artists like Kamea Hadar are making the urban center of Oʻahu easier on the eyes with every piece of art going up on walls, big or small.
To see more of Kamea Hadar's work, visit his website kameahadar.com or follow him on Instagram @kameahadar.