The Taniguchi Family
Supporting the community that supports them.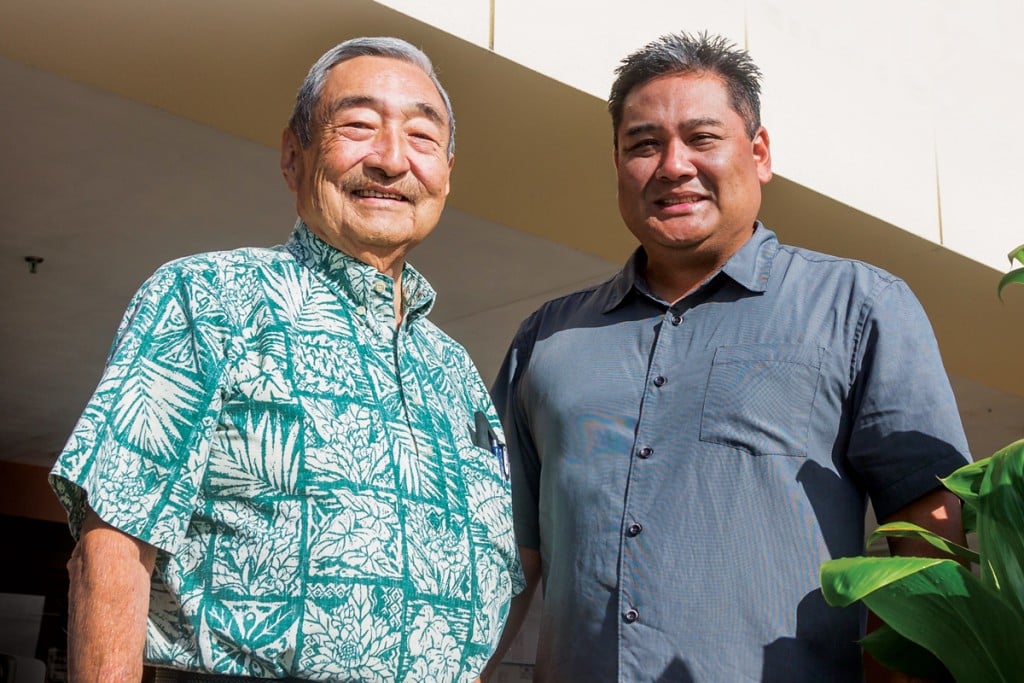 Caring for our communities requires everyone to pitch in and give back. It's what we do. And it takes all of us. 
In these profiles, we zoom in on neighbors making a difference every day. We meet a family that's been giving back for generations because it's in their DNA and a man who created a legacy for generations to come. We see rock bottom and celebrate second chances, and we discover the dedication that propels people to preserve and protect our precious aina.
* * *
Like so many entrepreneurs opening a new business, Koichi and Taniyo Taniguchi had no idea that the modest 500-square-foot grocery and dry goods store they opened in Hawaii Island's Waiakea Town in 1916 would play a part in transforming Hawaii. They simply saw it as a business that could provide for their growing family and make it possible for people to get groceries and basic household needs.
That the family even settled in Hawaii at all was a twist of fate. Koichi Taniguchi had stopped in Hawaii on his way to California, planning to settle and make a life there. While visiting his cousin in Honolulu, early 20th century immigration controls stranded him here. He made his way to Hilo, enrolled in the Hilo Boarding School and learned bookkeeping. On his own and with no family on the island, he found work with a wholesaler and eventually sent for Taniyo to join him.
"My father was born in January 1916, and the story goes that my grandfather told my grandmother that, with another mouth to feed, they'd need more money," Barry Taniguchi says. "He figured she could watch the store and care for the baby." Indeed she did — and the eight additional babies that followed.
KTA Super Stores stand tall across Hawaii Island, with seven stores serving the communities of Hilo, Waimea, Waikoloa, Kailua-Kona, Kahaluu-Keauhou and Kealakekua. National chains, local competitors and big-box stores now dot the island, but KTA remains a local icon, serving the community and living up to the values set by Koichi and Taniyo (the K and T in the name KTA; the A was thrown in to avoid confusion with a competitor) over 100 years ago. Still a family business, Barry Taniguchi is now chairman and CEO while his son, Toby, oversees daily operations as president and COO — four generations driven by the values and community commitment established in that modest space in Waiakea.
"My grandfather always said that the family business only survives if the community supports us," Taniguchi says, "so he'd tell us it was our obligation to support the community." All the kids helped out. Long before phones made call-in orders possible, the boys rode their bikes out into the community to take orders, and then returned with the deliveries. The girls worked in the store, helping their mother, while Koichi Taniguchi made sure to keep their vendors happy and the floors swept. "My grandfather had such appreciation for people," Taniguchi says, recalling how the Coca-Cola vendor would tell him how Koichi thanked him every time he'd make a delivery or pick up bottles to be returned for cleaning and reuse. "'We need to rely on people because they rely on us, too,' my grandfather always said."
That sense of community support runs deep in the Taniguchi family and KTA Super Stores. Today, Barry Taniguchi sits on nonprofit boards across Hawaii Island and around the state. He recently completed a two-year stint as president of the Aloha Council of the Boy Scouts, working to expand Scouting to the Neighbor Islands. He recalls being drafted to sit on the board, but because the meetings were 7 a.m. breakfasts in Honolulu, he missed the first three. "Then they came to talk to me and I thought they wanted me to be treasurer," he says with a laugh. "But no, they wanted me to be president."
Taniguchi is also known for his work creating the East Hawaii Fund, a community fund that provides a mechanism for everyone in the community to pitch in and help out. "West Hawaii had one, in part because of all the wealthy part-time residents over there," he says, "so I figured we needed one too." Taniguchi knew that people wanted to give but didn't feel they could do enough to make a difference.  "When we join with others, we combine our resources. We make a meaningful impact," he says.
Taniguchi doesn't define philanthropy as simply money. "Money is important," he says, "but brainpower and people are so critical. Nonprofits need business expertise, help guiding them through the parts of running an organization." Today, KTA Super Stores devotes three executives to work at nonprofits across the state. While the elder Taniguchi works closely with UH Hilo and numerous museums across the island, his son, Toby, dedicates time to the Boys and Girls Clubs and local food bank, and KTA's executive vice president, Derek Kurisu, works with high school students, leads fundraising efforts and produces "Living in Paradise," a daily television show highlighting the people and good works of Hawaii Island.
For the Taniguchis, giving back means supporting their island community in big and small ways. In a partnership with store vendors, they make money available to schools across the island based on their customers' preferences and purchases. But even then, Taniguchi keeps a close eye on the distribution. "We make sure every school gets something," he says. That sharing — so that there's something for everyone — grounds everything they do. "We look to give some money to all the things that impact our communities," he says, from local baseball teams to schools to the many nonprofits around the island. "And occasionally, we support capital campaigns like Hope Lodge on Oahu," he says, because he knows that Hawaii Island families who go to Oahu for cancer treatment will use that facility and be grateful it's there.
Taniguchi sees it as carrying out the mantra of his grandfather — the community supports the store so the store, and the family, support the community. Ask him if philanthropy runs deep in the family and he's a little stumped. "We grew up just knowing that this is what we do," he says, "and my kids grew up knowing that we do this, that it's expected of us." He's quick to point out that as a family, they don't have big money, that it's the business that makes the impact around the community. "The company has the means, and that's how we do the work," he says.
Taniguchi makes sure that the larger donations, particularly the ones that end up on a plaque somewhere, are made in memory of his grandparents. "It's not me. It's the company," he says. "Without my grandparents, none of this would be here."