The Ultimate Guide to Kailua, Oahu
All the reasons we love Kailua right now.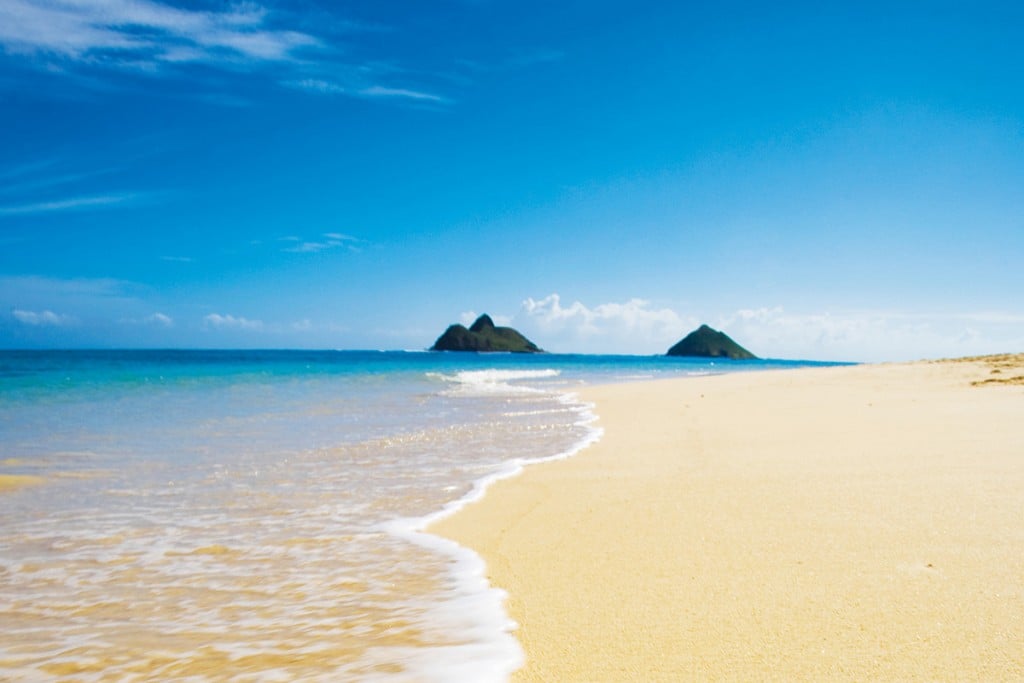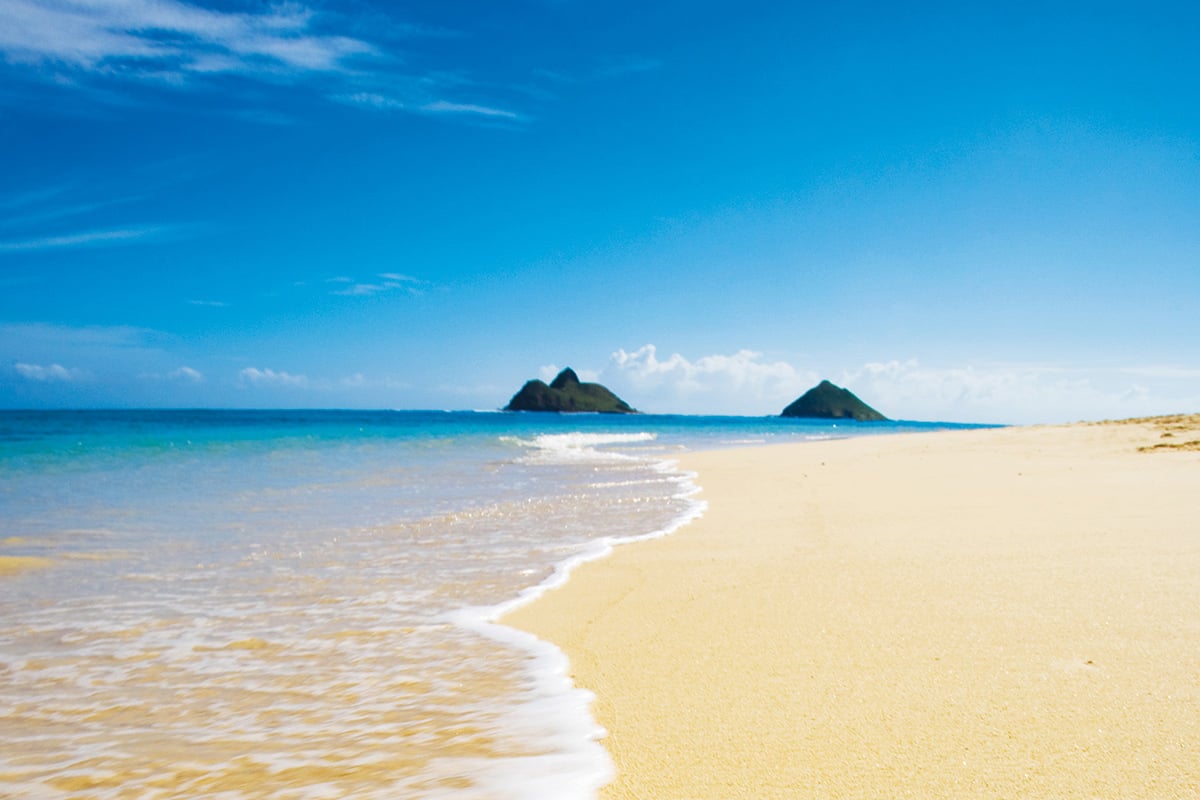 Kailua, the once-sleepy community on Oahu's Windward Side, is most often associated with its beaches. And we get it. Kailua and Lanikai beaches are world-renowned, luring thousands of visitors every year with their golden sands and aquamarine waters.
But the appeal of this beachy town, flanked by the dramatic cliffs of the Koolau Mountains and crescent-shaped Kailua Bay, go beyond its stretches of sand. Some of the island's best restaurants and boutiques are in Kailua. There are historic sites and hiking trails, surf spots and farmer's markets. It's home to the largest wetland in the Islands, where you can find four of the state's endemic and endangered waterbirds. And this area, once the playground of alii (Hawaiian royalty), beckons the rich and famous: Beyoncé and Jay-Z have vacationed here, as have Rihanna, Jessica Simpson and, of course, President Barack Obama.
There are no hotel towers, no sprawling resorts, no giant shopping malls. Instead, you'll find friendly coffee shops, homey bed-and-breakfasts, family-run restaurants, shops where the owners will greet you at the door.
Oh, yeah, and those beaches, too.
Here are 36 of our favorite things in Kailua, in no particular order.
1. The Bike Shop
Skip the hassle of finding parking in Kailua—which we know can be tough!—and rent a bike instead. (There's no Biki in this part of Oahu.) The Bike Shop has a range of cruisers, mountain bikes and road bikes for rent, complete with helmets and bike locks. Electra cruisers—the most popular bikes—start at $15 for up to four hours. You can book online and pick up at the shop. Kailua's main streets have bike lanes and you can only ride on sidewalks in residential areas. 767 Kailua Road, (808) 261-1553, bikeshophawaii.com
2. The Beaches (DUH)
Let's be honest: Kailua and Lanikai beaches are iconic, often the sole reason people venture to this part of the island. The long, golden stretches of powdery fine sand, the mesmerizing views of the Mokulua Islands, the backdrop of the majestic Koolau Mountains—what's not to love? Here, you can kayak to the offshore islets, bodysurf at Kalama Beach, surf off Popoia (Flat) Island or just lounge at magical Lanikai Beach. Or maybe all of the above.
3. Bookends
Couldn't fit a book in your carry-on? Swing by BookEnds to buy one of its beach books for under $5, with authors ranging from James Patterson to Danielle Steel. The new and used bookstore has an incredible array of reads on Hawaiian history and culture as well. The expansive shelves and unique finds make this spot a book-lover's paradise. 600 Kailua Road #126, (808) 261-1996
4. Boots & Kimo
Fill up before a day at the beach at Boots & Kimo Homestyle Kitchen, home to the popular macadamia nut sauce-topped onolicious banana pancakes. The sauce is so good, you'll want to bottle it up and take it home. 151 Hekili St., (808) 263-7929, bootsnkimos.com
5. Manuhealii
With breezy fabrics and unique patterns, Manuhealii is the perfect boutique for Hawaii-inspired pieces. Style the whole family in its collections inspired by Hawaii's unique wildlife and weather, such as ka moae ku, trade winds, and ilima, Oahu's official flower. A new collection comes out every four to six weeks, with limited stock online and in-store. 5 Hoolai St., (808) 261-9865, manuhealii.com
6. Island Snow
A short walk from Kailua Beach, shave ice shop Island Snow (its original location) is the perfect place to cool off after catching too much sun. President Obama would agree; he's a fan of the cherry, lemon-lime and melona combo. Or choose from the shop's all-natural Hawaii-made flavors like Makaha mango and jaboticaba, which tastes like a cross between a blueberry and a Concord grape. Two locations: 130 Kailua Road, (808) 263-6339; 600 Kailua Road, (808) 261-3300, islandsnow.com
7. Goen Dining+ Bar
The latest venture by James Beard award-winning chef Roy Yamaguchi is the perfect fit for the burgeoning center of Kailua Town. The open-air Goen Dining + Bar, which opened in November 2018 in the new Lau Hala Shops, is a casual neighborhood eatery with an equally approachable menu: shareable small plates, creative sushi rolls and fun list of cocktails. Try the massive avocado toast topped with slabs of bacon, pickled onions and a fried egg or the Krispy Kalifornia Roll stuffed with crab, cucumber and avocado. Its best-seller is the fry basket, a serving of lightly battered mushroom fries, deep-fried and served with two dipping sauces. Curious about the name? Goen is both a Japanese 5-yen coin whose graphic elements represent agriculture, water and industry, and a homonym for a strong bond of friendship. Makes sense. Open for lunch and dinner, 573 Kailua Road, (808) 263-4636, royyamaguchi.com/goen-kailua
8. Twin Islands
Twin Islands is a shop with a story. Twin brothers Mike and Peter Miller grew up in Lanikai and surfed the breaks off the Mokulua Islands. After high school, both surfed professionally before becoming pilots (like their dad). In 2006, Peter died in an airplane crash. Three years after that, to the day, Mike started Twin Islands in his honor, creating a logo that depicts the Mokulua Islands they loved so much with an iwa (great frigate bird) flying overhead. "That's my brother," Mike says. The shop sells a range of apparel with this design, from board shorts to hoodies. "This logo represents a beautiful place," he adds, "and that's why people love it." 131 Hekili St., #107, (808) 744-6583, tisurf.com
9. Picket Fence Florist
Looking for a fresh lei po'o (flower crown) to wear on your vacation? (Because why not!) Head to Picket Fence Florist, a friendly shop that has been providing Kailua residents with beautiful lei, cut flowers and floral arrangements for 45 years. Boxes of gorgeous lei po'o crafted by a neighborhood lei maker are delivered regularly, with prices starting at $45. Or opt for hair combs adorned with pikake (a kind of jasmine) for $9. Call ahead for availability. 111 Hekili St., Suite 106, (808) 262-7727, picketfenceflorist.net
10. Bee & Tea
Cool off at Bee & Tea, the only Hawaii location of this Chicago-based chain known for its unlikely pairing of Taiwanese boba tea and meat-filled Chinese bao. The Kailua location offers Island-specific flavors, including the Coco Taro with taro milk, coconut and organic honey and the Hawaiian Dream smoothie with pitaya, mango, pineapple and coconut water—all with the option of boba, of course. Another reason to check this place out: There's a giant mural of Kailua Town that fills an entire wall, and it's a perfect background for your Instagram shot. 131 Hekili St., (808) 262-3808, beeteashop.com
11. Global Village
For more than 20 years, Global Village, one of Kailua's original boutiques, has curated an eclectic collection of high-quality, eco-conscious and unique products from Hawaii and around the world—all hand-picked by the owners. Some of our favorite local picks are beach glass jewelry by Girl Loves Sea, whimsical artwork by Manoa artist Sunny Weeks, and quick-dry Surfer Towels designs by local artists such as Nick Kuchar and Christie Shinn. 539 Kailua Road, (808) 262-8183, globalvillagehawaii.com
12. Lanikai Bath and Body
There's so much to see—and smell—at Lanikai Bath and Body, it's hard to choose just one thing to buy. The shelves are stocked with natural lotions with scents of plumeria and pikake, lip balms made with beeswax and coconut oil, organic healing salves for sunburns, reef-safe natural sunscreen, even mango-scented shampoo for dogs. One cool exclusive item: a cute, metal container with one-time-use soap slices in a variety of fragrances, perfect for traveling.
600 Kailua Road, #119, (808) 262-3260, lanikaibathandbody.com
13. Kailua Chamber of Commerce
Conveniently located in the center of Kailua Town, the Kailua Chamber of Commerce is a great place to pick up a detailed map of the neighborhood and get information on shopping, restaurants, services and tours. Plus, there's a bathroom here. 600 Kailua Road, Suite 107, (808) 261-2727, kailuachamber.com
14. BikiniBird
BikiniBird is your one-stop shop for beachy everything, from locally made swimwear to vacation-perfect cover-ups. But look around: We found small surprises in the shop, including cute canteens, honey-flavored lip balm, stylish sunnies and artwork by Honolulu-based designer Punky Aloha. 131 Hekili St., Suite 103, (808) 263-8389, bikinibird.com
15. Red Bamboo
A pineapple-shaped tea light holder? Check. Mermaid throw pillows? Definitely. Underwear with the Mokulua Islands on them? Why not! Red Bamboo has an assortment of unique gifts and home décor. Our favorite thing, though, is the selfie wall, with pineapple wallpaper and a neon sign that screams, "Aloha." 602 Kailua Road, #101, (808) 263-3174
16. Whole Foods Market
When Whole Foods Market opened in the Kailua Town Center in 2012, it quickly became the community hub. Everyone shops here, from longtime residents grabbing groceries on the way home to visitors stocking up on essentials for the weekend. While the market boasts a variety of local products—from Maui grass-fed beef to local eggs from Oahu—one of its most popular items isn't food at all. The $19.99 organic cotton totes emblazoned with Kailua or Lanikai—in a rainbow of colors including turquoise, red, olive and navy—make great keepsakes. And they're practical, too. 629 Kailua Road, Suite 100, (808) 263-6800, wholefoodsmarket.com
17. Nene Goose Bakery
Tucked away in a very quiet shopping center in residential Enchanted Lake, Nene Goose Bakery is an unassuming Japanese-style bakery that sells glazed doughnuts, cinnamon rolls and butter rolls. Its specialties, however, are its scratch-made breads, particularly the French and spinach loaves, and mochi anpan, a Japanese bread pastry filled with sweetened red bean paste and a small ball of mochi (Japanese rice cake). Get there early because the bakery runs out. It's closed on Tuesdays and Wednesdays. 1090 Keolu Drive, (808) 262-1080
18. Olive +Oliver
Owned by the husband-and-wife team of Ali McMahon and Parker Moosman, Olive Boutique and its neighbor, Oliver Men's Shop, radiate modern, surf-chic vibes. Both stores sell the kind of clothing and accessories worn by only the coolest kids. Breezy rompers, retro board shorts, stylish aloha shirts and graphic tees that speak to you. Olive Boutique, 43 Kihapai St., (808) 263-9919; Oliver Men's Shop, 49 Kihapai St., (808) 261-6587; oliveandoliverhawaii.com
19. Lanikai Monument
It's easy to miss the Lanikai Monument, a simple pillar located on the side of Mokulua Drive as you head into Lanikai. This 16-foot-tall marker, made from stone and concrete, was built in 1924 by Charles Frazier to mark the expansion of this area into an upscale residential subdivision named Lanikai. (It was originally known as Kaohao.) Its design is reminiscent of a lighthouse and, because of its picturesque location, has become a popular spot for photos. Near Mokulua Drive at the entrance to Lanikai
20. Lanikai Juice
With six locations around Honolulu and West Oahu, Lanikai Juice first opened its doors in—you guessed it—Kailua, blocks away from Lanikai Beach. And if the beach is where you're headed, you'll want to drop by this popular spot and grab something refreshing. We like the Mango Sunrise juice, with mango juice and honey, and the Tropical Bliss smoothie, with pineapple juice, coconut milk, mango, banana, lilikoi and honey. Contrary to what its name implies, this sustainable health food bar serves much more than juice, including açaí bowls—you can add peanut butter, which we recommend, for an extra cost—salads and sandwiches. 600 Kailua Road, (808) 262-2383, lanikaijuice.com
21. Kawai Nui Marsh
Sacred to Hawaiians of old, Kawai Nui Marsh sprawls over 800 acres and is considered the largest remaining emergent wetland in Hawaii. The marsh is home to four of the state's endemic and endangered waterbirds, including the koloa maoli (Hawaiian duck) and nene (Hawaiian goose), and important cultural resources such as an ancient loi (terraced taro field) and Hawaiian fishpond. There's a popular 3-mile walking path that meanders through the protected wetland that starts at Kawai Nui Neighborhood Park. 704 Kaha St.
22. Hamakua Marsh
Downstream from Kawai Nui Marsh is Hamakua Marsh, a smaller wetland and nature preserve that provides a protected habitat for rare waterbirds. A great place to bird-watch, you can often see aeo (Hawaiian black-necked stilt), alae ula (Hawaiian moorhen) and alae keokeo (Hawaiian coot). Off Hamakua Drive
23. Moke's Bread & Breakfast
Start your Kailua adventure at Moke's Bread & Breakfast, a comfy neighborhood breakfast and lunch spot that has a menu full of filling delights. If you're looking for something sweet, the restaurant's signature lilikoi pancakes comes in stacks of two or three, topped with passion fruit syrup. When in Hawaii, eat as locals do by ordering yourself the Loco Moké, a variation on the Island classic loco moco that comes with a house-cut rib-eye steak on a bed of rice and topped with an egg and brown gravy. 27 Hoolai St., (808) 261-5565, mokeshawaii.com
24. Wilson Store
An ode to old Hawaii, Wilson Store has the two things keiki (kids) and adults crave: crack seed and shave ice. You can find small-kid classics like li hing mui mango and rock salt plum, as well as frosty shave ice, the perfect remedy for a hot and humid day. If you want a truly unique flavor, the shop's owner recommends Pepsi and Ramune (a Japanese carbonated drink), which is hard to find anywhere else. 20-A Kainehe St., (808) 258-1324
25. ChadLou's Coffee Roasters
Every community needs a good coffee shop for locals and visitors to hang out in and sip handcrafted lattes and coffee, and ChadLou's Coffee Roasters fits that description. The quaint coffee shop roasts its own beans— from exotic locales like Myanmar and close-to-home farms like Waialua—in-house, which means you're getting the freshest roast possible. The shop's also got the cutest name in town, with Chad and Lou being the names of the owner's parents. Aww. 45 Kihapai St., (808) 263-7930, chadlouscoffee.com
26. Ulupo Heiau
Do you believe in menehune? The legendary race of small people who were said to live deep within the valleys and forests of the Islands were also known as exceptional craftsmen. The Ulupo Heiau, which sits on the eastern edge of Kawai Nui Marsh, features a massive stone platform—140 by 180 feet, with walls reaching up to 30 feet—that was said to have been built by menehune, who transported many of the building stones from Kualoa, more than 10 miles away. dlnr.hawaii.gov/dsp/parks/oahu/ulupo-heiau-state-historic-site
27. Kailua's Farmers markets
Looking for a great way to start your Sunday? Find fresh local produce, flowers, hot food, arts and crafts, live music and a mellow community scene at the KailuaTown Farmers Market on Sunday mornings. Go early to secure parking and the best selection of produce, and grab a seat in the outdoor café area to feast on fresh fruit, baked goods, locally grown coffee and plate lunches while listening to live music. Some favorites include the locally brewed kombucha and green smoothies from Hawaiian Fresh Farms, gluten-free scones and tarts from Puuwai Aloha Bakery and the unusual ice cream and gelato flavors (jackfruit and chamomile, anyone?) by mid-late summer. 8:30 a.m. to noon Sundays, Pali Lanes, 120 Hekili St., farmloversmarkets.com
The Thursday night Kailua Farmers Market in the parking lot of the Kailua Town Center, organized by the Hawaii Farm Bureau Federation, has been going strong for more than 10 years. In addition to fresh produce, the market boasts a range of food trucks and prepared food booths, serving everything from authentic Argentinian empanadas using local ingredients to hummus made from locally grown ulu (breadfruit) to loco moco made with North Shore-raised cattle. Some other favorites include pineapple vinegar made from local pineapples from Vintage Vinegars, scratch-made 9-inch pies using local fruits by Sweet Revenge Honolulu and kulolo (a Hawaiian dessert made from mashed taro, coconut milk and sugar) from Pomai Kulolo. Ample parking at the Whole Foods Market parking lot. 5 to 7:30 p.m. Thursdays, Kailua Town Center, 609 Kailua Road, hfbf.org
28. Foodland
Forgetting to pack a toothbrush or beach bag for your trip happens. Fortunately, Foodland on Hekili Street is a great place to stock up on any items you'll need while you're vacaying in Kailua. While you're there, don't forget to grab a local favorite: Foodland's authentic poke bowls, which serve as the perfect post-beach or -hike meal. 108 Hekili St., (808) 261-3211
29. Manoa Chocolate
No, Manoa Chocolate isn't made in the breezy hills of Manoa but is actually produced in Kailua. Using locally sourced single-origin cacao, owner Dylan Butterbaugh has been making gourmet bean-to-bar dark chocolate here since 2010. If you want to see how these high-end chocolate bars are made, the company offers a free mini tour as well as a more extensive $15 factory tour, where you'll taste fresh cacao and learn from chocolate sommeliers. 315 Uluniu St., Suite 203, (808) 262-6789, manoachocolate.com
30. Kimo's Surf Hut
With sand-bottom beaches and an endless supply of shorebreak waves, the beaches in the Kailua area are great for first-time surfers. And Kimo's Surf Hut can help you immerse yourself in the sport, either by renting you a foam longboard for only $20 a day or by giving you private or small-group lessons for $100 an hour. Advanced surfers can rent one of the shop's shorter performance boards or even purchase one of the used boards stored in the shop. Just know: Kimo's is closed on Sundays and Mondays. 776 Kailua Road, (808) 262-1644, kimossurfhut.com
31. Kalapawai
Don't get confused, but there are two—yes two!—Kalapawai shops in Kailua. The iconic Kalapawai Market, the original store, is located right next to Kailua Beach and sells locally made sundries such as Island Bee Honey, bags of Hawaii Cookie Kitchen cookies and Manoa Chocolate, as well as beach gear including snorkeling masks and reef-safe sunscreen. Kalapawai Café & Deli, in the heart of Kailua, is known for its sandwiches and housemade lilikoi bars and cookies. If you're in town early, you might have a shot at grabbing one of its vegan muffins, which sell out early in the morning. Kalapawai Market, 306 S. Kalaheo Ave., (808) 262-4359, Kalapawai Café & Deli, 750 Kailua Road, (808) 262-3354, kalapawaimarket.com
32. Easy 'Que
Three years ago Nik and Jennifer Lobendahn opened Over Easy, now a popular brunch spot. This year the couple launched a barbecue concept a half-mile away. Easy 'Que is all about the meat, from slow-cooked briskets to fall-off-the-bone pork ribs. There are also great veggie options, including a whole-roasted cauliflower and a wedge salad with dehydrated mushrooms and crispy grated potatoes mixed with cheese and smoke. Leave room for the soft serve. 767 Kailua Road, (808) 762-3089, overeasyhi.com/easyque
33. 22Kailua
If you love the quaint cafés of Japan, you'll adore 22Kailua, a casual coffee shop that serves sushi, nabe (hot pot) and Japanese-style sandwiches and pastries. (Try the coffee jelly, a cold dessert popular in Japan that combines black coffee gelatin with cream. It's simple and refreshing.) The sushi-ya in the back is reservations only with an omakase menu, which means you have no choice in what you get. (The word omakase means to entrust yourself to the chef.) Bonus? The chef-owner, Takashi Kijima, brings his golden retriever, Pualani, to work with him. 22 Oneawa St.
34. Olomana Trail
For the more experienced hiker, Olomana Trail offers a strenuous workout and incomparable views of Kailua Bay and Waimanalo. The 4.5-mile (round trip) trail starts in a forest of ferns and ironwood trees before transitioning to a more demanding uphill trek that includes scrambling up a 16-foot rock face (there are ropes to help). There are three peaks here; stick to the first. A handful of experienced hikers have died attempting to reach the third, more treacherous peak. And really, the view from the first peak—an unobstructed 360-degree look at the Koolau Mountains and all of Kailua, including the Mokulua Islands—is as good as it's going to get. 770 Auloa Road
35. Paul Mitchell Estate
The king of luxury vacation rentals, the Paul Mitchell Estate in Lanikai has everything you need for your opulent vacation getaway—and then some. Every corner of the Polynesian-inspired 1.3-acre property (with seven buildings) holds a new spot to kick up your feet and enjoy the unparalleled views of the Mokulua Islands. With enough room for 14 guests, this is the perfect spot to escape with family or friends. You don't even have to leave the estate—the property's concierge can arrange for anything from an in-house chef in one of the estate's three kitchens to a private luau in front of the Balinese hut. It even has the stamp of approval from celebrity guests including Rihanna, Adam Sandler and Daniel Craig. About $6,000/night, minimum seven-night stay, paulmitchellestate.com
36. Salvation Army
Saying that the Salvation Army Family Store & Donation Center sells a wide range of products would be an understatement. It sells everything. Need a used surfboard for $46? Maybe a floral men's pajama set for under 10 bucks? How about a banana holder for only a dollar? Known as one of the better thrift shops on Oahu, the Kailua Salvation Army is also a popular digging spot for aloha shirt enthusiasts, as you can find designer brands like Tori Richard, Tommy Bahama and T&L Muumuu Factory. 638 Kailua Road, (808) 261-1756