The Waihee Way Back: Maui Hawaiian Village Shares the History of a Valley
"We want to restore [the land] back to paradise. Once this place is thriving, it will be just beautiful."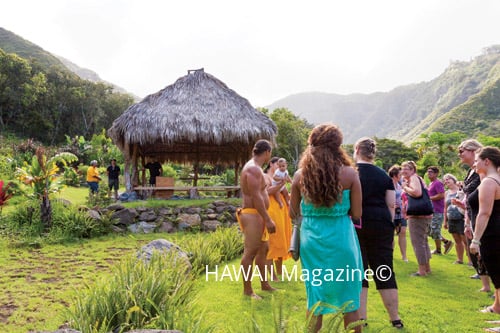 My first real view of Waihee Valley comes from behind a windshield.
Janai Kealoha is at the wheel of a huge, mud-flecked passenger van, the kind that more often hauls large equipment than a group of Maui visitors. As we head into the valley on a rutted, dirt road, she speaks proudly of the steep, emerald-green mountains that surround us. Waihee is the valley where Queen Kaahumanu, wife of Kamehameha the Great, was raised. The valley that, in 1790, fed the armies of Kamehameha the Great and Maui king Kalanikupule as they fought in nearby Iao Valley in the fierce Battle of Kepaniwai.
Even from the passenger seat of a van, the view of Waihee is impressive.
"But wait," says Kealoha, with a dramatic pause. "Wait till we get there. Wait till the buggah engulf you. You going see."
Waihee Valley is perhaps best known to most for its now-closed hiking trail—a five-mile loop through a lush rainforest, across two stream-crossing swinging bridges, ending at a waterfall-fed swimming hole. But it's the largely untrammeled West Maui valley's rich history that Kealoha and the founders of Maui Hawaiian Village want to share with visitors.
Occupying almost half of a 25-acre parcel on the misty, verdant valley's floor, the village sits on land that, up until last year, was thick with invasive trees. Seeking to build a replica of a traditional Hawaiian village, complete with loi kalo (irrigated taro terraces) and open-air hale (houses) with palm leaf-thatched roofs, landowner Joshua Chavez and a few of his friends took to clearing the acreage, chipping and mulching the invasive trees.
As Chavez cleared the area, the landscape that began to emerge was magical. The crew found ancient loi kalo and foundation platforms for homes.
"There was so much history under those trees," says Chavez.
Nine years ago, Chavez and a business partner purchased the land Maui Hawaiian Village now sits on. A realtor by trade, who grew up in the Upcountry Maui town of Makawao, Chavez's original intention was to build a home on the land and live in Waihee. Instead, he eventually scrapped those plans to create the nonprofit Waihee Valley Restoration Project, hoping to renew a valley once considered a breadbasket of Maui. The fresh waters of the West Maui Mountains-fed stream that cut the narrow valley over eons still teem with oopu (goby), opae (shrimp) and three different kinds of freshwater limpets.
The Hawaiian Islands Land Trust, a nonprofit organization working with private landowners, community groups and government partners to protect and conserve Hawai'i's natural resources, owns and manages another 277 acres of Waihee Valley, encompassing its coastal entrance. The trust took ownership of the acreage, once slated for a golf course, in 2004. Since then, eight different endangered species have taken up residence in the valley, wetland plants are thriving and many native birds—including the aeo (stilt), alae keokeo (coot) and koloa (duck)—have been spotted.
"It's one of the last valleys on the [west] side of the island where the water flows to the ocean," Chavez says. "That's pretty special."
Chavez's decision to build Maui Hawaiian Village and offer tours to visitors was made to fund the restoration project. On a tour of the valley and village, visitors participate in hands-on activities such as kapa– and kalo-pounding and rope lashing in three thatched-roof hale overlooking the loi and groves of papaya and banana trees. Surrounding the hale are gardens with native plants such as uala (sweet potato), loulu (fan palms), ilima (a flower-bearing shrub) and awa (kava).
Led by members of the Hewahewa family, longtime West Maui residents who share their cultural practices with visitors, the Maui Hawaiian Village Tour is big on instilling knowledge. The Hewahewas don't just show you how to pound kapa (tree bark used to make cloth), they explain the entire process, from stripping the bark of a wauke (paper mulberry) tree to pounding and dying the cloth. The village even has an imu (underground oven), which visitors help fill with staple foods harvested from the valley. Chavez hopes to fulfill his ultimate plan for Maui Hawaiian Village and the Waihee Valley Restoration Project by growing enough kalo and uala to feed the community.
Says Chavez, "We want to restore [the land] back to paradise. Once this place is thriving, it will be just beautiful."
As she readies to drive us out of Waihee, Janai Kealoha looks around the valley and takes a deep breath. The ahupuaa (mountain-to-seashore land division) the valley comprises is also land important to her husband's family history. To see Waihee Valley restored to what it once was, and what she feels always should have been, is powerful to her.
"For me, being makua (older), it's very inspiring to be able to work here for this purpose," she says.
As for Chavez, he harbors no regrets about his decision to reside in Makawao's neighboring town, Haiku, instead of on his Waihee Valley land.
"Rather than me living on this land, [now] everyone can be involved in taking ownership of it and making it their backyard," he says. "That's more important."