The Waikīkī Beach Marriott Resort & Spa is Looking Better than Ever
You need to see this extravagant renovation.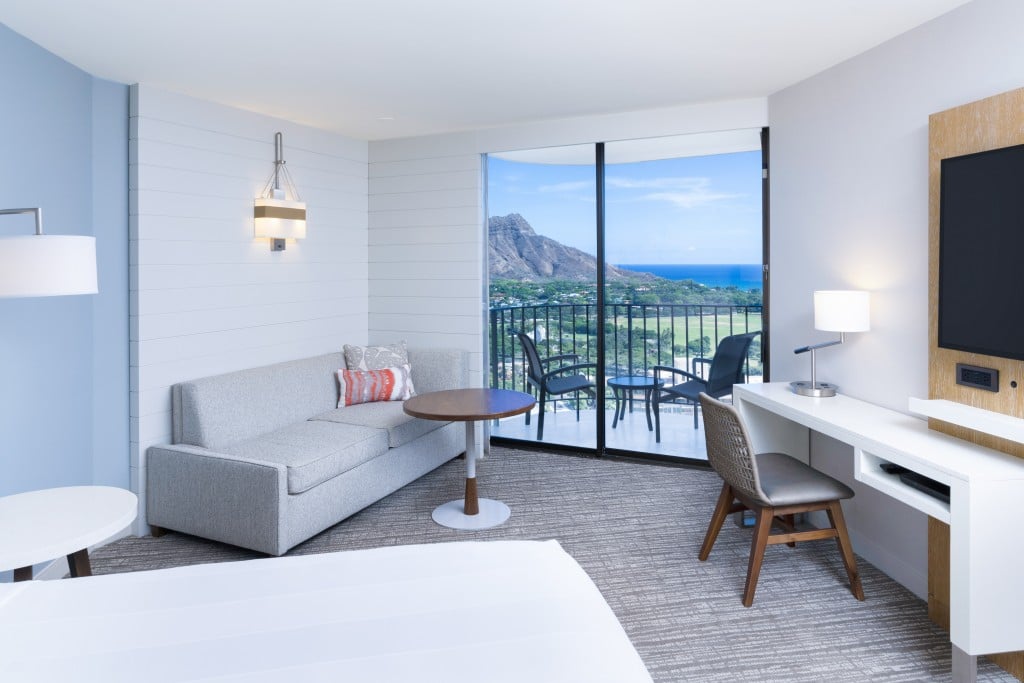 In case you missed the news, the Waikīkī Beach Marriott Resort & Spa has completely overhauled its look, from the lobby to its signature Queen Suite.
"We are excited to welcome guests and locals to our transformed oceanfront resort and extend our genuine Hawaiian hospitality to travelers seeking an authentic island experience in Waikīkī, only steps away from the beach," said Thomas Foti, General Manager of Waikīkī Beach Marriott Resort & Spa. "With our new one-acre open-air Queensbreak pool and amenity deck, as well as shopping, dining, live music and entertainment, and activities, there are so many ways for guests to dine and play throughout our reimagined campus."
Built on the same grounds where Queen Liliʻuokalani's summer house once stood—where she entertained foreign dignitaries and other royalty—you can feel that iconic aloha spirit the moment you walk into the Marriott's recently renovated grounds. And with the project costing a small fortune, and forcing the hotel to close for roughly six months, returning visitors may find themselves surprised at just how much the resort has modernized its look—a tough job when you've got 1,310 rooms to think about.
It all started with the Nanea Lobby, which now features a gorgeous art piece reflecting the Native Hawaiian's initial journey to Hawaiʻi, as its eye-catching focal point. Nearby there are long wood tables for a variety of—free—classes to be held on making shave ice, stringing lei and a variety of other Hawaiʻi-centric studies that visitors and locals will love doing. (There's also morning yoga in the lobby, which is a great way to start your day.)
A few floors up from the lobby lies one of the hotel's biggest changes—the completely new Queensbreak pool and amenity deck, decked out with an adults-only pool for kidless relaxation as well as a much larger area for family and keiki (kids). Here you can play cornhole on an AstroTurf lawn or rent a poolside cabana for some true R&R. Separating both pools is the hotel's new—get used to that word, everything here is new—poolside restaurant and bar, Queensbreak Restaurant, which offers a variety of delectable pūpū and entrees perfect to go with a handcrafted mai tai or beer. The restaurant—one of many located on the Waikīkī Beach Marriott's property—also has wonderful live entertainment at night, with local musicians taking the stage (and song requests).
Of course, the rooms have also been completely overhauled by interior design firm CRA Architecture. No small feat considering the Waikiki Beach Marriott Resort & Spa is the fifth largest hotel in the state with just over 1,300 rooms—split up into two towers—to think about. But the hotel has done a wonderful job, mixing that Hawaiʻi-resort aesthetic with a new, modernized approach. Clean and beachy colors—think soft blues and coral—are paired with chic furnishing and very comfortable beds, where sea-inspired art pieces hang above.
And regardless of if you're in a room or a suite, everyone staying at the Waikīkī Beach Marriott will have an exceptional view from their lānai (veranda). While the Ocean View rooms are hard to beat—giving visitors an unparalleled birds-eye view of Waikīkī Beach—the Diamond Head Ocean View accommodations have one of the best-uninterrupted views of Leʻahi (Diamond Head) in Waikīkī.
The property may be old, but the Waikīkī Beach Marriott may as well be considered a new hotel with the amount of work that has been done here. Its pool deck feels fresh, the amenities, programs, classes and nightly shows at Queensbreak are superb and the rooms are fit for royalty—especially those suites. Return visitors will love the new changes, and first-timers will want to come back for more.
For more information or to book a reservation, visit marriott.com/waikiki.