These 10 Photos Truly Show the Awe-Inspiring Power of the 2021 Kīlauea Eruption
Hawaiʻi Island photographer Andrew Richard Hara captured the recent Kīlauea eruption, and his photos are stunning.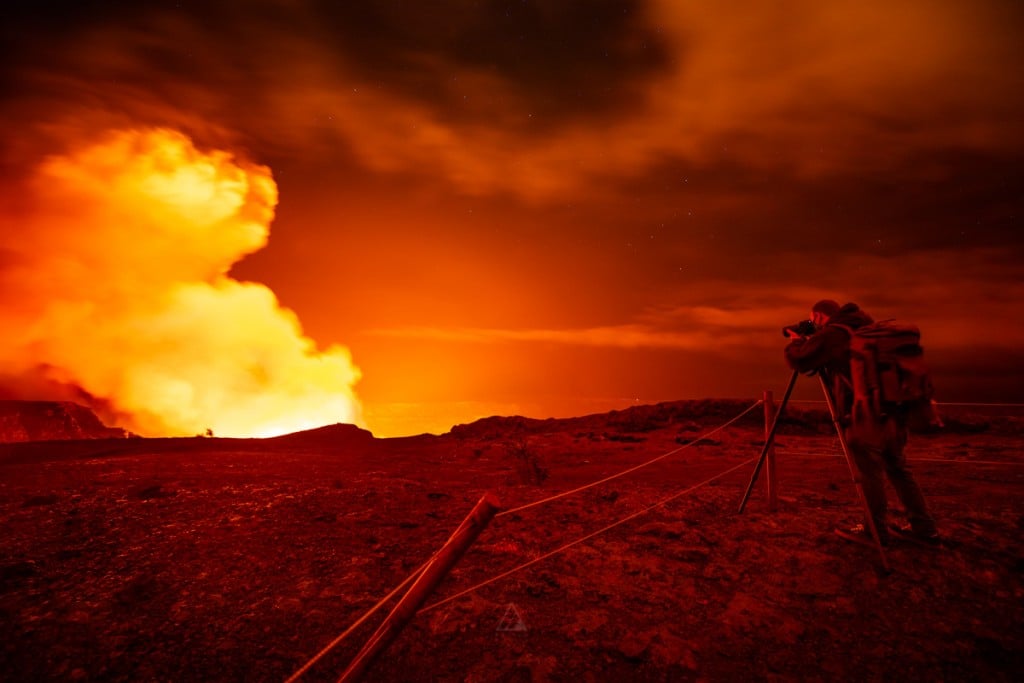 On Dec. 20 Hawaiʻi Island residents once again saw black plumes of smoke rising from the Kīlauea's Halemaʻumaʻu Crater. The volcanic hotspot had returned to life (though it currently poses no threat to residents).
The natural phenomenon continues to be a sight to behold. And while many couldn't travel to the island to witness the moment—due to COVID-19—local photographers like Andrew Richard Hara (@andrewrichardhara) have been able to capture unforgettable images. It's almost just as good as being there!
He shared these photos with us—and we're sharing them with you. These were taken the first day of the eruption—more specifically, within the first two hours of its start. He even captured aerial shots aboard a Blue Hawaiian helicopter.
"I live 45 minutes from [Hawaiʻi Volcanoes National Park]," Hara tells us. "[I] found out that the crater had begun erupting again from a friend who called me right before I was about to head to bed. I was absolutely ecstatic. I stayed up 'til 5 a.m. to shoot and came back and slept in that following morning."
"There was something missing on our island without active lava," he continues. "A part of it is spiritual, another being culturally tied to the fascination and importance of being able to observe one of the most active hotspots on Earth."
Hara hopes, with these photos, he can inspire a deep respect and appreciation for the volcano and Hawaiʻi Island. That means respecting rules governing access to Kīlauea, being mindful that people live and work at the national park, and that the volcano itself has cultural significance. "It is not just an Instagram destination for a photo," he says. "It is a privilege, not a right that [people] are able to visit this island."
Some recommendations from Hara: Head to the national park a half an hour before sundown, ask park rangers for help, and consider booking a reputable outfitter—he suggests Hawaiʻi Forest & Trail—to safely visit the park.
Oh, and enjoy the moment. It never lasts.
"What I love about photographing the volcano is that there is a connection, a special relationship between the viewer and something much greater than us," Hara says. "I search for moments that contain an indescribable moment of awe or shock, the volcano being one of them. There is truly never a day when you see the same light, cloud or glow twice. Having lived in the park and working alongside geologists for a few years brought a deeper scientific and cultural understanding to photographing volcanoes. Eruptive episodes are like chapters in a really good book, always changing. It's exciting to know that tomorrow might be the last day that it ever erupts again."