These 3 fine wines and spirits tours are putting Upcountry Maui libations on the map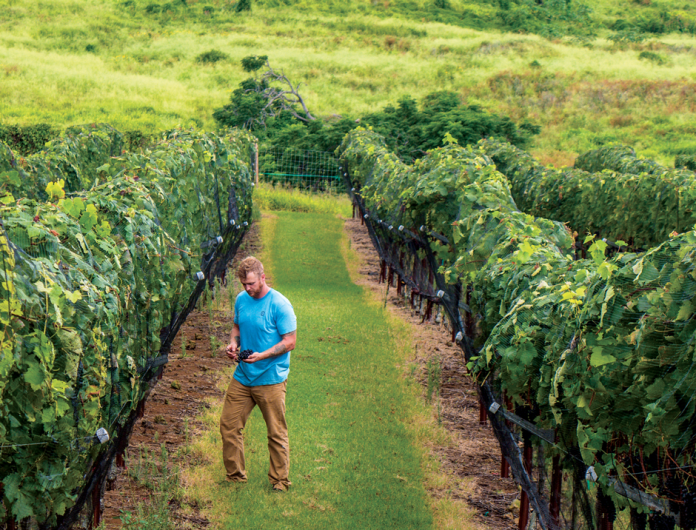 Upcountry Maui has long been known as a hub of ranching and farming; three small businesses are also putting that verdant region on the map with their fine wines and spirits. MauiWine, Haliimaile Distilling Co. and Ocean Vodka Organic Farm and Distillery offer tastings and tours that include an insider's look at their production facilities.
During your visit, you might see sugarcane being cut and juiced at Ocean Vodka, pineapple being crushed and pressed at MauiWine or spirits being bottled at Haliimaile Distilling Co. Even teetotalers and those under the ages of 21 will leave with appreciation for the makers of these craft libations, who have the knowledge of a chemist, the imagination of an artist, the discerning palate of a chef and the patience of a saint.
Maui Wine
"People link wine with celebration," says Joe Hegele, MauiWine's director of sales and marketing. "We hope a visit with us puts them in a happy mood and sparks interest in the history of our beautiful location at Ulupalakua Ranch."
During the late 1800s, the property was known as Rose Ranch, where some of Maui's most extravagant social gatherings were held (the on-site jail with three-foot-thick lava walls likely served as temporary quarters for rowdy partygoers). King David Kalakaua was a frequent guest—so frequent, in fact, that the ranch's owner, James Makee, a retired whaling captain, built a cottage specifically for his use. Now housing the tasting room, the cottage overlooks lush grounds dotted with magnificent trees, including two Cook pines over 150 feet tall, and the pā hula (hula stage), where dancers once performed for the king in a ring of cypress trees.
About 1.5 miles from the visitor center and production facility, syrah, malbec, grenache, viognier, chenin blanc and gewürztraminer flourish on 16 acres. MauiWine's eight products start with sweet, hand-harvested grapes, as well as ripe pineapples from Maui Gold Pineapple Co. in neighboring Haliimaile. In fact, the perennial best selling wine is Maui Splash, a pineapple wine with a touch of liliko'i (passion fruit).
Winemaker Brett Miller's creativity starts in the vineyard and continues in the production facility—Rose Ranch's former creamery, which dates back to the 1860s. "We appreciate the freedom we have to experiment, to be innovative," Hegele says. "Everything we're doing is an exciting exploration, with the ultimate goal being to create wines that represent and celebrate Maui."
Free 30-minute tours are daily at 10:30 a.m., 1:30 and 3:30 p.m. Tastings are offered 10 a.m. to 5:30 p.m. daily. The renovated jail will hold private tastings beginning in December, starting at $100 per person. 14815 Piilani Hwy., (808) 878-6058, Kula, mauiwine.com.
Haliimaile Distilling Co.
At a National Hockey League trade show in Florida in the summer of 2003, Mark Nigbur got some unsettling news: There wasn't going to be an NHL season because of a lockout. "When you own a company that makes hockey equipment, that's a huge game changer," he says. Flying back to his home in Colorado Springs, the only thing he had on his mind was a little pain relief, courtesy of his Ketel One cocktail. "Then I read an article about brewing beer in the in-flight magazine."
Nigbur looked down at the vodka he was drinking, started drawing stills on a napkin and jotting down notes: "Clean … pure … all glass." Diving into research when he got home, he discovered no one was using glass reflux stills to distill vodka; copper was (and still is) primarily being used even though it can impart unwanted flavors.
It was Nigbur's "aha!" moment. He sold his equipment company and went into the vodka-making business using pharmaceutical-grade glass stills that he designed. That led to a partnership with the California-based LeVecke Corp. (a wholesale distributor of beer and wine and rectifier of distilled spirits) and a move to Maui in 2006 to establish Haliimaile Distilling Co.
With Nigbur came his three glass reflux stills and eight stainless steel strip stills, which separate alcohol from fermented mash using submerged, instead of external, heating elements. In addition to distributing heat faster and more evenly, this Nigbur innovation allows residual sugars to caramelize, adding wonderful flavors.
Today, in a Quonset hut dating back to World War II, Nigbur oversees production of 12 rum, vodka and whiskey products made with either Maui Gold pineapple or cane from Hawaiian Commercial & Sugar Co. in central Maui. Of the 400 brands of vodka in the world, Hāli'imaile's Pau Maui Vodka is the only one distilled from pineapple juice.
Nigbur views the company's success with wonder: "It all started with sketches on a napkin. And I still have that napkin."
Thirty-minute tours begin at 10 a.m. Mon. through Fri. and run every half hour until 4 p.m. Cost is $10 for those ages 12 and older. Reservations are recommended. 883 Haliimaile Rd., Kula, (808) 633-3609, Makawao, haliimailedistilling.com.
Ocean Vodka Organic Farm and Distillery
Ocean Vodka takes pride in tending a bit of history at its farm and off-site nursery: 38 varieties of sugarcane, including 35 of the 72 types recorded in Hawai'i in 1782. "We have one of the largest collections of native Polynesian sugarcane varieties in Hawai'i," says master distiller Bill Scott. "Many of the ornate ones are not for commercial use because they're susceptible to infestation and infection. They're also getting scarce, so we'll keep growing them for research and historical purposes. We'll also continue to hunt for and add other varieties to our 'library' of cane. I'd like to plant 60 more acres of cane in the next 18 months."
The goal is for the company to grow all the cane it needs for production. To date, it has processed over 100 tons of its cane—a lot, but not nearly enough to meet the demand for its Ocean Organic Vodka and Deep Island Hawaiian Rum. The rest of the cane comes from growers around the globe, details for which are proprietary. "I will say sourcing for us is more difficult," Scott says, "because we have to ensure that everything we use is in compliance with 'certified organic' regulations."
Its use of water pumped from 3,000-foot depths off the Kona coast in its products also sets Ocean Vodka apart. And on sunny days, solar panels generate electricity for most of its electricity needs. The company's 40- and 60-foot continuous-column stills, designed by Scott, are one of a kind. Together, they contain 103 stainless steel plates, which act as mini distillation units, efficiently removing alcohol's impurities.
If time permits after your tour, pluck herbs and fruit in the Martini Garden; pick up free cocktail recipes in the gift shop; and stroll to the lookout, which opens to spectacular vistas of north, south and central Maui.
Hours are 9:30 a.m. to 5 p.m. daily. Tours leave every half hour starting at 9:30 a.m. and are 45 minutes long; the last one is at 4 p.m. Cost is $10 for those ages 12 and older. 4051 Omaopio Rd., (808) 877-0009, oceanvodka.com.
---
This article, "Upcountry Libations," was originally published in the November/December 2015 issue of HAWAIʻI Magazine.