Things to Do on Kauaʻi's North Shore
Here's what to do on Kauaʻi's North Shore if you only have two days.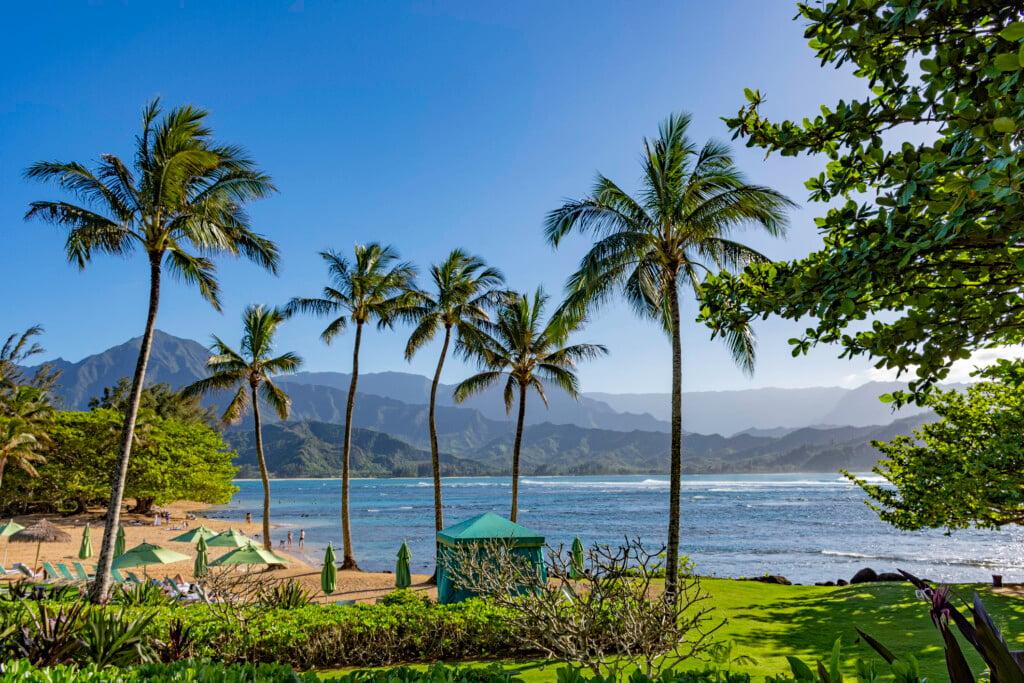 Although you can spend years on Kauaʻi continuously discovering new parts you never knew existed, the Garden Island makes it easy for visitors to tour the entire island within a week. When the furthest you can drive is under three hours, the possibilities are endless. We recommend spending some time on each side of the island and hitting the highlights during a week-long stay, however if you only have a few days on the island's fantastic northern shoreline, here are a few things to fill your itinerary on Kauaʻi's north shore.
Hanalei Bay
The north shore of Kauaʻi is best known for its lush tropical jungle feel and incredible views, and Hanalei Bay is a must-stop on the north shore. The iconic Hanalei Pier is the centerpiece of the bay, often with visitors climbing up a ladder from the water only to plunge back into the Pacific from the pier itself. The 2-mile stretch of beach at Hanalei Bay is a perfect day trip for any group or solo traveler. The typically calm conditions welcome all water sports from stand-up paddleboarding and kayaking to surfing and fishing.
Needing a break from the sun and surf on Kauaʻi's north shore? Hanalei is filled with local eateries—from on-the-go to 5-star dining options. Boutiques, art galleries and surf shops line the streets, with a wide selection of delicious food trucks to sample as well. The Hanalei River, lined with taro fields, is a beautiful place to slow down and enjoy the views via kayak or paddleboard, all available for rent in town. Bike rentals are also very popular as an easy way to cruise around town. Be sure to stop by the Historic Old Hanalei Schoolhouse, which has been converted to The Hanalei Gourmet, a family-run bar and eatery.
Kalalau Trail
Only 8 miles from the bay is Ke'e Beach, the furthest you can drive on the north shore of Kauaʻi—and the start of the famous Nāpali Coast. Reef-protected, Ke'e is a safe location for snorkeling and swimming, especially during the summer months. Parking permits are necessary for visitors, so be sure to book ahead. Ke'e Beach is also at the base of the Kalalau Trail—the only way to see the Nāpali Coast on foot. The first two miles of the coast are a very popular day hike, ending at Hanakāpī'ai Beach. Although the beach hosts a beautiful waterfall, it is not safe for swimming. Anyone proceeding beyond Hanakāpī'ai Valley must have a permit to do so, and this trip is recommended for experienced hikers only.
ʻAnini Beach
ʻAnini Beach is one of the best snorkeling locations on Kauaʻi's north shore. Home to one of the longest and widest reefs in the Hawaiian Islands, ʻAnini Beach provides natural protection from the currents beyond to shorebreak. Since the beach is so stretched out, there are plenty of options to find a private nook all to yourself. There are multiple campsites available by permit as well as picnic areas, pavilions and showers for daytrippers.
Drive-By Stops
Kīlauea Point Lighthouse and Wildlife Refuge: An entry fee of $10 is required for adults 16 and older. Children under 16 are free. This quick photo op boasts epic views and is well worth the $10 donation to help preserve the wildlife.
During the ride from Hanalei to Ke'e Beach, you will also pass Lumahaʻi Beach and Hāʻena Beach. Across from Hāʻena, you'll find the roadside Maniniholo Dry Caves, which make for a quick pop-out and explore stop. Don't forget a flashlight, as the caves can be a bit dark.
OTHER RECOMMENDATIONS
Golf Lovers: Check out Princeville Makai Golf Course for an unforgettable round of golf with the best views on the north shore.
Adventure Seekers: For an adrenaline-rushed view of the Nāpali Coast from the ocean, try out a zodiac tour!
Family Friendly: Na 'Aina Kai Botanical Gardens and Sculpture Park is a great activity for the whole family to learn about local flora and Hawaiian culture. The Children's Garden and play area has rope bridges, tunnels, slides and more. There is even a monthly splash park special event.