Things to Do on Kauaʻi's West Side
From Hanapēpē to Waimea Canyon, here are a few things to do on Kauaʻi's west side.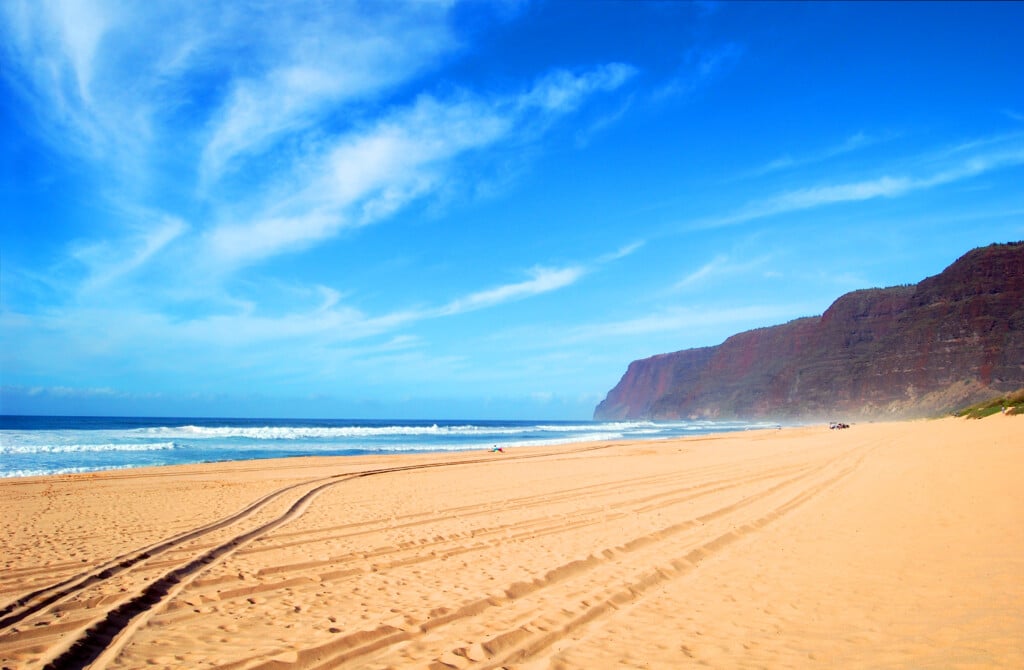 For visitors to Kauaʻi, it's easy enough to tour the entire island in a week. We recommend spending some time on each side of the island and hitting the highlights during a weeklong stay, however, if you only have a few days on the island's fantastic western district, here are a few things to do on Kauaʻi's west side.
Hanapēpē Town
Hanapēpē, "Kauaʻi's biggest little town," packs a lot of punch in just a little over a mile. While the inspiration for the town featured in Disney's "Lilo & Stitch" has a rich cultural history, it's not lacking for shopping, dining or ambiance. The town hosts an "Art Night" on Friday evenings, with food, music, art and handcrafted products by local makers. Be sure to try Midnight Bear for its drool-worthy artisan bread and pastries. Just past Aloha Spice Co. you'll find the famous Hanapēpē Swinging Bridge, which crosses the Hanapēpē River; it's an actual suspended bridge that sways with every step. Artsy with a western vibe, you won't want to pass this little town by without a visit.
READ MORE: Your Walking Guide to Hanapēpē, Kauaʻi
Waimea Canyon
The Grand Canyon of the Pacific is located in Waimea Canyon State Park, just down the road from Kōkeʻe State Park. You could spend an entire week on the mountain and still not cover all of its trails, so it's best to stick with the scenic overlooks and a few hikes on a day trip. On the drive up the mountain, there are several opportunities to pull over and take in the canyon views and even a view of the neighboring island of Ni'ihau. The Kōkeʻe Lodge is a great pit stop for a bite to eat in between overlook stops.
Here are some stops to check out on the way up:
Waimea Canyon Lookout (mile marker 10): This lookout features panoramic views of Waimea Canyon, which is 10 miles long, a mile wide and more than 3,500 feet deep. NOTE: Waimea Canyon State Park

charges a fee

to park and enter for all except Hawaiʻi residents.

Pu'u Hinahina Lookout (mile marker 13): Here you'll see Waimea Canyon from a different perspective—and with an unobstructed view of Ni'ihau, the Forbidden Island.
Kalalau Lookout (mile marker 18): This vantage point is 4,000 feet above sea level and includes views of the Nāpali Coast's Kalalau Valley, from the west.
Pu'u O Kila Lookout (mile marker 19): The last stop on the mountain features panoramic views of Kalalau Valley, overlooking the Alaka'i Swamp.
Polihale State Park
Polihale State Park is one of the westernmost parts of the state that's publicly accessible, and well worth the bumpy 5-mile ride down the remote road that gets you there. Adventurous travelers who're looking for outdoor things to do on Kauaʻi's west side will be happy to know camping is available via permit, but if you're pressed for time, heading to Polihale in the late afternoon will give you a beautiful half-day experience, complete with an incredible spot to watch the sunset. Queen's Pond is one of the safer sections of the beach for those looking to swim, however, it is important to note that there are no active lifeguards on duty here. The park is open until 7 p.m. for day-trippers, so depending on the time of year you may have time to catch some of the early night sky as well.
READ MORE: Polihale or Bust: Camping on Kauaʻi's West Side
RECOMMENDATIONS
Family-Friendly – Beachcombers can collect an abundance of sea glass along the black sands of Glass Beach in 'Ele'ele.
Beer Lovers – Check out Kaua'i Island Brewing Co. in Port Allen for some delicious craft beers and bar food.