Things to Know for First Time Visitors to Kauaʻi
The Garden Isle is full of epic adventures and gorgeous greenery, and here are some things to know for first time travelers.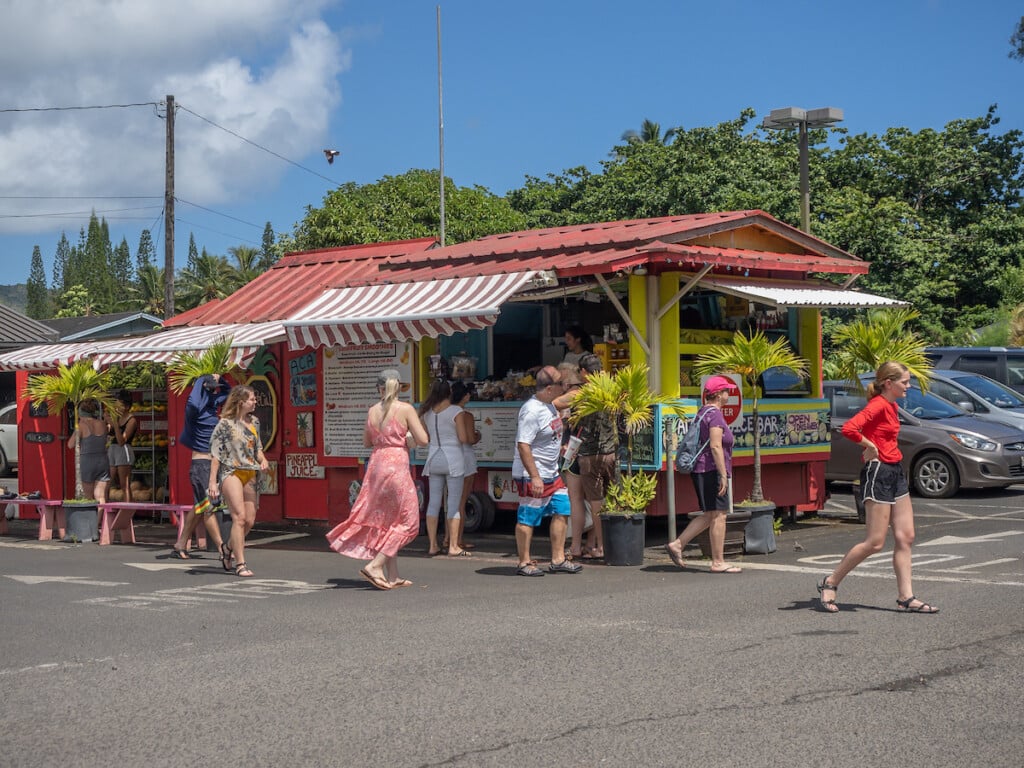 Kauaʻi, also known as the Garden Isle, is a favorite among visitors and locals alike. Considered by some as the oldest of the main Hawaiian Islands—other sources cite Ni'ihau, by a couple of hundred thousand years—Kauaʻi is chock-full of culture, activities and ʻono (delicious) restaurants. It's a great place for visitors to travel to, especially if you've already been to Oʻahu or Maui and are looking for something new. Of course, like any of the Hawaiian Islands, there are things visitors need to know, especially if it's their first time traveling there.
1. The North Shore's Weather is Fickle
The northern shoreline of Kauaʻi makes the shortlist of the most beautiful places in Hawaiʻi to visit. However, first-time visitors to Kauaʻi may be surprised by how much rainfall the area gets. Being the tip of the main Hawaiian Island chain, the north shore of Kauaʻi gets the brunt of the island's stormy weather and rainfall. But don't be discouraged if it's pouring when you arrive; the weather can clear up quickly—leaving behind magnificent views and plenty of rainbows.
2. The Sunny South Side
The southern districts of the island—home to Poʻipū, Hanapēpē and Kalāheo—are graced with blue skies and sunny weather on most days. It's no wonder these areas, and their beaches, are favorites among visitors and locals looking to warm up in the sun.
3. There are no Freeways
While the island is small, driving the 55 miles from Hanalei to Waimea—two towns on opposite sides of the island—could take up two hours. This is because there are no freeways cutting through the island, like on Oʻahu. So if you're looking to see everything Kauaʻi has to offer, it might be best to stay somewhere central, like Līhuʻe.
4. There is Traffic
It seems like paradise would be free of everyday stressors, but it's not. Traffic is a daily issue for drivers, both local and visiting. So if you're planning to head up to Hanalei or Princeville, or down to Poʻipū, leave early and return late to avoid any backups, which are pretty common even midday.
5. Hāʻena State Park Requires Reservations
Visitors may be surprised to learn that they'll need a reservation to access Hāʻena State Park. These passes, which are only given to 900 people daily, have been implemented to lessen the amount of foot traffic—and trail degradation—at the park, and can be accessed on the state Department of Land and Natural Resources website. You'll want to book as soon as possible; visitors can make reservations up to 14 days in advance. A reservation is $5 per car; if you decide to walk/bike in, it's $1 per person.
6. Visit a Botanical Garden

Kauaʻi is known as the Garden Isle for a reason. It's home to a host of verdant botanical gardens, and first-time visitors to Kauaʻi owe it to themselves to visit at least one. Allerton Garden, Limahuli Garden and Preserve and Na ʻĀina Kai Botanical Gardens have been voted as some of the best in the Islands in our annual Readers' Choice Awards, and are great places to start your botanical adventures.
7. Get a Rental Car
While it is possible to make it around Oʻahu via public transit, the same cannot be said for Kauaʻi. Unless you can afford to Uber and Lyft everywhere, you'll definitely want to rent a car. Convertibles and Jeeps are great choices.
8. Get Out of the Resort Areas
While you could spend your entire vacation in places like Poʻipū and Princeville, it's best to get out and explore the rest of the island. Small towns like Hanapēpē, Anahola and Wailua are great additions to your itinerary and will give visitors a better look at everyday life on Kaua'i, which they can't really get from a resort district.
READ MORE: Our 10 Essential Experiences on Kauaʻi
9.
There are Multiple Ways to see the Nāpali Coast

If there's one thing every visitor should see on their trip to Kauaʻi, it's the Nāpali Coast. And fortunately, there are numerous ways to do that. Boat tour companies like Capt. Andy's provides excellent looks from the water, and helicopter tours with Blue Hawaiian Helicopters will give you a bird's-eye view. Visitors looking for a workout can hike the Kalalau Trail, which snakes into and out of the Nāpali Coast, providing hikers with an unforgettable journey.
10. Embrace Hawaiian Time
Kauaʻi embraces the concept of "Hawaiian time"—to enjoy life at a relaxed pace—and visitors should as well. Even though it may seem like there's so much to do and so little time, it's best that visitors—especially on their first visits to the island—take it slow. Who knows, you may end up talking to a local store owner who'll recommend a great place to get dinner or point you in the direction of some secret beach you won't soon forget.