Our 10 Essential Experiences on Kauaʻi
From hiking to a hidden waterfall in Kapaʻa to toasting mai tais in Hanalei, here are our must-dos for your next vacation to the Garden Isle.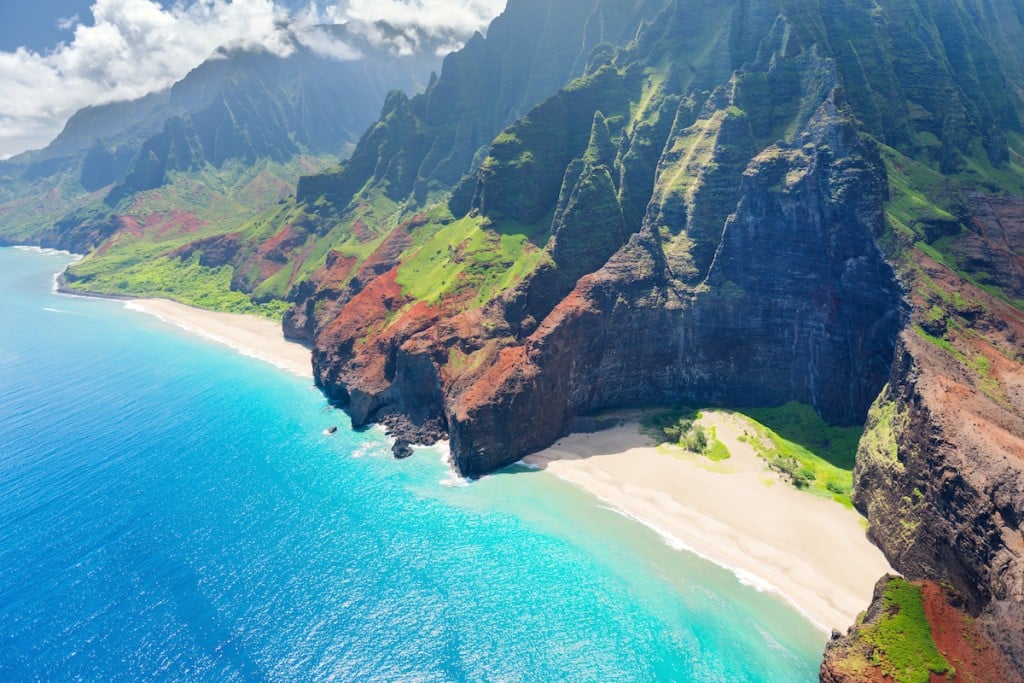 Kauaʻi is for those who truly want to get away. Lush mountains, cascading waterfalls, remote beaches — the island offers the Hawaiʻi vacation of your dreams. Hike through tropical rainforests or along breathtaking pali (cliffs). Kayak through verdant valleys to hidden waterfalls. Walk along more than 50 miles of beaches. If you want get away, escape here. Here are 10 essential experiences every traveler should have while on the Garden Isle.
1. See the Nāpali Coast
The 17 miles of emerald cliffs and verdant valleys of the Nāpali Coast is one of the most awe-inspiring vistas on the Garden Isle. The thing is, you can't drive there. You can book a helicopter tour (most leave from Līhuʻe Airport), see it by boat or lace up your hiking boots and hit the trail. While the 11-mile Kalalau Trail traverses the rugged coastline, it's quite a trek—and not one you can do easily in a day. If you're limited on time, drive to Kōkeʻe State Park—visitors need to pay a $10 entrance fee—and hike the Awaʻawapuhi Trail. The 6-mile out-and-back trek takes you to the edge of a 2,500-foot ridge, offering spectacular views of the pali into Awaʻawapuhi and Nualolo valleys below. Along the way you can see a rich variety of native dryland plant species and, if you're lucky, spot native forest birds.
2. Hike Waimea Canyon
Described as "The Grand Canyon of the Pacific," Waimea Canyon is an unexpected landscape on the lush island. This canyon—with crested buttes, rugged crags and a desert palette of colors—stretches 14 miles and more than 3,600 feet deep. There are hikes through the canyon—we like the one to the top of Waipoʻo Falls—the overlook in Waimea Canyon State Park is a great place to witness the majestic beauty of this place. (There's a fee to enter for visitors.) Some tips: Go early, as the clouds often roll in during the day and obstruct views, and be prepared for the winding road to the overlook. It's like driving the Road to Hāna on Maui; if you're prone to motion sickness, drive or sit in the front seat.
3. Snorkel at Mākua
On summer days, when winter swells aren't hitting the island's northern coast, Mākua Beach is a snorkeler's paradise. Known colloquially as Tunnels Beach, Mākua—about 5 miles west of Hanalei—boasts crystal-clear waters and diverse marine life. There's even a shallow area where kids can safely play. Beginners can snorkel over the shallow reefs; expert divers can venture further out. See several species of hawkfish, triggerfish, tang, parrotfish, surgeonfish and honu (Hawaiian green sea turtles). Always check with lifeguards before entering the water.
4. Drink a Mai Tai at Tahiti Nui
You can't visit Hanalei without sipping a mai tai from Tahiti Nui. Since opening in 1963, this fun, throwback restaurant is the place to kick back, listen to live Hawaiian music and feast on local-style food like coconut shrimp and ʻahi poke chips. But its the mai tai that has become legendary—a closely guarded recipe by owner "Aunty Louise" Marston, who opened The Nui, as it's called, with her husband, Bruce. The family still operates the restaurant—and the two-toned, pineapple-adorned cocktails are still as popular as ever. (Tahiti Nui was also featured in the 2011 movie "The Descendants" with George Clooney.)
5. Walk Hanalei Pier
The historic Hanalei Pier, which was originally built out of wood in 1892, is one of the most iconic landscapes on Kauaʻi. Running 340 feet into the picturesque Hanalei Bay, the pier—upgraded to concrete in 1922—is a favorite gathering place for locals, who fish, swim and surf here. It shot to fame after it was featured in the classic 1957 film "South Pacific," then added to the National Register of Historic Places listing in Hawaiʻi in 1979.
6. Eat Kauaʻi Specialities
It doesn't matter if this is your first visit to Kauaʻi—or your 10th—you still need to try these foods while on the Garden Isle. While saimin can be found throughout the Islands, only Kauaʻi has Hamura Saimin Stand. This Līhuʻe landmark serves arguably some of the best bowls of this simple noodle dish that's unique to Hawaiʻi. It's so good, in fact, it earned the title of American Classic by the prestigious James Beard Foundation in 2006. Kauaʻi also makes the best kūlolo, a Hawaiian dessert made from mashed taro, coconut milk and sugar. Find bricks of kūlolo at grocery stores, roadside stands, farmers markets and even gas station convenience stores. And if you're lucky, you'll find something called Flying Saucers. While its origin is still debated—some say Kauaʻi, some argue Maui—these sloppy joe-filled sandwiches are insanely delicious and only found on the Garden Isle.
7. Visit Hanapēpē
Hanapēpē lives up to its nickname is Kauaʻi's Biggest Little Town. Just west of Kōloa, this neighborhood was one of the busiest from World War I to the early 1950s. These days, though, it's a quaint community, with colorful plantation-style buildings that house art galleries, restaurants and boutiques. You can also walk across the popular swinging bridge that connects residents across the river to the town. (It was restored and reinforced after Hurricane ʻIniki hit Kauaʻi in 1992.) Friday Art Night, which stopped during the COVID-19 pandemic, has restarted, with the main street filled with live music and vendors.
8. Kayak the Wailua River
Two waterfalls—ʻŌpaekaʻa and Wailua—feed the Wailua River, Hawaiʻi's only navigable waterway (by boats larger than kayaks). Local outfitters run kayak tours of the river to the 100-foot ʻUluwehi Falls (often called Secret Falls, though it's hardly a secret anymore). The river is 20 miles long and starts from the top of the 5,148-foot Mount Waiʻaleʻale, weaving through lush landscapes and cultural sites, including a former heiau (Hawaiian temple).
9. Stroll through Old Kōloa Town
About 20 minutes from Līhuʻe, Old Kōloa Town is a fun neighborhood to walk, with eateries, boutiques, food trucks and some of the best shave ice—The Fresh Shave—on the island. There's a lot of history here, too: Kōloa opened its first sugar mill in 1835, kicking off commercial sugar production in the Islands. Get here by driving through the Tree Tunnel—a stretch of Maluhia Road lined with eucalyptus trees first planted a century ago—and stop at Kōloa Rum Co. for a rum tasting and the Kōloa History Center to learn more about this history-rich area.
10. Catch the Sunset at Poʻipū
Sunset at Poiʻpū Beach on the island's south shore is nothing short of spectacular. Pack a picnic dinner or book a table at an oceanfront restaurant—Merriman's Kauaʻi or the Beach House Restaurant, for example—and spend the evening watching the sun dropping below the horizon at this crescent-shaped beach. This is also a great place to swim, snorkel and sunbathe, with lifeguards, restrooms and showers. From December through April, you can sometimes spot migrating humpback whales.