This Boat Tour of the Nāpali Coast Reveals Stunning Views and Hawaiian History
Native Hawaiian-owned Makana Charters shares stories abundant in cultural history with visitors.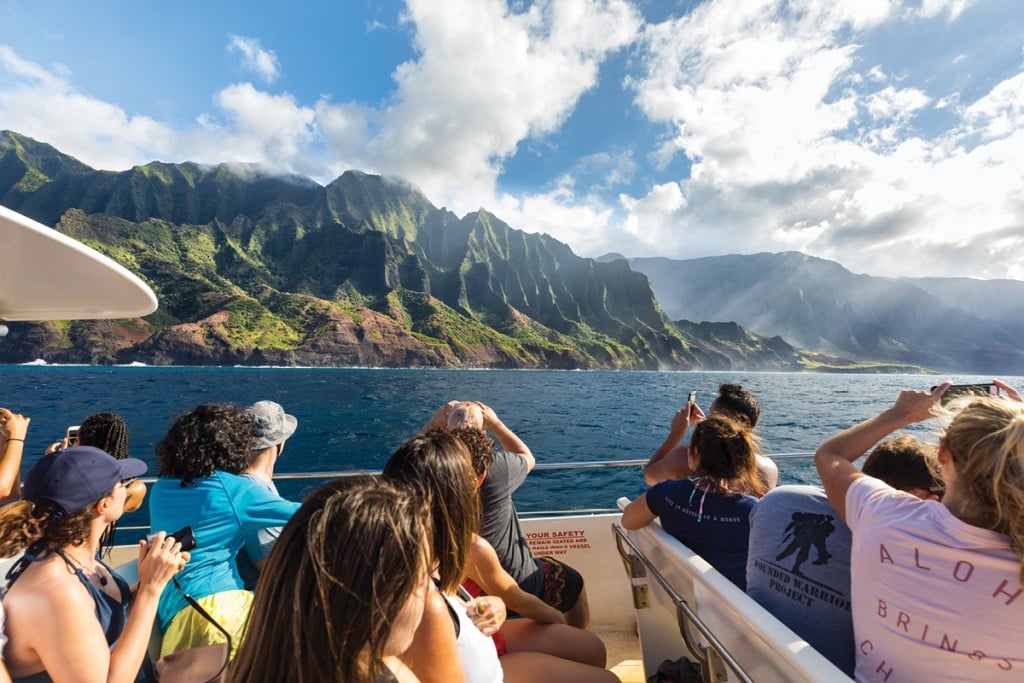 Located on Kauai's northwest shore, the towering green bluffs of the Napali, which means "the cliffs" in Hawaiian, rise from the edge of the island like an emerald-encrusted crown.
There are only three ways to see the Napali Coast: on foot, by air and by sea, and for this trip, I've chosen the latter.
On a nearly cloudless Sunday morning, I board Makana, a 12-passenger boat, for a five-hour tour up the coast. It's the namesake vessel of Makana Charters, a Hawaiian-owned and -operated tour boat company. Unlike a grueling backpacking trip on the Kalalau Trail (still closed, as of press time), this ocean adventure would be relaxed, while still offering an intimate connection to the storied coastline. Plus, there's snorkeling, sea cave spelunking and dolphin watching.
The Makana slices into a cerulean wave, and our Native Hawaiian captain, Aa Dela Cruz, opens up the twin diesel engines on the 32-foot catamaran as we leave Kikiaola Small Boat Harbor. He has a lot to show us. Throughout the day, the friendly captain and his first mate, Cam, supply us with facts about the majestic coastline, even personal anecdotes. My favorite stories, though, are the ones tied to Hawaiian folklore.
"I've been out here all my life," Dela Cruz tells me later. "And it never gets old. It's just as special every single time." Dela Cruz has been working with Makana Charters since last May, but is a lifelong waterman who grew up fishing with his dad and uncles along the Napali.
Still early in our tour, we zip past Barking Sands Beach, a U.S. Navy missile range facility and Polihale State Park, renowned for its expansive beach and rolling sand dunes. Dela Cruz then slows to a stop. He's spotted spinner dolphins. As if on cue, the curious animals frolic among the waves as everyone takes photos.
Past Polihale Beach, on the westernmost end of the coast, the landscape transforms from sandy beaches to soaring cliffs that end sharply at the sea. We have officially come upon what makes the Napali, born from volcanic eruptions an estimated 5 million years ago, so mesmerizing. Over the years, powerful rains, winds and waves carved Napali's razor-edged ridges.
Navigators from the Marquesas Islands sailed more than 2,000 miles in outriggers before landing on Kauai, says Dela Cruz as we cruise pass Milolii Beach, a hidden beach only accessible by boat. Dela Cruz says Native Hawaiians lived in its small valley and grew kalo (taro).
We stop again just offshore of the next beach at Nualolo Kai. "It's a spiritual place for me," says Dela Cruz. "A lot of people pick up on that and feel that."
Dela Cruz is a member of the Napali Coast Ohana, a nonprofit dedicated to preserving the beaches and the coastline's archaeological sites. Growing up on Kauai and through his involvement with the Ohana, the easygoing captain says he's collected knowledge about the area, including Native Hawaiian mythology. "I listen to the kupuna, the elders, in these groups and the stories they tell. Some of the stories are from my dad and uncles who grew up going to Napali. They would tell us spooky stories, mainly to keep us from going to certain sacred areas," he says with a laugh.
Like other valleys, Nualolo Kai was home to Native Hawaiians who fished from the sea. They traded their bounty for kalo grown at the adjacent Nualolo Aina (kai means ocean and aina means land), which was located at the top of the valley. But getting from one village to another required traversing up and down a long-gone rope ladder hung from the roughly 2,000-foot cliffside.
Perhaps more impressive than the cliff scaling were the ceremonies that took place atop Kamaile, the peak towering over Nualolo Kai. It was one of two spots in Hawaii where Native Hawaiian men performed oahi, says Dela Cruz, which means rocket or fireworks in Hawaiian. "The men would throw lit torches out from the cliff and the winds would pick it up and carry it out to sea."
Today, Nualolo Kai has gained popularity for another reason: Thanks to its protected reef, it's a great snorkeling spot. I don a face mask, snorkel and fins before plunging into the water. It's refreshing, and because it's a calm day, I can easily see the coral below me, as colorful fish dart around the reef. After snorkeling, we air dry under the midday sun and eat sandwiches, chips and brownies.
Continuing east after lunch, we glide into large sea caves. My favorite is Open Ceiling Cave. It's a hollowed-out lava tube with a collapsed roof, creating a large, natural skylight. Dela Cruz says he knows the popular sea cave as Koamanu. "The story was told to me that in the old days your father would bring you out there between the ages of 7 and 9 out in his canoe and drop you off in the reef and paddle back out. He would oli, or chant, calling upon the big mano (sharks) in the area. You'd pick a shark, wrestle it and ride it back to your father's canoe."
Our final stop is Kalalau, the biggest valley along the Napali at about 2 miles wide. Dela Cruz says it was home to nearly 3,000 Native Hawaiians. I pause in taking photos, imagining the lives of those who lived in this serene place.
Just past noon, Dela Cruz informs us it's time to head back. He revs up the engines and we settle in for the ride to the harbor as I take in the beautiful coastline one last time.
Makana Charters
Pricing for this tour, with max 12 passengers, is $189 per adult, $139 per child. 4516 Alawai Rd., Waimea, (808) 338-9980, makanacharters.com.