This Boutique Hotel in Kona is Perfect for Adventure Travelers to Hawaiʻi Island
Located in Kailua-Kona, Pacific 19 Kona serves as a basecamp for travelers who want to explore the island.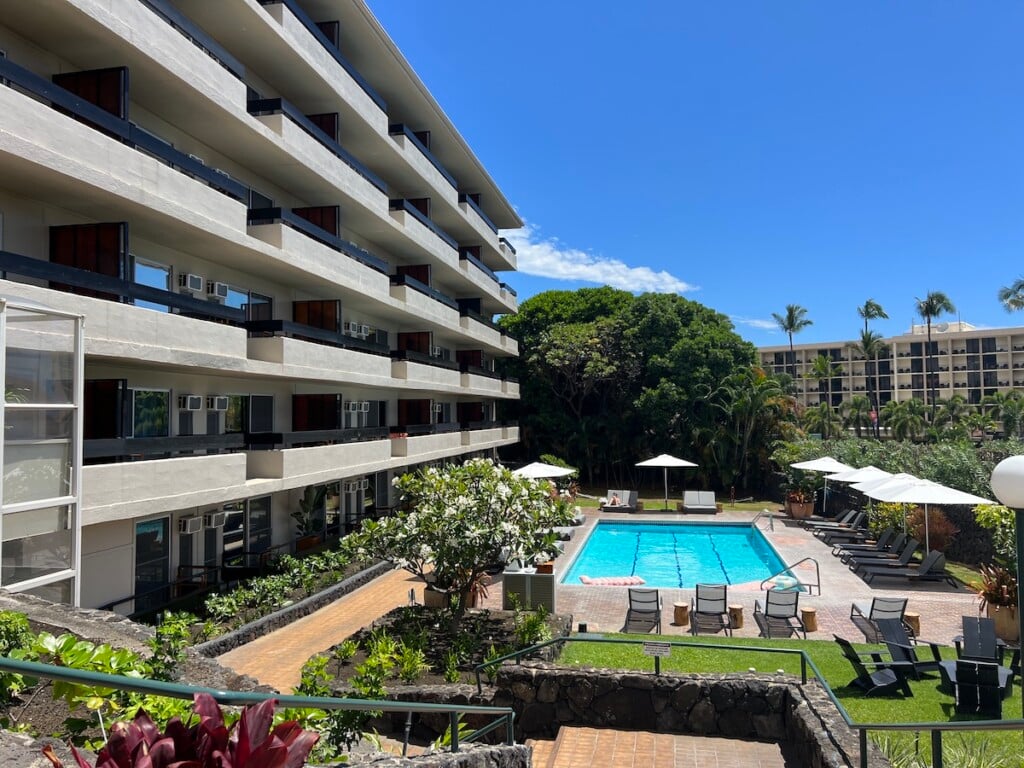 When we walked into the lobby of Pacific 19 Kona, we were immediately greeted by Peter.
"He's the director of PR," said Katharina Findlay, the hotel's general manager, with a knowing smile. "Pet Relations."
Peter, it turns out, is Findlay's 1-year-old French bulldog who has, since the hotel opened in April, become its ambassador. Everyone seems to know him—and Peter loves all the attention. (Yes, Pacific 19 Kona is dog-friendly.)
The boutique hotel—the only one in Kailua-Kona—occupies one of the two buildings that formerly comprised the Kona Seaside Hotel. (The second building, which currently still operates at the Kona Seaside Hotel, will become part of Pacific 19 Kona in November and will reopen after it undergoes a renovation.) While regulars may see traces of the old hotel, the property is completely refreshed and redesigned, with an emphasis on bringing the outside in. The open-air lobby is framed by tropical plants and a giant monkeypod tree and the huge reception table is made from reclaimed monkeypod wood. In a corner is a small retail area, with logo merchandise, dry bags, sunscreen and other curated products.
The vibe is urban, the target is adventure travelers.
And the location—right in the heart of Kona—makes this the perfect basecamp for Hawaiʻi Island explorers.
"PACIFIC 19 Kona is focused on providing adventure travelers with the tools needed to experience the best of Kona and Hawaiʻi Island," said James Evans, managing partner, Nine Brains, which owns the hotel. "With the debut of this modern hotel, guests will have access to custom-tailored island itineraries to explore the 4,000 square miles of Hawaii Island with the best experiences of Kona at their fingertips."
There are 122 rooms—that will grow by another 30 when it acquires the second building—all around 270 square feet and outfitted with high-quality bedding, linens and toiletries. The walls are adorned with photography of Hawaiʻi Island, no doubt to inspire guests to get out and explore.
Something new we haven't seen in hotels is what Pacific 19 Kona calls as "macro bar"—not to be confused with a mini bar. The console—where normally would sit a TV, something the hotel is considering adding in the future due to requests—is stocked with travel essentials like dry bags, sunscreen, facial products, microfiber towels, even journals and colored pencils. They're not free, but the cost isn't outrageous: The field notes journal is $5, the Sun Bum SPF 30 sunscreen lotion is $18, the dry bag is $12.
There's also a drawer stocked with snacks, many of them local: Mānoa Chocolate bar, Paniolo Gourmet beef jerky, Kona Bars. The fridge features a wide variety of alcoholic and non-alcoholic drinks, from Ola Brew beers to Big Island Booch kombucha to Mananalu Pure Water. (There aren't free, either.)
"It's all fun stuff for the adventure traveler," Findlay explained.
The hotels partners with Hawaiʻi Island outfitters to provide fun outdoor experiences for its guests, from stand-up paddleboarding in Kona Bay with Kona Boys to hiking adventures with Hawaiʻi Forest & Trail.
And yes, there's a pool.
We spent a lot of time here, sunbathing on one of the dozen chaise lounges that surround the pool (with a drink provided by the hotel fridge). Even though we were lounging right near a main road, right in the middle of Kona town, it felt like we were miles away from the bustling Aliʻi Drive only steps away.
Every morning there's a complimentary yoga class on the deck of the pool, and Waimea Coffee Co. runs a trailer, serving local brews and bagels. And on Fridays and Saturdays the hotel hosts live music and food trucks, rotating lifestyle pop-ups by local designers and artists.
What we loved about this hotel—apart from the relaxing air-conditioned rooms (no TV helped) and Peter—was its convenient location. It's a 3-minute walk to Huliheʻe Palace on Aliʻi Drive and a 20-minute walk to Honl's (or Waiʻaha Beach Park), where we stopped to catch the sunset.
The hotel partners with Cheeky Tiki, a fun tiki bar with panoramic views of Kona Bar. We tried the Pacific 19 Mai Tai, with two kinds of rum, macadamia nut orgeat, orange and pineapple juices, topped with lilikoʻi (passion fruit) foam.
If you're looking for a comfy (and stylish) place to rest your head at night while you explore Hawaiʻi Island—even if that just means Aliʻi Drive—Pacific 19 Kona will meet your needs—and then some.
Guestrooms start at $299 a night. (There's a great kamaʻāina rate, too.) Visit pacific19.com/kona for more information.