This Cacao Farm on Hawai'i Island Offers Unique Tours
Lavaloha offers a fun tree-to-chocolate tour just outside of Hilo.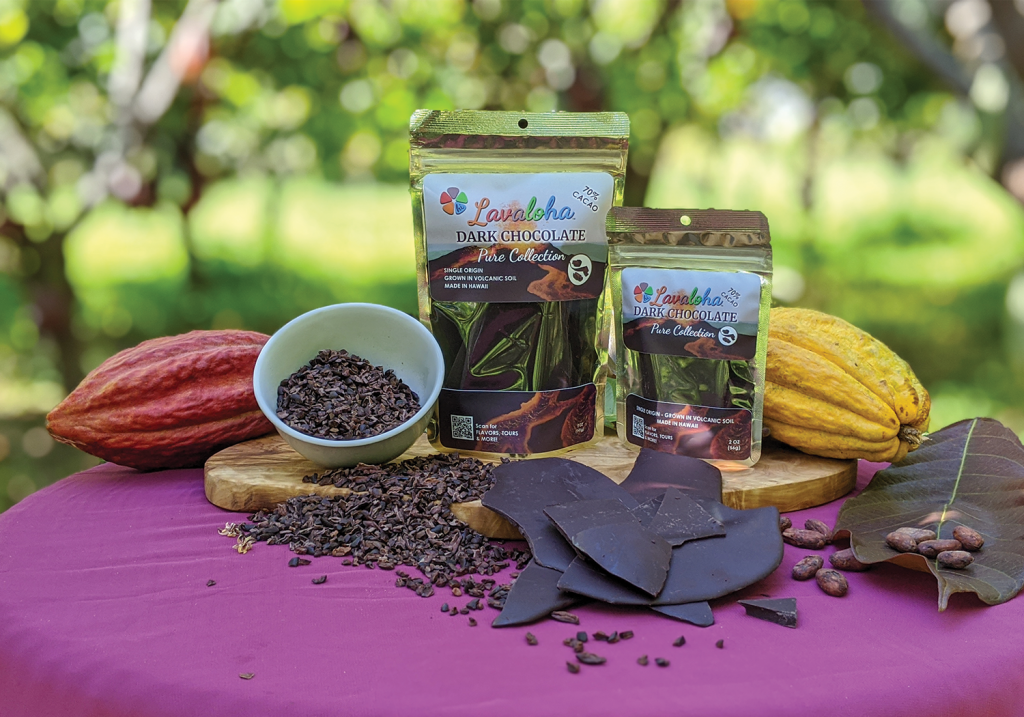 It's a sunny Saturday morning in Hilo when my boyfriend and I drive up a rocky road to Lavaloha cacao farm, gazing at the clear, blue sky and empty fields along the way.
At the top of the hill, we're greeted by large palm trees swaying in the wind next to a quaint farmhouse overlooking Hilo Bay. We park the car and hop out, admiring the scenic view. We're kindly welcomed by a woman who takes our temperatures and hands us waivers to sign before our tour.
"You're right on time," says Jeremy Kaneshiro, our tour guide. "Welcome to the farm!"
Lavaloha is a 1,000-acre farm, including 25 acres of cacao and was started after the sugar cane industry collapsed in the 1980s. The land was left to smaller farmers who grew sweet potatoes, macadamia nuts and more. In 2002, the founders of Lavaloha cleaned up the land and began growing cacao and other crops.
We hop into a golf cart and begin our tour of the cacao farm. As we drive along a path to the field of young cacao trees, I notice the expansive fields and trees ahead of us. Kaneshiro says they also grow and process their own coffee.
We arrive at our first stop, a field filled with a variety of small cacao trees. "Cacao here is a big science project," says Kaneshiro. "Cacao isn't supposed to be here in Hawai'i. It grows 10 degrees north and south of the equator. We're 9 degrees off here." He explains that cacao could naturally grow in the shade of rainforests, so the workers recreate the same canopy by planting Madre de Cacao (mother of cacao) trees that can grow up to about 40 feet tall.
"Cacao trees prune themselves, which shows how they adapt to survive," Kaneshiro explains, as we drive through the trees and notice their soft, red leaves. "They create a canopy to protect the other trees around them. They know they can't survive on their own."
Farther down, we get to hop out and walk into the field. Various cacao pods hang at eye level and we stop at a tree with bright yellow cacao pods. Kaneshiro begins to cut into the pod and reveals white, fleshy beans. "Right now, these beans taste a bit like mango and citrus," he says. "You can actually try some right now."
I pick a bean from the many sitting in the pod and taste it. The texture is that of lychee with hints of citrus and notes of mango (just as he had described). Our next stop is where the magic happens. Jeremy shows us where the beans are separated from the pods and the room where the beans are fermented.
As I step into the sunlit room, I feel the intense heat and see cacao beans on wide metal sheets. "The humidity and heat accelerates the fermenting process," Kaneshiro explains. "After they dry, the beans are ready to be roasted."
It's time to learn about the process of making the chocolate, so we head into the cozy space set up for us inside. Jeremy is articulate in explaining the entire process to us. I'm shocked at the time and detail the team takes when producing the sweet treat. We are offered samples of their diverse spread of chocolates made on site—dark, milk, white and chocolate with orange zest—and the best chocolate I've ever tasted.
To end our elaborate tour, Kaneshiro takes us to Lavaloha's hidden treasure: a breezy seating area with a view of a beautiful waterfall flowing into a pool of sparkling water. "We're not only creating tours, but viewpoints where we can sit and chill," he says. "We want to make spaces for people to join us to do yoga and have picnics."
Kaneshiro says the impact of COVID-19 was a blessing in disguise. "It was during that time when we planted 6,000 more trees," he says. "We did not slow down during the pandemic, we actually are accelerating."
We circle back around to the visitor center and enter the shop filled with goodies featuring Lavaloha chocolate, coffee and other local goods. My boyfriend and I purchase our favorite chocolates—mine was the 50% cacao—and head back outside to say hi to the resident ducks.
As we're leaving, we admire the spectacular view of Hilo Bay and my boyfriend turns to me and says, "I've lived here my whole life and didn't know it was here. I'm happy I came along, it's like a hidden gem." I smiled, agreeing that it truly was a special experience in our home on Hawai'i Island.
For more information and to book a farm tour, visit lavaloha.com.