This Charming Farmers Market on Maui is Uniquely Upcountry
Explore a vast array of food, produce and gifts on Saturday mornings at the famed Upcountry Farmers Market on Maui.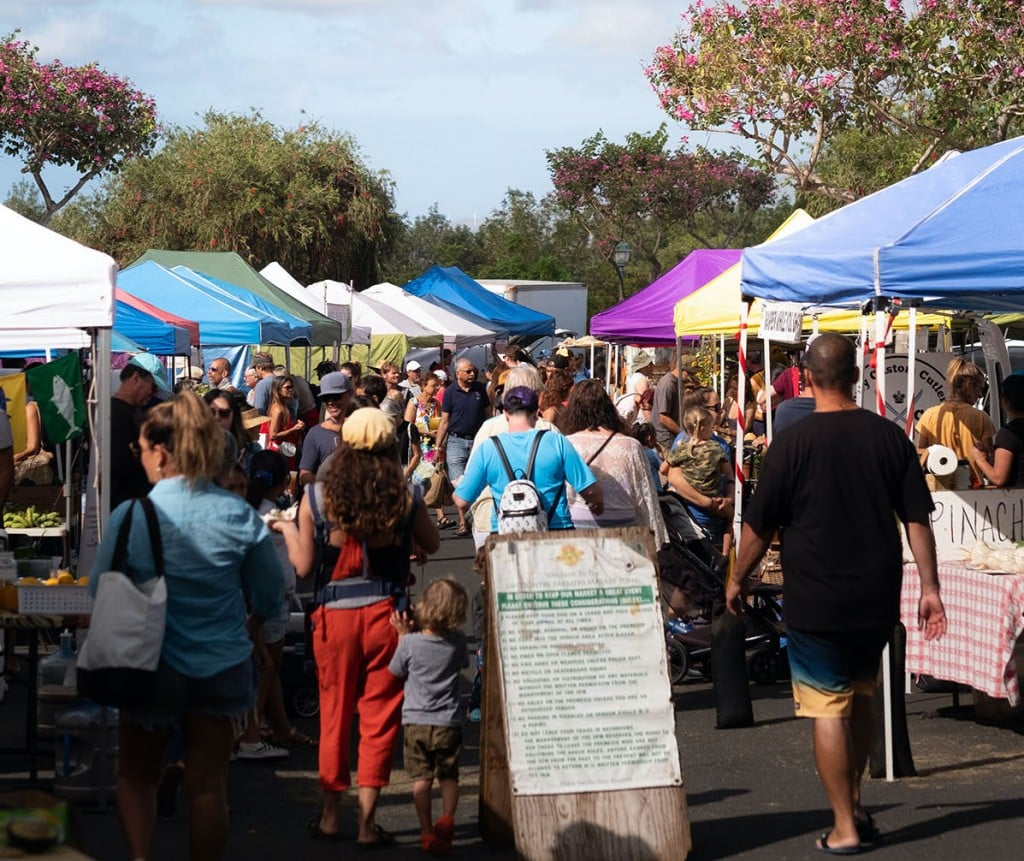 On a crisp Saturday morning, people begin arriving to rural Pukalani for the weekly open-air Upcountry Farmers Market.
Here, rain showers often yield morning rainbows, adding to the breathtaking view that spans lush Haleakalā and the serene Maui coastline. Family and community are central to this market, with children proudly manning stalls alongside their parents and greeting customers with shy smiles. Regulars sip from fresh coconuts and fill hand-woven straw baskets with proteas, summer mangoes and flaky pastries. True to the makeup of its residents, the market showcases Upcountry's unique bohemian sensibility and health-conscious lifestyle. Nowhere else on the island can you find such an eclectic selection of offerings including favorites like vegan miso ramen, azuki bean tempeh, fresh local fish, coconut kefir, freshly pressed sugarcane juice, goat milk caramel, pork empanadas, beet kvass and turmeric wellness shots.
The market has seen many iterations. It started 30 years ago as a modest market at St. Joseph's Church in Makawao, then moved to Eddie Tam Memorial Center before putting down roots in the parking lot outside Longs Drugs in Pukalani. A decade later, the market is flourishing, boasting over 40 stalls showcasing what can only be described as a quintessential Upcountry experience.
The market had enjoyed steadily growing crowds over the years, until the COVID-19 pandemic. Since March new safety protocols have been in place for both vendors and customers, including mandatory face masks and 6-foot social distancing for people and stalls. All prepared food vendors have to have hand-washing stations and sanitizers, too.
"We err on the side of caution with aloha," notes manager Neil Coshever.
For leisurely shopping, early arrival is recommended. (The market is open from 7 to 11 a.m.) Food and produce vendors routinely sell out, so come early with your reusable shopping bags, grab a cup of coffee, kombucha or coconut water and don't miss out on some of these standouts.
Maui Cones
This beloved family business has been a fan favorite for years. Fisherman Henry Pascher, his wife, Kam Yai, and his father, Mike Pascher, serve mouthwatering local staples—some in paper cones—that keep lines long and dishes sold out each week. From earthy lau lau to crispy panko-crusted fish and its iconic "Maui Cones," this stall is one that local foodies never miss. The cones provide a perfect way to eat as you browse the market, whether your cone's filled with savory meat or a vegan-friendly option. Enjoy the vendor's rich kalo (taro) poke, classic 'ahi poke or popular mochiko chicken served atop a bed of rice and wrapped in nori (seaweed) for the perfect hand-held bite. We bet you'll need more than one so be sure to order two cones.
Oko'a Farms
Oko'a Farms in Kula offers an extensive selection of organically grown vegetables, tropical fruits, edible flowers, herbs and more. Owners Ryan Earehart and Salvador Gil Coca, along with their families, cultivate over 60 varieties of organic produce on their 12-acre farm in lower Kula. The family-operated farm, which includes goats, chickens and ducks, utilizes the "full-circle farming" practice, with its fields irrigated with nutrient-rich water from a tilapia pond which supports Oko'a's own compost and fertilizers. This cyclical technique demonstrates the families' commitment to sustainability. Find your favorite locally grown and organic produce at this stall, including vibrant greens and root vegetables, marigolds, citrus and specialty fruits such as rambutan and mangosteen.
Uma's Star Anise
The scent of warm, roasted spices wafts each Saturday morning from the Star Anise stall at the market, where chef and owner Uma Dugied has been sharing Indian delicacies since the very first Pukalani market. She takes her time with customers, eagerly sharing in detail her weekly offering of Malay-influenced samosas and curries with meat, vegetarian and vegan options for every palate. In recent years she has expanded her culinary offerings to include spice packets, which customers can use to recreate dishes at home. Be sure to take home the fennel-rich Tandoori or Hot & Spicy mix so you never miss your Uma fix.
Maui Raw
To the untrained eye, these dips may seem akin to tahini-based peers, but the mighty macadamia nut takes center stage at Maui Raw. Owner Michelle Valentin Kubinski makes conscious eating craveable with a variety of savory, cultured, organic Waihe'e Valley grown macadamia spreads that are rich in probiotics, healthy fats and delicious flavors such as Pineapple Pepp'ah, Truffle'd Up Olives, Fig 'N Curry and Chive'n the Lavender. These spreads are also transformed into tasty "Nori Nosh," slathered on small sheets of seaweed and crisped into perfect salty chips. If you're lucky, Valentin Kubinski will also have bags of delicious vegetable crackers, the perfect partner for your favorite flavor of mac nut spread.
Upcountry Farmers Market , 7 to 11 a.m. Saturdays at the Kulamalu Town Center, Highway 37 near Longs Drugs in Pukalani. You must wear a face mask. upcountryfarmersmarket.com
This story was originally published in the September/October 2020 issue of HAWAIʻI Magazine.