This Hawai'i Puzzle Company Can Help You De-Stress During Pandemic Times
These puzzles feature scenes from Hawaiʻi by artists who live in the Islands.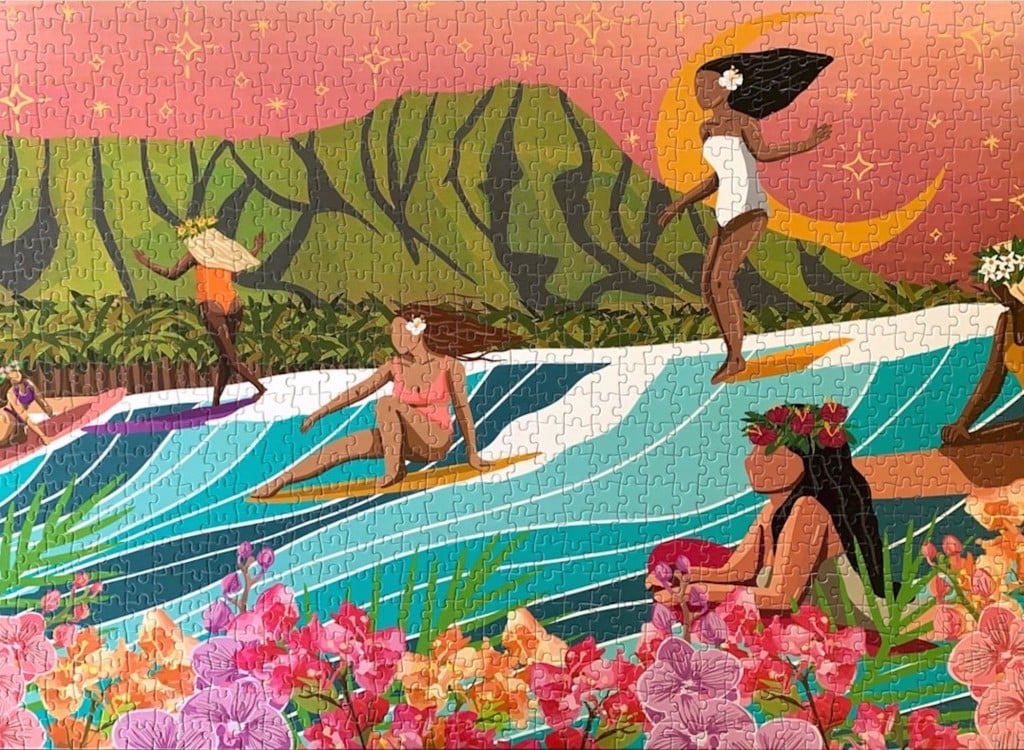 It's no puzzle why people have been stocking up on jigsaws during COVID-19. The home hobby is a great way for 'ohana to silence the outside noise (and electronics) and engage in something together. The problem, last year, was that puzzles were selling out. At one point, one Target in Honolulu only had two designs left: a dizzying hippie floral and a Frodo-esque cottage village. Fortunately for us, Mahina Tuteur's 4-year-old son was already a jigsaw enthusiast and when the pandemic lockdowns began, his love for it inspired her to start Surf Shack Puzzles.
"We've always been amazed at how much our son learns and concentrates when putting a puzzle together; it's one of the few things that keeps him still!" Tuteur says. When they hunkered down at home in the spring, "My partner and I started doing puzzles (and loved them)—talking story and relaxing after long, stressful days with two little ones at home and all of this uncertainty around us."
When Tuteur created Surf Shack Puzzles last year, it was an endeavor she couldn't take on alone; she has a full-time job in environmental and Native Hawaiian law. Her partner lost his job during the pandemic, she credits him for doing most of the "heavy lifting," including sales and marketing. Her sisters also help out when they can, too. "It's definitely a family affair," she says.
All of Surf Shack's puzzles feature charming and cheery prints from artists all around the world, including Kim Sielbeck's Beachin' print, reworked to fit on the 19-by-28-inch space. Suh-weet! However, Tuteur most enjoys discovering and collaborating with artists for exclusive prints. "I find artists that I love! Instagram has been a great way. Sometimes, our values just align. They may be fellow ocean lovers, and we come up with a concept that they'll execute."
This spring, she plans to launch a new series featuring work by local female artists including one of our favorites, Shar Tuiasoa of Punky Aloha Studio, along with Jenny Ojerio of Aloha De Mele and more. "A part of our mission is to support creative female entrepreneurs and environmental initiatives we care about in the process," Tuteur says. That is why all of the puzzles are made with 100% recovered paper Eska boards and nontoxic inks, and packed in containers made of 95% post-consumer, recycled goods.
Besides her global goals, Tuteur's business also benefits smaller local grassroots organizations that aim to protect our surrounding ocean and environment. "Proceeds from our Endless Summer series go to Changing Tides Foundation and we have partnerships in the works with Sustainable Coastlines and Kōkua Hawaiʻi Foundation," she says. Part of the profits from her upcoming Grom series, which will entice keiki with fun native wildlife prints, will benefit Nā Kama Kai—a local nonprofit that educates youth about ocean safety and conservation. And, stay tuned for news of a happy self-care box that includes a puzzle (duh!) and other fun, local goodies.
"Right now, it's all about the little wins, and our son does a 'chee hoo!' every time he gets a piece in the right spot," Tuteur says
Well, with that, we're ready for a piece of the action.
1,000-piece, 19-by-28-inch puzzles, $40 each. surfshackpuzzles.com, @surfshackpuzzles