This Kailua Chocolate Company Launches New Hawaiʻi Flavors This Month
Mānoa Chocolate on Oʻahu may be temporarily closed, but you can order all of its bean-to-bar chocolates online and even take a virtual tour.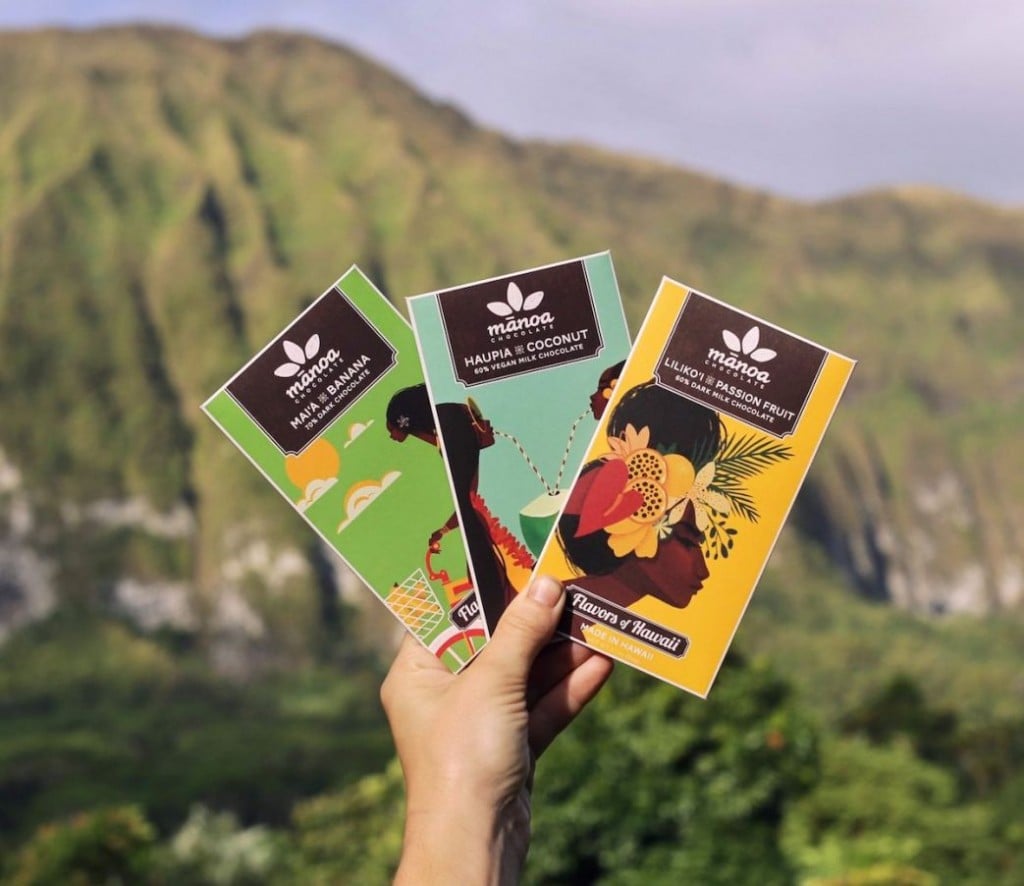 This is part of our "Shop With Aloha" series.
It's been about two months since Mānoa Chocolate temporarily closed its retail space in Kailua on Oʻahu due to the spread of COVID-19 in the Islands.
The artisan chocolate maker, which specializes in bean-to-bar chocolate using locally grown (when possible) and ethically sourced cacao, had been giving factory tours twice daily, six days a week, in addition to selling its chocolates from the shop and wholesaling to larger retailers. All that suddenly stopped and Mānoa Chocolate's business went mostly online.
"We lost all that business," says Dylan Butterbaugh, who runs the company with his wife, Tamara. "Ninety-two percent of our gross revenue came from wholesale and retail and both pretty much disappeared."
But with a few tweaks, some creativity and a lot of hard work, it all seems to be working out OK.
Mānoa Chocolate retained its co-packing business—that is, creating chocolate for other companies, including Kualoa Ranch on Oʻahu and Lydgate Farms on Kauaʻi, which supplies the raw cacao. And its monthly subscription program went from about 10 people last year to nearly 400 today.
This month the company is launching its Flavor of Hawaiʻi series, featuring three new flavors: banana, coconut and lilikoʻi (passion fruit). The new collection will be released first to subscribers, then to the general public on May 15. (The coconut one is vegan, just FYI.)
"We wanted flavors that were very recognizable as Hawaiʻi products," Butterbaugh says. "We tried mango, pineapple, hibiscus, and they just didn't really work."
This summer the company will release another new chocolate bar made with cacao nibs infused with local whiskey from Koʻolau Distillery in Kailua.
SEE ALSO: This Oʻahu Distillery is Making Hand Sanitizers Instead of Whiskey
Add to that the live virtual tour Butterbaugh offers via Zoom for $10—$60 with a recommended six-bar chocolate sampler—and there's a lot going on! (The weekly tours are interactive; you can even ask questions.)
"We did what we had to do … and overall, it's been an OK experience for us," says Butterbaugh, who admits he has more time to surf and play his guitar now. "We keep making enough money to stay in business."
Hawaiʻi is the only state with a climate suitable for growing cacao, the main ingredient in chocolate.
SEE ALSO: How Hawaiʻi's Cacao is Making the World Sweeter
Butterbaugh started Mānoa Chocolate about 10 years ago, just after graduating from the University of Hawaiʻi at Mānoa with a degree in Spanish and sustainable development. It was a time when consumers started to wonder where the chocolate they were buying was grown. Butterbaugh realized there was a need for local chocolate manufacturing—to help Hawaiʻi cacao farmers turn their crops into chocolate.
Today, Mānoa Chocolate boasts 15 different types of chocolate bars, working with about half a dozen Hawaiʻi cacao farmers and growers from South America. It makes single origin bars, in addition to ones with goat milk, Maui-grown lavender, local rum and ghost peppers—all available online when in stock.
You can also buy chocolate tea, cocoa powder, brewing chocolate, cacao nibs and a decadent chocolate-macadamia spread.
Right now, the company is offering free nationwide delivery—but it won't deliver to anywhere that's 90 degrees or hotter. ("Otherwise, it will sit on someone's porch and just melt," he says.)
He hopes to open the retail space this week, as the state starts to ease its shelter-in-place mandates. But the in-person tours may not restart until much later.
To order, visit manoachocolate.com. Learn about the craft of chocolate-making on Butterbaugh's YouTube channel. You can also purchase Mānoa Chocolate gift sets at House of Mana Up here.