This Little Zoo is a Hidden Gem on Hawaiʻi Island
Pana'ewa Rainforest Zoo and Gardens in Hilo is the only zoo in the U.S. located in a tropical rainforest.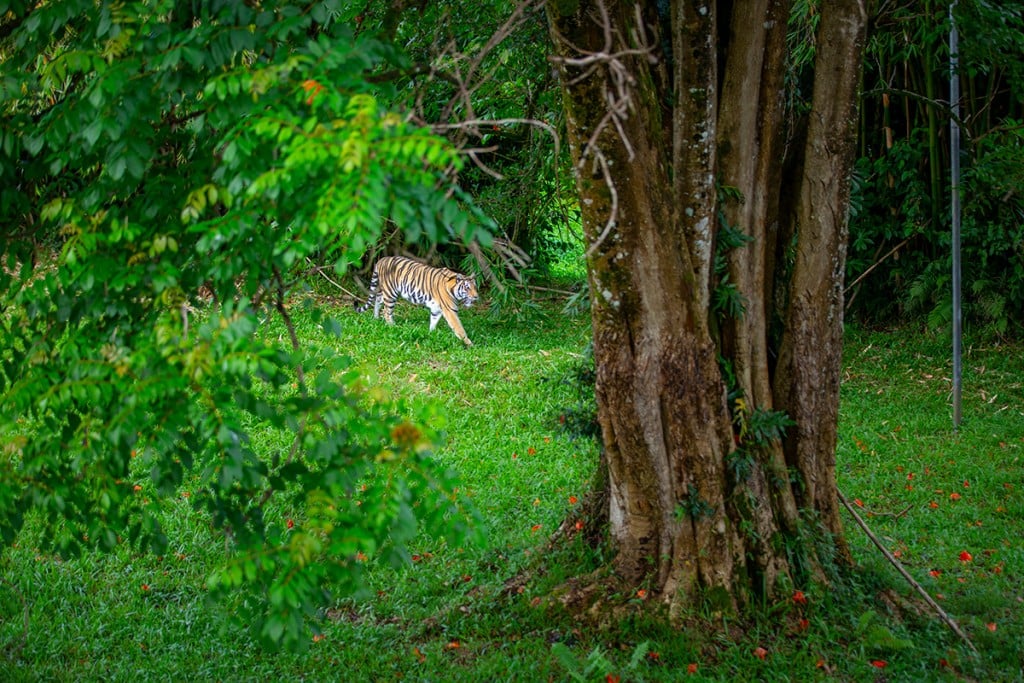 His name is Romeo and I'm in love.
This gorgeous umbrella cockatoo locks eyes with me, then saunters over for a closer look. He squawks, I blush. Smitten.
"You know he skateboards, too," says another admirer, clearly a regular to this zoo.
I've always been a sucker for skateboarders, so this all makes sense.
I had never been to Pana'ewa Rainforest Zoo and Gardens in Hilo before, despite the dozens of times I'd been to Hawai'i Island. And honestly, I wasn't sure what to expect. This zoo is situated on 12 acres on the outskirts of the Pana'ewa Forest Reserve, about 7 miles from Hilo International Airport. More than 80 species of animals live here, including a popular pair of Bengal tigers. By comparison, the Honolulu Zoo sits on 42 acres within Kapi'olani Park, across the street from the beach, and boasts 900 different animals, including giraffes, black rhinos and Asian elephants.
I figured Pana'ewa Zoo would be a smaller version of the Honolulu Zoo. Fewer animals, fewer people, fewer things to see.
True to some extent—but all in a good way.
Yes, there are fewer visitors—about 550,000 people flock to the Honolulu Zoo annually, compared to the 280,000 visitors to Pana'ewa last year—but that makes the Hilo zoo feel spacious and relaxing. You're not craning to see the penguins being fed or standing in line to pet a Nubian goat. At times, as I walk around the zoo grounds, I feel like I've got the place to myself.
And yes, the zoo doubles as a botanical garden, with a variety of plants that thrive in this rainforest environment. (The zoo gets about 125 inches of rain a year.) More than a decade ago, local plant organizations proposed improving the zoo grounds by adding dozens of varieties of tropical vireya rhododendrons, bamboo, orchids and more than 125 species of palms. Today, you can find loulu, single-trunked palm trees with fan-shaped leaves that are endemic to Hawai'i, and even the corpse flower, a flowering plant that rarely blooms, but when it does, it smells like a rotting corpse. (Yes, this is a draw!)
And while Pana'ewa has a fraction of the animals of its Honolulu counterpart, the animals it does house are no less interesting. Living here are Southeast Asian binturongs, also known as bearcats, whose population is declining globally; bright-orange Madagascar tomato frogs; and feral donkeys called Kona Nightingales, the same kind that once helped transport coffee for the old Kona farms.
What this zoo lacks in size it makes up for in charm.
I meet Bling, a curious 2-year-old emu who loves to play in the water on hot days. Emus are the second-largest bird in the world, after the ostrich, and are only found in the wild in Australia. She stares back at me, and I suddenly feel self-conscious about my fanny pack. (I don't think she approves.) Then there's Kapono, a cloudy-eyed 'io, a kind of hawk endemic to Hawai'i and currently only found on this island. Kapono is more than 20 years old—notable since 'io only live for about 15 years in the wild. He's chill, not moving much more than his head in quick, jerky motions. Not threatened—or interested—he closes his eyes, which disappear behind charcoal-brown feathers.
Soon, a new aviary will open housing two 'alalā, or Hawaiian crows, which are critically endangered. Once found across Hawai'i Island, the 'alalā are extinct in the wild. Pana'ewa Zoo is raising money to build an enclosure for its pair of crows, where people can see this very rare and distinct bird.
The biggest exhibit houses the biggest attraction at Pana'ewa: two Bengal tigers. Sriracha is an orange female and Tzatziki is a white male, both gifted to the zoo by Great Cats World Park in Cave Junction, Oregon. (The zoo's first white tiger, 15-year-old Namaste, died in 2014 due to multiple health problems.) Today, the two tigers smartly lie beneath a grove of giant bamboo, out of the sun. Reading the zoo's monthly newsletter, you get a better sense of their personalities—they enjoy eating cold watermelons and swimming in the pond within their expansive enclosure.
"Everyone loves the Bengal tigers," says Pam Mizuno, the zoo's director who admits Sriracha is her favorite resident. "They are definitely the most popular animals in the zoo, especially since we now have two." (In case you're wondering, the sloths are a close second.)
Hilo's first zoo opened in 1968 on a 2-acre site next to Onekahakaha Beach Park. It was meant to be a temporary location for the zoo, mostly because the site was too close to the beach and the potential for contamination of coastal waters was too great. Still, it was one of the most popular attractions at the time, luring nearly 90,000 people in 1974.
Plans to move the zoo upland to Pana'ewa started in 1972. Construction was completed six years later and it remains the only zoo in the U.S. located in a tropical rainforest. In its early days, the zoo didn't have the amount of animals it does today, with a couple of lions, a sun bear, llama, an anteater, donkeys and some flamingos, among others. And it didn't draw nearly the number of visitors, either.
On the afternoon I'm visiting, small families and couples leisurely stroll along the walkways, stopping to sit on the zoo's whimsical animal- and plant-shaped benches. The biggest crowd, though, is at the recently installed playground, with climbing walls, slides and a giant monarch butterfly-shaped structure that kids are conquering. Next to that is a petting zoo, where you can greet ducks, goats and Gloria, a sweet Vietnamese potbelly pig.
Attendance at the zoo—admission is free—has surged since these recent additions.
"When I first started here [in 2000], there were rainy days when the parking lot was empty for almost the entire day and I could count the number of visitors using both hands," Mizuno says, adding that, at one point, the county was considering closing the zoo. "It was not very well known. Most of the visitors were local and we were definitely not a tourist attraction."
That's changed a lot. Today, the zoo gets visitors from all over the world, Mizuno says, some seeking out specific animals—Bengal tigers, mostly—and the gardens, too.
"Not only has the zoo remained open, but it is now a visitor attraction and valuable community asset," Mizuno says.
The zoo is funded and managed by the county of Hawai'i, but volunteers keep it going. They run the gift shop and serve as docents. Some monitor Romeo the cockatoo as he rides his skateboard around the property. (He's now upgraded to a truck, I hear.)
"We are so fortunate to have the perfect natural rainforest setting, which allows us to create exhibits and grounds that are lush and junglelike for a unique visitor experience," Mizuno says. "I hope our visitors, especially the children, gain an appreciation for all animals and plants. I would like them to leave with a better understanding of Earth's biodiversity and our important role as guardians to nurture the ecosystems that support them."
Pana'ewa Rainforest Zoo and Gardens, 800 Stainback Highway; Hilo, Hawai'i Island; (808) 959-9233; hilozoo.org