This New Tea Shop in Hilo is the First to Focus on Hawaii Island-Grown Teas
Shaka Tea, the first line of Hawaii-grown herbal ice teas brewed with the endemic mamaki, opened a tea emporium on Hawaii Island this month.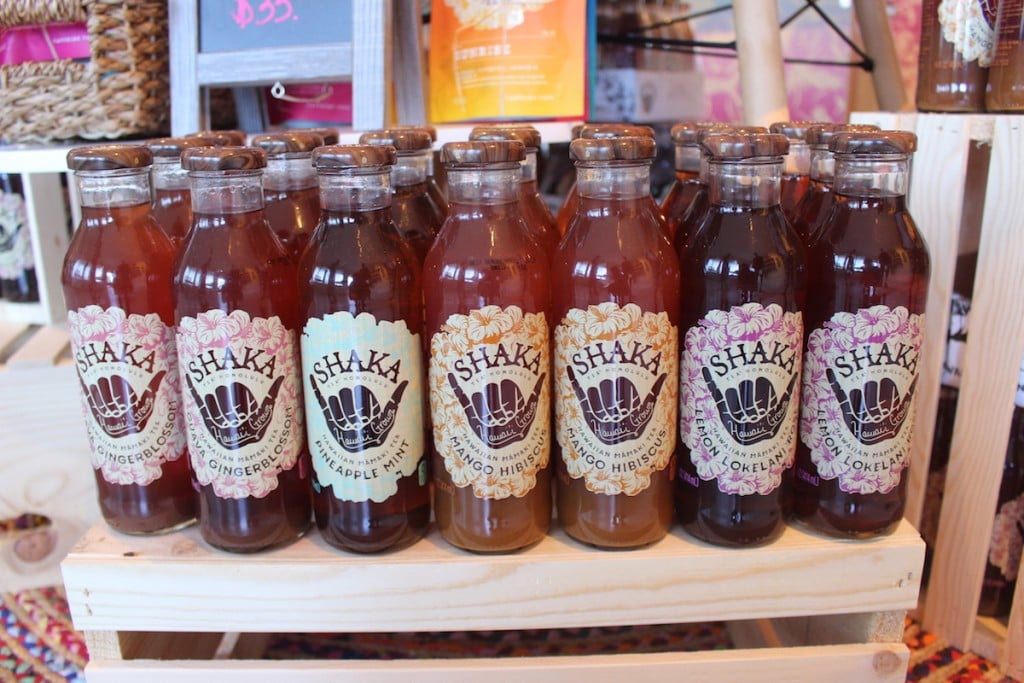 The first time I ever tried Shaka Tea, a line of iced teas brewed with mamaki, a Hawaiian plant endemic to the Islands, was back in 2016. I was in the Oahu home of owners Bella Hughes and Harrison Rice, a young couple with two very young kids who had, two years earlier, taken out a loan and invested their entire savings to start their business.
At the time, the couple had received the first shipment of 18,000 Shaka Tea bottles in three flavors to be stocked in more than 60 restaurants and shops on Oahu, Maui, Hawaii Island and Kauai, including on the shelves of some local supermarkets.
I remember sitting in their dining room, watching Hughes balance 2-year-old Roya on her knee while sipping on a bottle of guava and ginger blossom-flavored Shaka Tea and thinking, "I hope these guys make it."
Fast forward three years and Shaka Tea is found in more than 2,000 locations in the U.S., the company has relocated to Hawaii Island (where all of its mamaki is grown), its product line has expanded to include tea blends and new flavors, and, just this week, the couple opened its first retail space in Hilo.
I'd say that's making it.
The new shop is called Shaka Tea HQ & Retail Experience Center and it's located between two iconic Hilo foodie destinations on Kilauea Avenue fronting Hilo Bay: Two Ladies Kitchen, with its cult-popular mochi (Japanese rice cakes) and Asami's Kitchen, an old-school okazuya popular for its boneless fried chicken. The couple couldn't have asked for a better location.
SEE ALSO: Monumental Mochi: A Morning at Hilo's Famous Two Ladies Kitchen
"Hilo is our absolute favorite town that has a rich foodie culture," Hughes says from her new shop. "When a space popped up [here] … we knew it was the perfect spot."
The 800-square-foot shop is part retail space and part classroom. Here, you can sample and buy Shaka Tea products while learning about Hawaii-grown teas, sustainable agriculture and native Hawaiian plants in the shop's daily Tea & Talk Story event. The shop will host regular workshops, lectures and classes.
"Tea is universal," Hughes says, adding it's an easy entry point to talk about a variety of related issues.
Turns out, this is Hawaii's first tea-blending bar dedicated exclusively to Hawaii-grown green and black teas, including its signature product mamaki. Mamaki, a low-lying shrub that's grown nowhere else in the world, is commonly used in traditional laau lapaau (medicine) for its healing properties. As a tea, mamaki is noted for its health benefits including metabolism-boosting catechins, antioxidants and nutrients.
The couple sources its mamaki from about a dozen Hawaii Island growers. They've perfected their bottled brew over the years, too, to create a zero-calorie, sugar-free herbal tea using mamaki. It's light, refreshing and guilt-free and comes in four flavors: guava ginger blossom, pineapple mint, mango hibiscus and lemon lokelani rose.
This year Shaka Tea launched three mamaki tea blends, combining the Hawaii-grown mamaki with a variety of herbs and botanicals—all caffeine-free. And later this year, the shop will have its own tea-processing equipment and area so visitors can see the entire process, from leaf to cup.
"First and foremost, this is a place to welcome our superfans and build new ones," Hughes says. "We are ambitiously scaling into a national brand with a commitment to sharing the story of Hawaii through tea and sustainable agriculture."
Open 10 a.m. to 5 p.m. Tuesday through Saturday, 288 Kilauea Ave., Hilo, Hawaii Island, (808) 375-9381, shakatea.com