This Oahu Artist Creates Original Artwork Inspired by Traditional Hawaiian Quilts
Kristen Reyno, a Kailua-based creative, is weaving Hawaiian history with art and Hawaiian quilt designs but with a modern spin.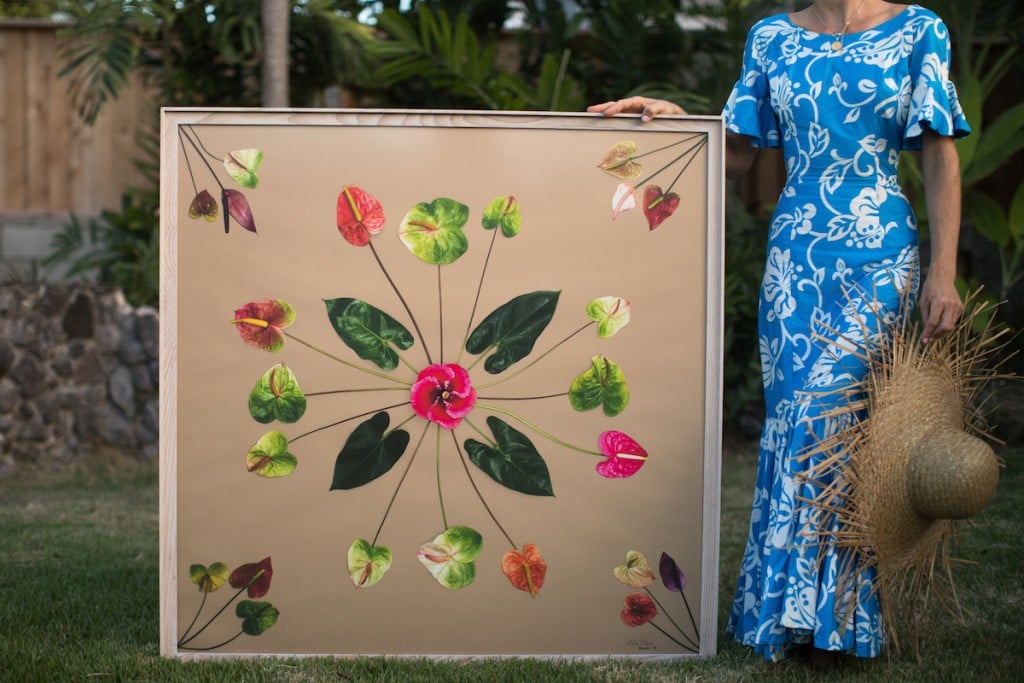 "Doing new things opens up my eyes and inspires me," says Kristen Reyno, the artist behind Lola Pilar Hawaii's Tutu's Garden Collection, a series of photographs of locally sourced flowers arranged in designs inspired by vintage Hawaiian quilts.
The colorful photographic collection, starting at $45 per piece, features simple toned backgrounds allowing the eye to be drawn toward the details of each individual flower.
Born in Kansas but raised in Kailua on Oahu, Reyno received a bachelor of arts in film from Brooks Institute of Photography in 2006 and got her feet wet in the world of professional photography with Quiksilver before returning to the Islands. Inspired by the imaginative females in her family, Reyno launched her own photography business called Lola Pilar Hawaii in 2011.
"My grandmothers were all creative women," says Reyno. "One of them liked to draw flowers, another was an antique dealer and sold dried flower arrangements.  My great grandma was a seamstress and made quilts for fun. My husband's grandma, Lola Pilar, was also a seamstress and made aloha shirts in Los Angeles."
An obsession with Hawaiian quilts, coupled with her access to tropical flowers, is how her first collection, Tutu's Garden Collection, was born in 2018. Reyno begins her process by sketching a design on paper. "It doesn't always work the way I want it to, so if it doesn't I will freestyle the piece until it is exactly how I want it," says Reyno.
Once her design is perfected, she begins gathering the exact florals needed to complete the piece. "Finding flowers is half of my process. I [have been known to] knock on doors if I see a flower I like and can't find it anywhere. I pick from friend's homes, neighbors, my own yard, and sometimes Instagram followers reach out to me asking if I want to use a specific flower that they have in their garden. It melts my heart when they reach out to me."
Armed with locally sourced flowers and photo paper, Reyno gets to work at her Kailua studio, carefully placing each piece, photographing the process as she goes. "I arrange a piece of the design, then click, arrange and click, arrange and click, until it is the picture perfect photograph."
Each piece can take up to five hours and Reyno jokes that there are definitely hiccups along the way.
View this post on Instagram
"The hard part is that flowers die," she explains. "Some die quickly and others can last for over a week. Another tricky part are the bugs. In some flowers, the bugs are tucked away in crevices that you would never know were there.  So I'll be taking photos and all of a sudden I'll have an ant trail moving across my photo paper."
Ultimately, Reyno is proud to be using her artistic skills in a way that honors tradition while adding a modern twist.
"I wanted to create art that honored the past in a fresh, contemporary way and made people happy," says Reyno. "Making people smile when they see my work is the ultimate dream come true."
Photos from her Tutu's Garden Collection are available for purchase at Green Room Gallery locations across Oahu, Foodland Farms Ala Moana and Accents at the Royal Hawaiian. You can also shop online at LolaPilarHawaii.com.