This Website Makes Getting Around Kauaʻi Easy
With a rental car shortage affecting visitors on all islands, Kauaʻi has launched a new website to provide travelers with eco-conscious alternatives.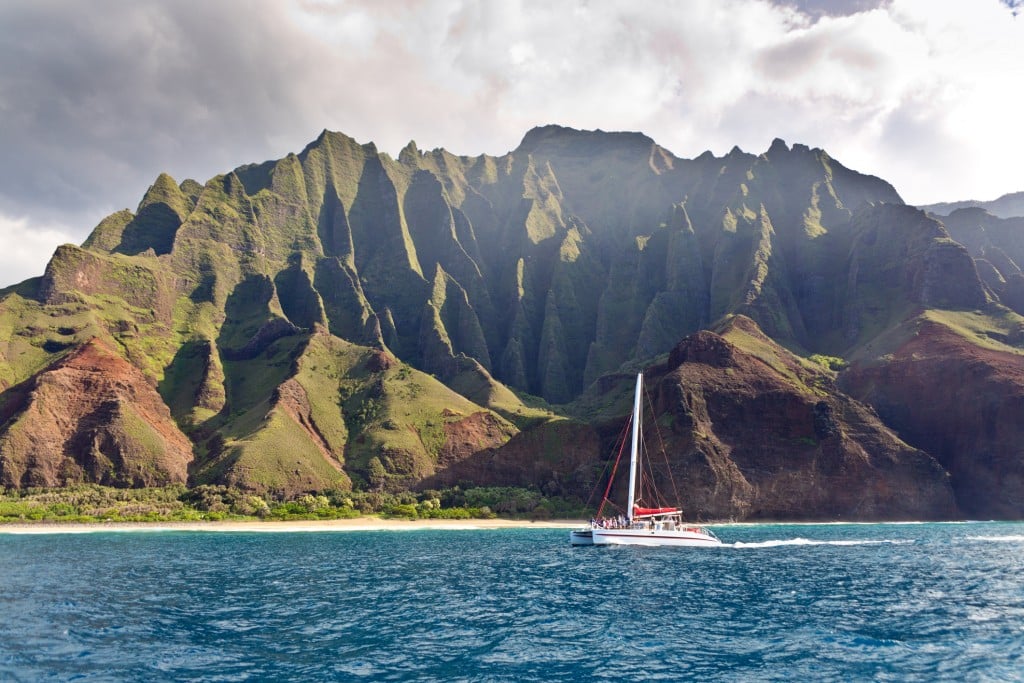 There has never been a tougher time getting around Hawaiʻi.
With rental cars being booked out for months, visitors are left stranded without a set of wheels to take them to all of the beautiful places they'd like to see. To combat this issue, the County of Kauaʻi's Office of Economic Development has collaborated with the Hawaiʻi Tourism Authority to launch the aptly named program, Get Around Kauaʻi. An easy-to-use website, Get Around Kauaʻi encourages the use of low-impact, green modes of transportation that are better for the environment while also generating less traffic for residents.
"During the pandemic, our residents were given a glimpse of what life is like without the influx of cars on our roads and there's no denying how much traffic had improved," said Mayor Derek S. K. Kawakami. "As we continue to recover, we see the opportunity to do better in managing visitor impact and that includes implementing a transportation mode change on our island. We are grateful for our partners at the Hawaiʻi Tourism Authority, Kauaʻi Visitors Bureau, and the transportation industry in the launch of this new website which will be a valuable resource for our community."
So what does Get Around Kauaʻi recommend?
The two main options you'll see on the site are "Transportation Options" and "Without a Car," which all feature a variety of ways to get around the island. Under the Transportation Options menu, for example, is a handy guide to local area shuttles—like the Aloha Spirit Kauaʻi Shuttle, which can get you around the Poʻipū and Kōloa area, as well as the Kauaʻi North Shore Shuttle that takes visitors to and from Hāʻena State Park. Also included in the Transportation Options section of the site is an interactive map of Kauaʻi that lists public bus routes, links to ridesharing platforms like Lyft, Uber and Hololo, as well as an informative blog about local taxi services.
The coolest part about Get Around Kauaʻi however is its Without a Car options. Sure, having a car does make getting around easier, but if you follow the site's recommendations, you may see Kauaʻi in an entirely new way! Get Around Kauaʻi provides a comprehensive list of bike rental services as well as highlighting Kauaʻi motorbike rental companies, such as Kauaʻi Mopeds—which even offers free delivery island-wide.
"Our goal is that this new website will serve as a resource to connect travelers with transportation alternatives, such as airport shuttles, ride-shares and bike rentals," said Nalani Brun, director of the Office of Economic Development. "This rental car crisis can become an opportunity for us to shift away from the mindset that the only way to get around Kauaʻi is with a personal vehicle."
And if you're fine getting around on your own two feet, Get Around Kauaʻi even has walking guides on popular Kauaʻi districts, like Līhuʻe and Kapaʻa. Better yet,' more to come, and the site is looking to expand its selection of walking guides to all sides of the island.
The last main section of the site is dedicated entirely to traveling with aloha, and shows how to travel to Hawaiʻi in a way that is respectful and caring to the host culture. From tips on how to navigate Kauaʻi's infamous one-lane bridges to beach etiquette rules—don't touch or approach sea turtles or Hawaiian monk seals!—a read through the "Travel With Aloha" page will undoubtedly make you a better, more educated traveler to the Islands.
For more information, visit getaroundkauai.com.