Three Days in Waimanu Valley on Hawaiʻi Island
Peek into this remote valley along the rugged Hāmākua Coast.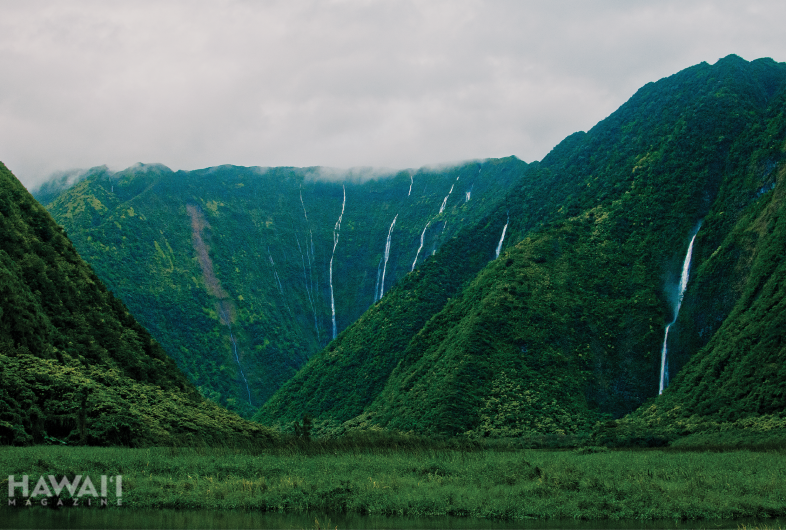 Chances are good that you've never been to Waimanu Valley.
The largest of a string of remote valleys along a dozen miles of rugged, windswept Hamakua coastline between more accessible and well-known Big Island valleys Waipio and Pololu, Waimanu is not an easy place to visit. There is only one way in—by foot on the Muliwai Trail, a nine-mile backpacking trek ascending the north face of Waipio via a series of steep switchbacks (visible from the Waipio Valley Lookout) and winding through miles of plateau gulches and forests before descending treacherous switchbacks on Waimanu's south face to the valley floor.
The journey can take experienced hikers up to seven hours to complete even in the most favorable weather conditions—clear skies with cool trade winds. Once at Waimanu, an overnight stay is required unless retracing your steps in pitch darkness appeals to you. Devoid of residents, the valley has no cellular phone service, no electricity or piped-in freshwater and, on most days, few other transient trekkers. Isolation is often complete and total. Still, on an island abounding with places where you can simply disappear into nature forever if you wish, Waimanu is both one of the most far-flung and breathtakingly beautiful havens.
Photographer and avid hiker David Chatsuthiphan had never heard of the valley when fellow Hawaii outdoor blogger Kaleo Lancaster asked him by email if he was interested in joining in on a three-day, two-night Waimanu camping trip. The founder of Unreal Hawaii, a website dedicated to sharing the sights of his weekend treks on some of the Islands' most stunning trails in rich, photojournalist-like detail, Chatsuthiphan wasted no time accepting the invitation.
With a couple of friends in tow, Chatsuthiphan hopped a pre-sunrise flight from Oahu to the Big Island on a Friday morning in August 2011, meeting Lancaster and his friends face-to-face for the first time at the Waipio Valley Lookout. Together, the group began the long hike to Waimanu and multi-day stay that resulted in Chatsuthiphan's stunning portfolio of images of the rarely photographed valley, which we share here.
Three years and many trails later, Chatsuthiphan still considers the experience one of the wildest and most memorable of his Unreal Hawaii exploits.
"It's a pretty special place," he says of Waimanu. "There's still an appreciation of having been at this place that a lot of people don't get to see. I feel lucky to have been able to do it."
All photography by David Chatsuthiphan.
"The first day hiking in was beautiful. I was really excited for this view because I had seen a photo from this angle and wanted to see it with my own eyes. The photo was taken at the end of one of the switchbacks. There's an ocean [drop] right behind me," said Chatsuthiphan.
"From here, it looks like it's going to be so easy. We didn't realize that we were about to descend a thousand feet down a series of brutal, rocky switchbacks. I did it with a 40-pound pack on. That just tore up my knees," said Chatsuthiphan.
"We had just set up camp and were starting to relax. Dusk was approaching and the valley looked super peaceful. It was so quiet, too. All we could hear was the ocean behind us."
"Another guy in our group went fishing while we went waterfall exploring. He cooked up his catch on our campfire and made a sauce with some [soy sauce], calamansi and Hawaiian chili peppers he'd brought. It was amazing. On a backpacking trip, this is gourmet eating. I think my other meal that night was rehydrated lasagna."
"We went swimming right away on the first day. The beach was beautiful and the scenery just insane. In the water, looking back to shore, there's just the valley and nothing else."
"We stayed up late just so we could see the moon set over the ocean. It was so bright. And the gold you see here is real. The moon has a golden glow when it's at the horizon, low enough over the ocean.
"We were hunting for waterfalls and were happy to find these. Fruit is really heavy so it's hard to bring in on a backpacking trip. These were sweet and super tasty."
"This was the closest waterfall to camp and it was huge—about 400 feet, and the bottom half of two drops. The pool was enormous, too—a far distance to swim across. And it was freezing."
"This is what it looks like when you're walking through the forest in Waimanu. There are no landmarks. Nothing to guide you. And there are rocks everywhere under your feet. I think they were rocks that fell from the valley walls and, over time, just covered everything. We were rarely walking on dirt."
"We were trying to find another waterfall but ended up distracted by this one. We thought we'd reached our destination, Lahomene Falls. Had we kept hiking another 20 minutes, we would have found the real Lahomene, which is much bigger. When we got back home to Oahu, we looked on the World Waterfall Database website and found out we were at the wrong waterfall. That's hiking."
"Another person on the trip brought a snorkel and mask. This is one of the bigger prawns he caught. He probably caught about 10 of them."
"On our final night, it started raining before sunset so we were cooped up in our tents. There was a hurricane passing south of the Big Island so the wind was howling and it rained pretty hard. We even had a leak in our tent."
"With all the rain on the second night, the stream we'd crossed to our campsite on the first day had risen from knee-level to shoulder-level so we couldn't cross with our backpacks on our back. We found an inflatable raft with a hole in it that someone had left behind, blew it up hoping it would leak slowly, put our bags in two at a time and attached the raft to a rope we'd used for stability when we arrived." Mission accomplished.
"Going back up the steep, rocky switchbacks, there was just this feeling of needing to stop, sit and get our last photos in to remember the valley. It just looked amazing that morning [and] we didn't know how long it would be until any of us returned." Heavy backpacks had to be taken off and cameras taken out. It was also raining. "But this was worth it."